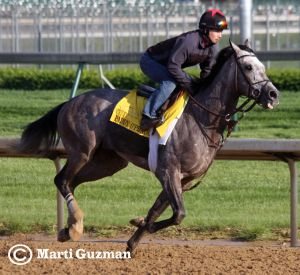 It is not often that I choose to remember a horse so soon after his retirement, but the news that Paddy O' Prado's racing career had come to an end hit me like a ton of bricks yesterday. I had the good fortune of seeing Paddy several times in person last year, and whether the race was on turf or dirt, or whether he won or lost, I always came away most impressed. He was the horse I saw more turf potential in than any other American runner in recent years. Unfortunately, my belief in him will go largely unfulfilled. While the model of consistency, Gio Ponti will attempt to become the first three-time American turf champion since John Henry, there will be no championships for Paddy O'Prado. Rather the hollow feeling of what might have been, but this is not about what he did not get to do … let us celebrate all that Paddy was able to accomplish in all too short a career.
The first time I ever laid eyes on the horse who would become my favorite on grass was September 4, 2009 at Saratoga. In all honesty, although I bet Paddy O'Prado, it was the winner of the day's feature, the Grade 3 With Anticipation Stakes, that really impressed me. His name was Interactif, and he was an easy winner, while my bet, an attractive grey colt trained by Dale Romans, rallied well to just miss 2nd place. I left the Spa thinking that I had just seen a budding turf star in Interactif. The following day was the real reason I was at Saratoga anyway, as Rachel Alexandra completed a perfect and incredible season when she became the only female ever to win the Woodward Stakes. Paddy O'Prado became an all but forgotten footnote of that trip.
Paddy O'Prado fell off my radar until next March when a friend sent me a message saying he expected a maiden to win Gulfstream Park's Grade 3 Palm Beach Stakes. Sure enough that horse would impressively score in that graded stakes as a maiden, and his name happened to be Paddy O'Prado. I experienced sudden recall to that race at Saratoga, and I was impressed enough with the Florida win to do a little studying of his past performances. He may have been a maiden going in, but after a failed debut on a sloppy track, his three performances on grass before the Palm Beach were full of potential. Maybe this was a potential turf star after all.
He would indeed become a grass star, but that would have to wait, as the lure of the Kentucky Derby was too strong for his connections to pass by. Speaking of his connections, his ownership group of Donegal Racing led by managing partner Jerry Crawford made a favorable impression on me throughout my travels of 2010. Let's just say the large group was enjoying the opportunity afforded them by Paddy O'Prado and they were not afraid to display their enthusiasm. Spurred on by Derby fever, Paddy would display that he was more than just a turf horse. He finished second in the Blue Grass Stakes at Keeneland in his lone attempt on a synthetic surface, before running a bang-up 3rd to Super Saver in a sloppy Kentucky Derby. The good Derby result was enough to send him on to Baltimore, but following a sixth place finish in the Preakness, Paddy O'Prado happily would return to the turf.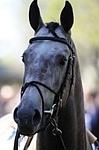 Seeming to flourish on the lush green grass of Colonial Downs, Paddy proved that he would be far more than a Triple Crown also ran. Running on the turf for the first time since his initial victory, he flashed a devastating turn of foot to capture the Colonial Turf Cup over a classy colt named Workin For Hops by three effortless lengths. The rich Virginia Derby would be next and a chance for revenge against the horse that had beaten him at Saratoga the year before. Interactif would run his race, but that made no matter to the powerful strides of Paddy O'Prado. Farther off the pace then in his previous wins, the beautiful grey colt would inhale his opponents in a flash. Eased up at the wire, even on closed circuit television, I knew I was looking at something special. His wins in Virginia were sublime. Chicago would be next.
Arlington Million Day is always special, and last year the Secretariat Stakes was a big reason why. After his wins at Colonial, I hypothesized that perhaps Paddy should skip the three-year-old race, and go for the Million instead. No American sophomore has ever won the Million, but I really believed that he was the one to end that streak. It did not happen, as his connections chose the Secretariat. That decision left little doubt as to the outcome, and Paddy did not disappoint.  Honestly, I was as thrilled to get up close to him in the paddock and the winner's circle, then to see him win the race. I was a fan and let me tell you, Paddy O'Prado is one attractive specimen. The Secretariat was predictably easy, and I left Arlington that day thinking, make that knowing, that he was a turf champion. It would be his last race against three-year-olds.

I made the trip to Belmont Park for Jockey Club Gold Cup Day, and once again Paddy O'Prado was poised to be one of the highlights of the trip. Facing older horses for the first time in the Joe Hirsch Turf Classic, I had a sinking feeling that it was a tough spot for Paddy. Besides the tough older horses, he had never been farther than 10 furlongs and the race was 12. He had never run on really wet turf, and Belmont was very deep that day. My fears vanished Paddy made a big move to take over as the fied straightened out. Unfortunately, the circumstances conspired, and Paddy O'Prado could not hold off the late run of the experienced Winchester. The 2nd place finish did nothing to lessen for my like for him, and I eagerly awaited the Breeders' Cup Turf.
Once again I was wrong about what race his connections would choose though. Much to my chagrin, Paddy was entered in the $5 million Breeders' Cup Classic rather than the Turf. He actually ran a very good race, on a surface that was not his favorite, to conclude his three-year-old season with a solid 5th place finish behind the show that was Blame and Zenyatta, on a magical evening at Churchill Downs. I understand what Dale Romans meant when he said the horse was doing too well not to roll the dice in the big one, but I also wholeheartedly believe that Paddy O'Prado would have been an easy winner had he been entered in a rather weak BC Turf. No matter, all fans of Paddy O'Prado had 2011 to look forward to.

For Romans, the sad news that prompted Paddy's retirement was a perfect microcosm of the incredible highs and lows that are commonplace in the world of horse racing. He first learned of the injury to his star turf performer just moments before he watched his three-year-old colt, Shackleford, take home the middle jewel of the Triple Crown. In fact the Preakness was the very next race after Paddy O'Prado would make what would turn out to be his final career outing.
Paddy O'Prado, ridden by his regular rider Kent Desormeaux, won Saturday's Dixie Stakes very much like he did in his other wins on the grass. He dominated his opponents with disdainful ease. It made no matter that the Pimlico grass course still had a great deal of cut from the week's rain, or that he had not raced in nearly six months, Paddy was simply too good for his opponents of the day. He sat well off the pace early, and when Desormeaux decided to push the button, the outcome was as good as decided. His Dixie win was a perfect stepping stone to what promised to be a huge season. The Colonial Turf Cup, followed by one of my favorites, the Arlington Million, were to be next. That is before the sesamoid injury that ended his career as a racehorse.  
All told, Paddy O'Prado won 5 of his 15 career starts with earning os $1,721,297. Despite his 3rd place performance in th kentucky Derby, 2nd place in the Blue Grass, and good run in the Breeders' Cup Classic, I prefer to rmember him on his favorte surface. On the green, Paddy earned more than $1.2 million and finished in the money in all 9 starts, including 5 wins and a 2nd in his last 6 grass races. As I write this, plans for his second career, at stud are being planned. A son of El Prado, I expect more success from him as a sire.
As for more success on the racetrack, it was not be. His five graded stakes wins will have to be enough. Fans of racing often have to live with unfulfilled hopes and dreams. Paddy was more than that. He was the real deal. O' What might have been. I remember you Paddy O'Prado.