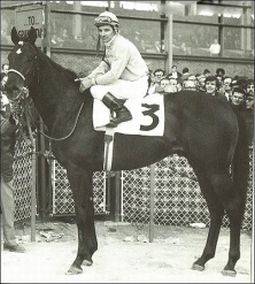 I was just a toddler when the legend of Hoist The Flag was forged, but through the superlatives littered on him by my Dad, and the magnificence of his offspring, he became one of the most important horses of my childhood. All this despite the fact that I never saw him in person. Like Ahab's white whale, Hoist The Flag became a near mythical figure in my early years at the track. Years later many people would be shocked when Jean Cruguet called Hoist The Flag the greatest horse he ever rode. Considering that the French rider had piloted Seattle Slew through a sweep of the Triple Crown, it was a massive statement. To me, it just reinforced those early years. I was told how fantastic he was by the man who shaped my perspective on racing more than anyone in the world. Besides the glowing adjectives used to describe him as a runner, there was no doubt that growing up, he was our favorite sire. Sons, and especially daughters of Hoist The Flag shared exceptional looks and a love for the turf. Nothing could be better to this impressionable young race goer. But for Hoist The Flag, life as a sire was perilously close to never happening.
He was that rare talent able to go from unraced maiden to champion in a matter of weeks. Hoist The Flag began his career as a juvenile in the fall of 1970, winning a maiden race easily at Belmont Park. Trained by Sid Watters and bred to be outstanding, the son of Tom Rolfe, out of Wavy Navy, by War Admiral, was sent off at 3-1 in the 11 horse field. With his good looks and powerful running style, he would be heavily favored in every race thereafter. He followed his debut victory with an easy score, in fast time, in an allowance test twelve days later. Only eight days later he was entered in the Cowdin Stakes. Despite running a reportedly less than straight path, Hoist The Flag came from near the back of the large field to win going away.
His last race at two came in the prestigious Champagne Stakes, once again at Belmont Park. His entry in the Champagne was less than one month after his career debut. Bet down to 4-5 in the large field of 16, Hoist The Flag would win for fun; maybe too much fun. Perhaps still showing some of his inexperience, the powerful young colt was disqualified for causing interference with several other horses and was placed last for the infraction. Cruguet reportedly quipped that this horse would never be beaten again. Disqualification or not, there was little doubt as to who was the best two-year-old in the land. After only one month of racing, and four starts, the Stephen Clark owned youngster was named Outstanding Two-Year-Old Colt of 1970.
If you thought Hoist the Flag was an impressive juvenile, you would have really liked him at three. After a long winter sabbatical, he started 1971 off with a win in an allowance race at the old Bowie Race Course on March 12. Second place finisher, To The Man, was left way in the rear view mirror, as the champ rolled by fifteen lengths. Hoist The Flag was back, and apparently better than ever. Next it would be back to New York for the Bay Shore Stakes eight days later. In what has been called one of the most visually impressive Kentucky Derby preps ever run, Hoist The Flag finished first in his sixth consecutive start, thumping the field by seven lengths. These were good horses too, as stakes winners Droll Role and Jim French completed the trifecta. They were simply overmatched by a powerhouse. Final time in the Bay Shore was 1:21 flat. No three-year-old had ever run the distance faster.
Hoist the Flag was now a prohibitive favorite to run away with the 1971 Kentucky Derby, and the 23-year long Triple Crown drought seemed to be in major jeopardy. He was a once in a lifetime kind of horse that no horse could stop. That is except for himself. While preparing for the Gotham Stakes and less than a month from the Derby,tragedy struck when Hoist the Flag shattered his right hind leg in a workout. His career was over. The injury was catastrophic and his life hung by a tenuous thread. The leg seemed unrepairable save for new orthopedic techniques employed by Dr. Jacques Jenny and Dr. William Reed. They operated on Hoist the Flag and remarkably saved his life.
As a sire, Hoist The Flag may not have been as big a commercial success as the likes of Mr. Prospector, but he passed beauty, grace, and a love for the grass to his descendents. They seemed to have a certain look to them that made them stand out to my eyes. Not all his horses made their name on the turf, but I can't remember a Hoist the Flag who did not move up on turf. So much so that one of my very first wagering strategies was to look for a son or daughter trying turf for the first time. This love for turf was no doubt passed down from his legend of the turf grandsire, Ribot. Hoist The Flag's breeding stats do not tell the full story of how I felt about him as a sire and then broodmare sire, but he definitely made his mark.
He was the leading sire of juveniles in 1981, and the leading broodmare sire or 1987. European superstar and two-time Arc winner, Alleged, was his top son, while his Sensational was a champion filly in the U.S. Hoist the Flag also sired notables Linkage, Stalwart, Flying Partner, May Day Eighty, Fifth Marine, Strike Your Colors, Thirty Flags, Blue Ensign, and Pirate's Bounty. He may have been even more influential as a broodmare sire. His daughters produced the undefeated champion Personal Ensign, as well as, Sacahuista, Mr. Chief, Broad Brush, Cryptoclearance, Personal Flag, and Imperial Gesture just to name a few. Hoist The Flag stood at Claiborne Farm until his death at 1990 at the age of 22, where he was buried.
Hoist The Flag was a wonder on the track. Who knows what he would have accomplished if not for the injury. It was truly remarkable that he survived a catastrophic injury, it was one of the best success stories of saving a horse in the history of the sport. After that, he went on to become one of the best sires and broodmare sires in the nation. It is no wonder that he was bit of a legendary figure to a young boy going to the races back in the seventies. I remember you Hoist The Flag.
[Should Hoist The Flag be rated higher than his current #201 position on the HRN All-Time Rankings?]