On April 7, 1997, the life of Exceller was extinguished.
Never mind that Exceller was a fantastic racehorse on both sides of the Atlantic, and a true racing star -- no horse, no matter how big, or how small, should suffer the same inhumane fate that felled Exceller.
His legacy is twofold. Exceller should always be remembered fondly for the excellent Hall of Fame performer that thrilled racefans from Europe to California, but more importantly than that, his name and memory live on to save other horses from a similar end. 
Exceller was a phenomenal runner. I was lucky enough to have seen the striking son of Vaguely Noble on several occasions when I wore a younger man's clothes. Perhaps best remembered for beating two Triple Crown winners in the same race, the Kentucky-bred had already accomplished so much by the time he scored his famous victory in the 1978 Jockey Club Gold Cup over Seattle Slew and Affirmed.
Born on the Saturday between Secretariat's famous wins in Louisville and Baltimore, Exceller was a product of two classy parents in Vaguely Noble, and the excellent Bald Eagle mare, Too Bald. He was sold as a yearling by his breeder, Mrs. Charles W. Engelhard, for a reported $27,000 to Nelson Bunker Hunt. Hunt believed that the young colt was best suited for long distance racing on the grass, and Exceller was sent for a racing career in Europe.
Sure enough, Exceller began to demonstrate his class when the distance of his races increased. At three, he won a pair of prestigious races in France, the French Derby and the French St. Leger. The following year he was even better, winning consecutive Group 1 races in France and England, and was part of three-way photo in a famous edition of the prestigious King George VI and Queen Elizabeth Diamond Stakes, won by The Minstrel. Happily, it was decided to bring Excller back to his native land after that race, where he would close out his sensational career.
The autumn of 1977 was one of the most memorable times for American turf racing in my lifetime. Over a  period of  just six weeks, three tremendous turf horses competed against each other in four huge turf races at four different tracks. Johnny D., Majestic Light, and Exceller, now under the care of Charlie Whittingham, waged memorable battles in the Man O' War, Canadian International, D.C. International, and the Turf Classic. It was in the two New York races where I first saw the impressive multiple Group 1 winner from Europe in person.
Each horse won once, before Johnny D. broke the tie, and won the Eclipse, with a win at Aqueduct. Exceller's lone win in the series came at Woodbine, but all three runners would have been a worthy turf champion if they had come along in different years. With his quality on turf proven and secure on both sides of the pond, Exceller would have new horizons to conquer at five.
1978 proved to be his most successful season of all. Exceller, now based in California for his veteran trainer, won 7 of 10 starts, racing in many of the country's biggest races on both dirt and turf. Out West, he won the Hollywood Gold Cup, Hollywood Invitational Turf Handicap, San Juan Capistrano, Sunset Handicap, and Oak Tree Invitational, before coming to New York for two huge tests against legends of the game.
In the Woodward, he could not reel in the powerful speed of the great Seattle Slew, but proved easily second best. Stretched out to a more preferable distance of twelve furlongs in the next one, Exceller would achieve his greatest victory in a career full of big wins.
Under Bill Shoemaker, the confirmed stretch-runner came from nearly two-dozen lengths back to beat both Seattle Slew and Affirmed in the Jockey Club Gold Cup. While Affirmed threw in the towel, in a race where his saddle slipped, Exceller and Seattle Slew duked it out in one of the greatest stretch battles ever run on American soil. On the wire, Exceller was a nose in front of a herculean effort by Seattle Slew. My memory of being there for this race will never leave me.
Exceller was competitive in a few big races at six, but was retired from racing after only four starts. A wonderful horse no matter where he ran, he won 15 of his 33 career starts against the best horses in both Europe and North America. He won major races in four different countries; Canada, England, France, and the United States. 
The bay millionaire was syndicated and retired to stud at Gainesway Farm in Lexington Kentucky for the 1980 breeding seasonexc, where he stood together with his sire Vaguely Noble.
Unfortunately, Exceller proved not to be the same success as a sire, as he was a runner, and with American breeders looking for other qualities in their stallions, the Hall of Fame runner gradually lost favor in the United States. He was sold to a Swedish owner in 1991, and spent several years there, before his bankrupt owner signed off on his ultimate demise. 
Exceller was slaughtered as a way of saving money, on this day twenty years ago.
Soon after, The Exceller Fund was created for the benefit of as many horses as possible. Today, I am honored to be part of the organization that strives to carry on the legacy of a great horse, to benefit the lives of so many others.
I will always remember you, but today especially, I remember you, Exceller.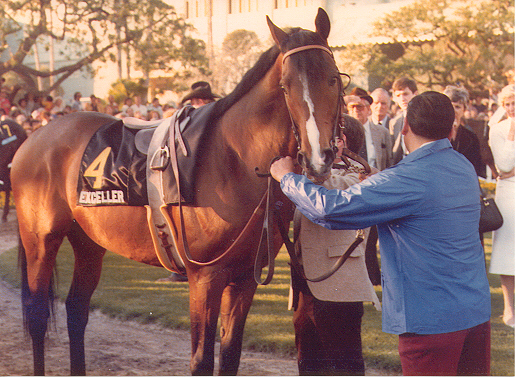 Photos of Exceller courtesy of The Exceller Fund