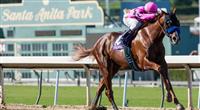 Do you remember the last time a horse won the Santa Anita Derby in his seasonal debut? No? I didn't either. It just doesn't seem like the kind of thing many horsemen would try to do. Then again, Bob Baffert is not your average, run of the mill thoroughbred horse trainer, and this rather unlikely feat is precisely what Baffert will be trying to accomplish tomorrow with Gary and Mary West's Power Broker.
Winning California's premier prep for the Kentucky Derby is nothing new for Baffert who has already taken home the trophy on half a dozen occasions, but to win it with a young horse that has not run all year, makes it seem like the colorful trainer may have bitten off more than he can chew. Maybe it is, but then again, maybe not. With yesterday's defection of San Felipe winner, Hear the Ghost, Power Broker is less of a Santa Anita Derby dark horse, than he was 24 hours ago, but still most people are very skeptical of the colt's chances in his first race after a five month layoff. Count me in the camp that is less than skeptical.
Granted this is a horse that I've stubbornly held near the top of my Down & Derby Sweet 16 Kentucky Derby rankings all year despite his conspicuous absence. Why have I doggedly held on to this horse like a puppy with a chew too? Let me try to explain.
This was the colt that I truly believed was poised to develop into the best of his crop after a monster performance in the Grade 1 FrontRunner Stakes last fall. The good looking, chestnut son of Pulpit was always well regarded by his three-time Kentucky Derby winning trainer, and that belief was reward in a big way on September 29. Given little chance in the Breeders' Cup Juvenile, Power Broker's season would end in disappointment, but I refused to forget that performance which I considered the most promising of any two-year-old in 2012.
So now he is finally back. A forgotten horse, I can honestly say that my Derby list is the only one I've seen recently to still have the chestnut's name prominently displayed. One way or another, tomorrow should go a long way in telling if I was foolish to do so. I still think he has the talent, and in Baffert I trust, but we are entering unchartered waters here. While I have no reason to believe that Baffert would ask him to do the impossible, still, the question remains, is Power Broker fit enough to pull this off?
"The workout was very nice," Baffert remarked about Power Broker's most recent in a long series of solid workouts. "I got him going out (five furlongs) in 59 4/5. He hasn't lost any of his conditioning, because he really hasn't been away. He's just been away from the action, but he has a really good foundation on him. The Breeders' Cup race was a disaster. I gave Bejarano bad instructions."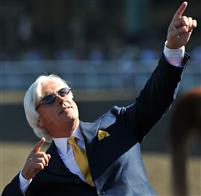 Interesting comments … away from the action, but not really away, and I do wholeheartedly agree with Baffert's assessment of the Breeders' Cup Juvenile. As wide as Power Broker was on both turns, it's a wonder that he finished within five lengths at the finish.
If Power Broker is to buck history and make it to the winner's circle in tomorrow's big race, it will come at direct expense of his stablemate, Flashback. Also owned by Gary and Mary West, and trained by Baffert, the full brother of the excellent filly, Zazu, has always looked like a runner since he first took to the track this winter, and is strictly the horse to beat in the grade 1 affair.
By the way, thanks to the crack research of Horse Racing Nation's own, Laurie Ross, I have the answer to the question, when was the last time a horse won the Santa Anita Derby in his seasonal debut? He Did. No, I'm not trying to start an Abbot & Costello riff here; the actual name of the horse is He Did. The winner of the 1936 Santa Anita Derby, in his first start of the year, He Did remains the only horse to ever complete the feat. Will Power Broker join He Did 77 years later? The odds are stacked against him, but you know I've always liked this one. Get ready history books … here comes Power Broker.