Zipse's Kentucky Derby Daily – Day 33


Pedigree Spotlight written by Scott Dick


The Diane Cotter home bred -Toby's Corner has been ultra-consistent. He's won 3 of his 5 starts, with 2 third place finishes. He boasts an impressive victory in the Whirlaway Stakes at Aqueduct. Toby seemed totally relaxed as he eased into his stride, and when jockey Eddie Castro asked him, boy did he respond. Toby closed from last to take the Whirlaway by an easy 2 lengths. He followed that win with a lack luster performance in the Gotham Stakes. He was never comfortable and seemed to fight Eddie the whole race, eventually finishing a well beaten 3rd to the Pletcher trainee Stay Thirsty.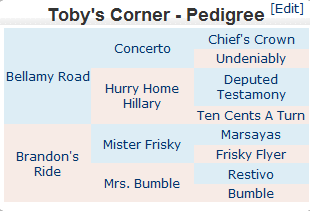 Toby's Corner is sired by Bellamy Road. Bellamy Road was a super speedy colt, he won 4 times in 7 starts. His win in the 2005, Grade I Wood Memorial is still talked about. Bellamy Road cruised to an easy lead and crushed the Wood Memorial field, winning by a Secretariat like 19 lengths, with his time of 1:47.12 just a few ticks of Riva Ridge's track record. Bellamy Road went on to run in the Kentucky Derby, he was part of an insane early speed duel and faded to be well beaten. He went on to run in the Grade I Travers Stakes, where he ran a game 2nd to the grade I winner Flower Alley.


Bellamy Road is a very young sire, but he's already making noise. He's sired 18 winners to date. He is the sire of the unbeaten filly Position Limit. Position Limit won the 2010, grade II Adirondack Stakes at Saratoga. He's also sired the Indiana Bred 2 year old Champion Bellamy Jones.


The sire of Bellamy Road is Concerto. Concerto was a multiple graded stakes winner, ( Jim Bean G II, Fredrico Tesio G III, John Bettaglia Memorial G III, Kentucky Jockey Club G III.) Concerto has sired many winners including the millionaire Finallymadeit. Finallymadeit won the 2009, grade III Skip Away Stakes at Churchill Downs at the distance of 1 mile and 1/16th. Concerto has also sired the gelding Who's Crying Now (who won 11 races and over $750,000.)

The Dam of Bellamy Road is Hurry Home Hillary. Hurry Home Hillary only won one race in her career. As a broodmare, Bellamy Road is her only foal to win.


The Dam of Toby's Corner is Brandon's Ride. Brandon's Ride only won 1 race in her career, It was at the 6 furlong distance where she showed plenty of speed, going gate to wire. As a broodmare Brandon's Ride has produced 4 winners. She's produced the colt Bushmills Best. Bushmills Best won 4 times in 16 starts, he was able to win sprinting (6F & 7 F) and going long (8.5F.)


The sire of Brandon's Ride is Mister Frisky. Mister Frisky had a remarkable career. He started his career in Puerto Rico where he dominated, winning multiple stakes races and was named Champion at 2 and at 3. He came to America unbeaten but with a lot of question to answer. He won the grade I Santa Anita Stakes, and the grade II San Rafael Stakes. He took a flawless record of 16-0 into the Kentucky Derby and was actually the betting favorite. He struggled and ran 8th. He also boasts an impressive 3rd place finish in the Preakness. Mister Frisky was a disappointment as a sire. He was only able to pass on his talent to one notable horse. Frisk Me Now.


Frisk Me Now was a multiple graded stakes winner-Ohio Derby G II,Pennsylvania Derby GIII, Flamingo Stakes GIII,  Hutcheson Stakes GIII. Suburban Handicap G II, Philip H Iselin Stakes G II, Gulfstream Park Breeder's Cup Sprint Championship Handicap GII.


The dam of Brandon's Ride is Mrs. Bumble. Mrs. Bumble won 3 times in 13 starts. As a broodmare she has produced 2 winners, Brandon's Ride and the colt The Dodger. The Dodger won 2 times in his career, with earnings exceeding $ 61,000.


Toby's Corner has unique blood-lines. His sire was extremely quick, yet he lacks early speed. His dam's side has a brilliant runner in her blood lines, but one who was a bust as a sire. He's shown signs of having some serious talent. But, I believe he's a few levels below the likes of Uncle Mo, and Premier Pegasus. He could make some noise later on in the year, but I'll let him beat me come Derby Day.


The Kiaran Mclaughlin trainee Rattlesnake Bridge has been quite impressive in his 2 career starts. He broke his maiden impressively, closing with a rush to take a 6 furlong Maiden Special Weight at Gulfstream Park by 1 ¼ lengths. He impressed his connections so much that he was entered him in the Timely Writer Stakes against the champion Uncle Mo. All though Mo did get the best of him, Rattlesnake Bridge fought him all the way. Pressing Uncle Mo, he eventually wore down, finishing 2 lengths behind, but he was 5 lengths clear of the 3rd place finisher. Rattlesnake Bridge will need to win a graded stakes to have the earnings to run in the Kentucky Derby.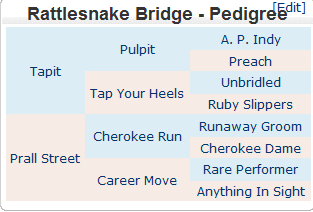 The sire of Rattlesnake Bridge is Tapit. Tapit was a tough, hard-nosed, grey colt. He won 3 of his 6 career races, including the 2003, Grade III Laurel Futurity and the 2004, Grade I Wood Memorial. He eventually went on to run in the 2004, Kentucky Derby. The track was listed as sloppy and he didn't take to it, finishing a well beaten 9th. Although Tapit is a relatively young sire, he's already making big noise. He's the sire of the grade I winning filly's - Tell A Kelly, Zazu, Careless Jewel, Laragh, and Stardom Bound. He's also sired graded stakes winners – Concorde Point, War Echo, Joyful Victory, Hightap, Dancinginherdreams, not to mention the 2010 Breeder's Cup Juvenile Filly Turf Winner Tapitsfly and the Japanese millionaire Testa Matta.


The sire of Tapit is Pulpit. Pulpit was a multiple graded stakes winner, with wins in the 1997, Grade II Bluegrass Stakes and the 1997, grade II Fountain of Youth Stakes. Pulpit has been an extremely useful sire. He has sired graded stakes winners – Bsharpsonata, Church Service, Corinthian, Ecclesiasticc, Essence of Dubai, Fifth Overture, Ice Box, Melhor Ainda, Parading, Pit Fighter, Pyro, Purge, Rutherienne, Sightseeing, Stroll, and Wend.


The dam of Tapit is Tap Your Heels. Tap Your Heels only won 1 race in her career, but, it was a dominating performance where she won by 11 lengths in the 6 furlong Hildene Stakes at Colonial Downs. As a broodmare Tap Your Heels has produced 3 winners, including Overandabeauty. Overandabeauty won 3 races in her career, all of them sprinting, and  won over $158,000.


The dam of Rattlesnake Bridge is Prall Street. Prall Street was a sprinter, who won 2 of her 7 career starts. Rattlesnake Bride is her only foal to race. The sire of Prall Street is Cherokee Run.


Cherokee Run was awesome on the race track. He won 13 of his 28 career races, including graded stakes wins in the Dwyer Stakes (G II), Derby Trial Stakes (GIII); Lafeyette (GIII), Frank J De Francis Memorial Dash Stakes (G2), Breeders Cup Sprint (GI). He was named Champion Sprinter in 1994. Cherokee Run has been quite the stallion. He's the sire of graded stakes winners – Zanjero, Yonaguska, War Pass, Sir Cherokee, Recapturetheglory, Kafwain, Indiana Flare, Feathers, During, Dream Run, Chilukki, and Cherokee Queen.
The dam of Prall Street is Career Move. Career Move won only 1 race in 15 career starts. As a brood mare Career Move has produced 6 winners. She is the dam of the gelding Cherokee Dash. Cherokee Dash was a sprinter who won 8 races in 55 starts with purse money exceeding $100,000.


Considering he has zero in graded stakes earnings. Rattlesnake Bridge will need a lot of help to get into the Kentucky Derby. He's lightly raced and seems to have a lot of talent. He has a nice mix of sprint and stamina in his pedigree. I'm not sure about his chances in the Derby, but I definitely think he can be a very good horse in the future.


Silver Medallion has been a consistent colt. He's won 3 of his 6 career starts, and is coming off an impressive victory in the Grade III El Camino Real Derby. Under the steady hands of jockey Russell Baze, Silver Medallion sat back off the pace, making a menacing move at the top of the stretch, before cruising to an easy 1 ¼ length victory. To this point, he has yet to run on dirt with all of his wins coming on the turf or a synthetic track. Silver Medallion has only made 1 start in his 3-year-old season, but he does boast career earning over $212,000.


The sire of Silver Medallion is Badge Of Silver. Badge Of Silver was a tough colt, who won 7 of his 16 career starts. He was victorious in multiple graded stakes races, including the Hal's Hope Handicap (GIII), Risen Star Stakes (GIII), New Orleans Handicap (GII), and San Gabriel Handicap (GII). Badge Of Silver is a very young sire, but he's already produced 18 winners. He's the sire of Derby hopeful, King Congie. The West Point Thoroughbred owned King Congie boast an impressive win in the Tropical Derby.


The Sire of Badge Of Silver is Silver Deputy. Silver Deputy only raced twice in his career. Both of his starts resulted in victories with the second coming in the grade III Swynford Stakes. Silver Deputy has been a very good sire. He is the sire of graded stakes winners Spring At Last, Statesmanship, Silverbulletday, Scotzanna, Quiet Harbor, Posse, Pool Play, Pool Land, Mr. Jester, J Be K, Iron Deputy, Divine Silver, Crown Attorney, Bickersons, and Bare Necessities.


The dam of Badge Of Silver is Silveroo. Silveroo won just once in 11 starts. Her win came at the 1 and 1/16th mile distance. As a broodmare she has produced 2 winners.


The dam of Silver Medallion is Another Vegetarian. Another Vegetarian only placed once in 4 starts. But she has been a dynamite broodmare. She has produced 6 winners, including the gelding Fantastic Day. Fantastic Day was a sprinter who won 7 of his 26 career starts. Another Vegetarian is also the sire of the mare Sweet Talker. Sweet Talker was dynamite going long on the lawn. She won 9 of her 18 starts and scored in the 2005, grade I Queen Elizabeth II Challenge Cup.


The sire of Another Vegetarian is Stalwart. Stalwart won 4 of his 5 career starts and boast scores in the grade I Norfolk Stakes and the Hollywood Futurity. Stalwart was a useful sire. He's sired the graded stakes winners Things Change, Stalwars, Stalcreek, and Kingpost.
The dam of Another Vegetarian is the unraced Lucy Sims. As a brood mare she has produced 5 winners. She is the dam of Tiffany Diamond. Tiffany Diamond won 5 of her 21 starts and earned purse money exceeding $269,000. She won the Fantastic Girl Stakes in 1997 and again in 1998. She also placed in the grade II Railbird Stakes.


Silver Medallion has proven to be a quality colt, but he has several questions to answer. He's yet to run on conventional dirt and he's yet to face grade I quality horses. His win in the El Camino Real Derby will most likely give him enough earnings to make the Kentucky Derby, but I only see him making a minor impact, if any at all.