Zipse's Kentucky Derby Daily – Day 12



Pedigree Spotlight written by

Scott Dick



One more week dedicated to some of the finest three-year-old fillies as they prepare for the 2011 Kentucky Oaks...

Kathmanblu

Kathmanblu may be the most talented of all the fillies contending for the Kentucky Oaks. She is very experienced, with 9 starts in her career, 6 of those coming in her 2 year old season. From humble beginnings, Kathmanblu finished 8th in her first career start, she broke her maiden at Ellis Park, where few champions are born.She won stylishly in the 1 mile turf affair, scoring a half-length victory. From there, trainer Kenny McPeek stepped her up in class, sending her to Saratoga for the P.G. Johnson Stakes. She would lung at the break and start the race dead last, she made a menacing move at the top of the stretch to finish an impressive 2nd, just 1 ½ lengths behind the winner Fancy Point. She went on to run a huge race in the Breeder's Cup Juvenile Filly Turf, running into tons of trouble Kathmanblu ran on to finish a much better than looked 3rd. She tried dirt again in the grade III Golden Rod stakes at Churchill Downs, any questions about her liking dirt were answered infatically, she cruised to 9 ½ length victory.


Her three starts as a 3 year old have been near brilliant. She romped in the Sweet Chant stakes on the lawn, and then was even more impressive in the Grade III Rachel Alexandra Stakes,  where she was 5 wide and still won by a stylish 1 ½ on the Fair Grounds main track. Her 3rd start of the year would come in the Grade I Ashland Stakes at Keeneland. She made a menacing move at the top of the stretch, but faded just a bit late to finish 3rd, beaten 3 ¼ lengths to the gate to wire winner Lilacs and Lace.


The sire of Kathmanblu is Bluegrass Cat. A son of the great sire, Storm Cat, this Cat was extremely talented, winning the grade I Haskell Stakes at the 9 Furlong distance, he also finished 2nd in the Kentucky Derby and 2nd in the Belmont Stakes. As a young stallion, Bluegrass Cat has started to make some noise. He is also the sire of Blue Laser. Blue Laser has won 2 of 3 starts and boasts an impressive victory in the Grey Stakes at Woodbine Race Track.


The dam of Bluegrass Cat is She's A Winner. This unraced daughter of A.P. Indy has been a fantastic broodmare. Besides Bluegrass Cat, she is the dam of Lord Of The Game, and the recent Jerome favorite, Cal Nation. Lord Of The Game won the Grade II Cornhusker Stakes and the Grade III Hanshin Handicap.


The dam of Kathmanblu is Abba Gold. Abba Gold was a hard trying sprinter, she won 4 times in 34 starts and boast career earnings over $179,000. As a brood-mare Abba Gold has produced 2 winners. The sire of Abba gold is Devil's Bag. Devil's Bag was a very talented colt, he won several stakes including – the Grade I Champagne Stakes, and the Grade I Laurel Futurity. Devils Bag is also a half-brother to top horses in Saint Ballado, and the champion mare, Glorious Song. In the breeding shed, Devil's Bag has been extremely useful. He is the sire of Devil His Due.   Devil His Due was a multiple grade I winner, with such victories as – grade I Wood Memorial, Grade I Suburban Handicap, Grade I Pimlico Special, and Grade I Gulfstream Park Handicap. Devil His Due has also been a solid sire.


The dam of Abba Gold is Valiant Jewel. Valiant Jewel was a hard knocking, tough filly. She won the Lady's Secret Stakes and the Nellie Morse Stakes, and also finished 3rd in the Personal Ensign Stakes. As a broodmare Valiant Jewel has produced 4 winners. She is the dam of Friendly Michelle. Friendly Michelle won the Grade I Prioress Stakes and the La Troienne Stakes, and won over $400,000 in her career.


Kathmanblu has done nothing wrong in her career; she has been a model of consistency. She's been able to handle anything thrown at her, whether it be dirt or turf, a clean trip or a troubled trip, she has been able to handle it all. She figures to be one of the favorites in the Oaks, and if so, she will be deserving. Her pedigree says the distance won't be a problem, her class says she might be your winner, look out for this filly come Oaks day!


Mr. and Mrs. Moss have another sparkling filly to be excited about in Zazu. Zazu broke her maiden impressively by an easy 2 ¾ lengths at Del Mar. Her next start came in the Moccasin Stakes at Hollywood Park, where she fired a big race, running 2nd to Turbulent Descent. After failing to fire in the grade I Hollywood Starlet, she would make the first start of her sophomore season in the Santa Ynez Stakes; it would also be her first time on regular dirt. Zazu closed with a rush to finish 2nd, only beaten a neck to California Nectar. The grey filly would meet a familiar foe in her next start, facing off against Turbulent Descent in the Grade I Las Virgenes. This time Zazu got the best of Turbulent Descent, defeating her by a 1 ¼ in the 1 mile affair. These two would face off again in the Santa Anita Oaks, Zazu made her usual big move on the turn, running at Turbulent Descent late, Zazu ran out of room beaten just a neck. Turbulent Descent would come out of the race to run in the grade II Beaumont at Keeneland where she crushed her foes by some 5 lengths.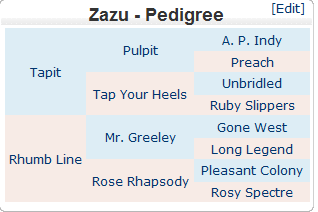 The sire of Zazu is Tapit. A son of top sire Pulpit, Tapit had a very solid, but short career on the race track. Only racing 2 seasons, he scored in the Grade III Laurel Futurity and the Grade I Wood Memorial. Tapit has been absolutely sensational in the breeding shed. He's made his mark in the form of siring great fillies. Tapit is the sire of Stardom Bound, a filly definitely bound for stardom. She was extremely precocious as a two year old, scoring 3 grade I's in her 2 year old season, including the Grade I Breeders' Cup Juvenile Fillies. She was eventually named Champion 2 year old filly. Tapit also sired Careless Jewel, like Stardom Bound, Careless Jewel was an extremely talented grey filly. She won the Grade I Alabama Stakes at the 10 furlong distance. Tapit has also sired graded stakes winners in - Tell A Kelly, Tapitsfly, Laragh, High Tap, Concorde Point, Joyful Victory (last week's spotlight filly,) and Dancinginherdreams.


The dam of Tapit is Tap Your Heels. Although she only won once in her 9 race career, she has been a very useful broodmare. She has produced 3 winners, including the filly Overandabeauty. Overandabeauty was a sprinter, who in her career won $129,000 in purse money.


The dam of Zazu is Rhumb Line. Rhumb Line won 3 times in 9 starts. She was able to win twice at 7 furlongs and once going a mile. As a broodmare she has produced one other winner to date.


The sire of Rhumb Line is Mr. Greeley. Mr. Greeley was a multiple grade III winner, scoring wins in – the grade III Swale Stakes, The Grade III Spectacular Bid Breeder's Cup Stakes, and the Grade III Lafeyette Stakes. He has been just as strong as a sire. He is the sire of several graded stakes winners, such as – Why Why Why, Time's Mistress, Sir Greeley, Reel Buddy, Nonsuch Bay, Nicole H, Mr. Gruff, Miss Lodi, Miraculous Miss, Aruna, Belgravia, El Corredor, Fan Club's Mister, and Greeley's Galaxy, just to name a few.


The dam of Rhumb Line is Rose Rhapsody. Rose Rhapsody was winless in 13 starts on the race track. As a broodmare she has produced 4 winners.


Zazu comes from great bloodlines; her sire has sired several talented fillies. Her dam was a consistent filly who won her first three starts. Her dam's sire was a speedy sprinter who has sired several talented horses. She has the right running style to fit in a race like the Kentucky Oaks and she seems to be peaking at the right time. If the fillies up front go a little too fast, this filly definitely has the ability to run them down late. You could be seeing a grey flash at the finish come Oaks Day!