Zipse's Kentucky Derby Daily – Day 26


Pedigree Spotlight written by Scott Dick


Jess Jackson and Stonestreet Stables are praying the celestial bodies are positioned perfectly for their colt Astrology. Astrology is coming off his first start as a 3-year- old, an impressive 2nd place finish in the grade III Sunland Park Derby. He stalked the quick pace of Sinai, making an impressive move at the quarter pole, and the cruised to the lead without being asked, Twice The Appeal moved with him and battled him down the stretch. Astrology finally gave in, as the more fit Twice The Appeal went on by to score by 1 ½ lengths. This was the first start for Astrology in 4 months and it was an encouraging performance. Jockey Julien Leparoux never seemed to get into the horse and looked to have left something in the tank for his next start. Astrology had an impressive 2-year-old season, winning the grade III Iroquois Stakes at Churchill Downs. He also ran a credible 2nd to Santiva in the grade II Kentucky Jockey Club Stakes at Churchill. Astrology has yet to run worse than third, and seems to have limitless potential.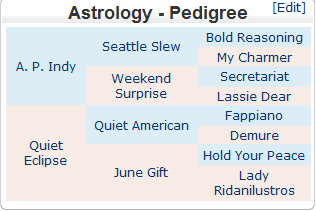 The sire of Astrology is A.P. Indy. A.P. Indy was a phenomenal race horse. Easy to spot with his low head carriage, A.P. Indy scored in several graded stakes including the Grade I Breeder's Cup Classic, Grade I Belmont Stakes, Grade I Santa Anita Derby, Grade I Hollywood Futurity, Grade II Peter Pan Stakes and the Grade II San Rafael. He is also a two-time leading sire.


A.P. Indy is the sire of champions – Mineshaft, Bernardini, Rags To Riches, Marchfield (Canadian Champion),Tempera, Festival Of Light (UAE Champion), Catch The Thrill (Canadian Champion.) He's also the sire of grade I winners – Golden Missile, Music Note, Secret Status, Just As Well, Stephen Got Even, Symboli Indy, Aptitude, and Tomisue's Delight.


The sire of A.P. Indy is the great Seattle Slew. The Triple Crown champion was known as one of the greatest sires of all time. Showing versatility, he sired race horses, broodmares, and he was a sire of sires.


The dam of A.P. Indy is Weekend Surprise. Weekend Surprise was a very good race horse in her own right. She won 7 times in 31 starts and scored in the Grade III Schuylerville Stakes and the grade III Golden Rod Stakes. As a broodmare, Weekend Surprise has been SENSATIONAL.Besides A.P. Indy, she is also the dam of Summer Squall, a winner of over $1,844,000 in his career and victor of the grade I Preakness.


The dam of Astrology is Quiet Eclipse. Quiet Eclipse only won 1 race in her career and it was sprinting. She has been very good so far as a broodmare. She is the dam of the colt Lunarpal. Lunerpal won 4 of his 6 career starts, scoring in the Grade III Bashford Manor stakes at Churchill Downs. Lunarpal won all of his races sprinting.


The Sire of Quiet Eclipse is Quiet American. Quiet American was a solid race horse, winning the Grade I NYRA Mile Handicap and the Grade III San Diego Handicap. He finished his career with over $750,000 in purse money. Quiet American has proven to be a very useful sire. He is the sire of the grade I winners – Hidden Lake, Seattle Smooth, Cara Rafaela, as well as near Triple Crown winner Real Quiet.


The dam of Quiet Eclipse is June Gift. June Gift won 5 times in 19 career starts. As a broodmare she has produced 6 winners, including Great Respect. Great Respect won 4 times in 38 starts. She won over $100,000 in her career, and was able to win sprinting and routing.


Astrology has only made 1 start as a 3-year-old and has tons of room to improve. But you have to ask yourself, is it too late? He seems to love the Churchill Downs surface, with a win and 2nd place finish in two graded stakes at Churchill. His bloodlines have the right amount of speed and distance and he has the talent to compete with the top colts, but the question is does he have the fitness and maturity? I think Astrology will play his cards right and make a big impact in this year's Kentucky Derby.


The Steve Asmussen trainee Nehro is starting to look like a serious race horse. After his first two races, one might think this colt was just rather ordinary. He finished an OK 4th in his first race sprinting, and in his 2nd start he stretched out to the mile distance. He was never involved in the race and finished next to last, beaten some 22 lengths, not something you'd want to see from a colt with Derby hopes. The light came on in his third career start, he closed from last to make a strong, sweeping move to the lead, he cruised through the stretch, dominating the maiden field by some 4 ½ lengths. Asmussen decided to take his shot at the Grade II Louisana Derby, and Nehro was much closer to the pace, sitting in 4th before making a late move on the rail. He closed fast, and for a minute, it looked like he might actually run down Pants On Fire, but it was just a little too late. He finished an impressive 2nd, only beaten a neck to Pants On Fire.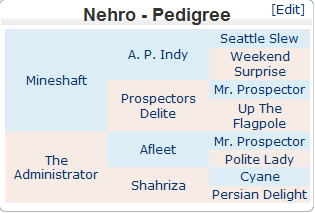 The sire of Nehro is Mineshaft. Mineshaft was a sensational race horse. He started his career in England, where he broke his maiden on the turf. He also finished 3rd in a grade III in France before coming to the US. Mineshaft thrived on American soil, winning 4 grade I Stakes in his four-year-old season. He was eventually named Horse-of-the-Year in 2003. Mineshaft's sire is the great A.P. Indy, (see above for A.P. Indy's stats)


The dam of Mineshaft is Prospector's Delite. Prospector's Delite was an impressive race horse in her own right. She won 6 of her 9 career starts and boast earnings over $430,000. She won several graded stakes including the Grade I Acorn Stakes, Grade I Ashland Stakes, and the Grade III Fairground Oaks. Prospector's Delite has equaled her racing career in the breeding shed. She produced 5 winners who all won at least $100,000 in their careers. She is the dam of Tomisue's Delight. Tomisue's Delight won the grade I Ruffian Stakes and the grade I Personal Ensign Stakes. She is also the dam of graded stakes winner Mr. Sidney.


The dam of Nehro is The Administrator. The Administrator was a sprinter who won 4 races in 26 career starts. She won over $100,000 in her career, and was the winner of the Singing Beauty Stakes. As a broodmare she has been extremely successful. She has produced 5 winners. She is the dam of the filly Sweet Lips, Sweet Lips won 6 races in 13 starts with career earnings over $500,000. Sweet Lips won the 2005 Sunshine Millions Distaff.


The sire of The Administrator is Afleet. Afleet was a versatile super star. 2nd in the Preakness, he won the grade I Jerome Stakes and the grade II Pennsylvania Derby going long, and also finished a credible 3rd in the grade I Breeder's Cup Sprint. He was named Canadian Champion 3-year-old and Canadian Horse Of The Year. He is the sire of the colt Afleet's Dancer, Afleet's Dancer was a multiple grade III winner in Canada, he won over $1,000,000 and was named 2001 Canadian Champion Older Horse. Afleet also sired the graded stakes winners Northern Afleet (sire of Afleet Alex),Twist Afleet, Top Secret, Sea Ditty, Rizzi, Cat Be Nimble, Fleet Fleet Fleet.


The dam of The Administrator is Shahriza. Shahriza was winless in 5 starts, but as a broodmare she has been rock solid. She has produced 10 winners. She is the dam of Zalipour. Zalipour won 7 of his 22 career starts, including the Manalapan Handicap, The Del Ray Handicap, and the Hollywood Handicap. He finished with earnings over $240,000.


Nehro is lightly race and inexperienced. He is improving with every start and seems to have the running style to relish the 10 furlong distance. His pedigree is royal, his sire was a proven router and his dam was a solid sprinter who was able to produce a solid distance horse in Sweet Lips. I believe the sky is the limit for Nehro, but the Kentucky Derby might just be coming too soon for Nehro. I could see him running a big race in the Kentucky Derby, but I expect him to be a more serious contender in the Derbies of the Summer.