The date was March 3, 1966 -- 50 years ago today. The location was beautiful Hialeah Park for the running of the prestigious Flamingo Stakes. This particular edition was coined the "Chicken Derby" because of the refusal by track management to allow betting on the big race for fear of a large minus pool created by the entry of Buckpasser and Stupendous.
Going in, Buckpasser was the star of the show. He was the previous year's Champion Two-year-old, on the strength of six stakes wins, which included an easy victory in the Champagne Stakes. After being upset while a fast closing second in his seasonal debut at seven furlongs, the Ogden Phipps star had rebounded with a hard earned victory in the Everglades Stakes over his stablemate, Stupendous, for trainer Eddie Neloy. The Flamingo would be his third start as a three-year-old.
While the more than 30,000 fans in attendance that day were vocal of their disapproval of the lack of betting, they would instead be treated to a fantastic race.
"Buckpasser gave me heart failure," said Neloy. "I gave up. He must have made up several lengths in ten jumps!"

It's no wonder that the big horse's trainer had all but given on his charge. After forging to the lead in the field of nine at the head of the lane, Buckpasser looked like a beaten horse soon after. The Illinois-bred Abe's Hope, who had been last early, swooped the field with a full head of steam, and quickly opened up about two lengths on Buckpasser in mid-stretch of the nine-furlong affair. The race was as good as over -- or maybe not.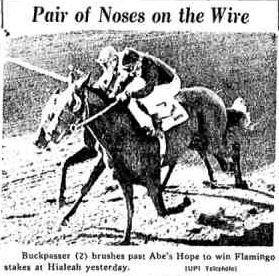 Buckpasser, ridden by Willie Shoemaker, saw Abe's Hope blow by, and he quickly set sail after him. Gaining gobs of ground with every stride, somehow, some way, the champion got up for the win by a nose over Abe's Hope and apprentice rider, Earlie Fires. The amazing Flamingo victory would be his last before an injury kept the son of Tom Fool out of the Triple Crown. Even more amazing perhaps than his famous win at Hialeah, was that it became the second of a 15-race winning streak for the future Hall of Famer.
If you've ever seen a horse passed in the stretch, only to come back again to get up for the win, and thought to yourself what a gutsy effort it was … you are in for a treat. This is the best example of it that I've ever seen in thoroughbred horse racing.
Reference: Chicago Tribune - Friday, March 4, 1966 issue.