Don't look now, but American racing has officially entered a state of
Malibu Moon
Mania. If
Orb
's powerful win in last week's
Kentucky Derby
was not enough, yesterday's tour-de-force by
Freedom Child
in a sloppy edition of the Peter Pan Stakes tipped the scales over to full-fledged mania. As easy as it was for me to name the Derby winner last week's star, this week, ZATT's Star of the Week could go to no other horse than Malibu Moon's three-year-old male second string. A sire I've long considered to be one of the best in America, Malibu Moon is now in position to become the toast of the bluegrass, as his talented sons look to make America's
Triple Crown
their own personal playground.
Regally bred, the 16-year-old sire is a son of the great
A.P. Indy
out of a grade 1 winning Mr. Prospector mare named
Macoumba
. As influential as any sire in the last twenty years, A.P. Indy was pensioned from breeding in 2011. Bred to be a standout on the track, Malibu Moon only raced two times in his career, where he displayed the precociousness of his mother by running 2nd in a maiden in April and then impressively winning a May maiden in racehorse time. Malibu Moon was clearly a horse with a big future, but it would not be on the track, as a fracture in his knee ended his career almost before it began. The big colt was sent to Country Life Farm in Maryland.
Country Life Farm is the oldest stud farm in Maryland and is the birthplace of Hall of Fame runner Cigar. It is not a farm with the most expensive sires in the world, however. Malibu Moon took to stud life smoothly at the young age of three. Because of his lack of a racing career, he was not predicted for stardom as a sire. Despite his pedigree and good looks, he began his career at stud for the miniscule fee of $3,000. Standing in Maryland with a small stud fee, Malibu Moon was not sent blueblood mares by any means. Yet despite of this, he was an immediate success, siring multiple stakes winners in his first two crops. In his second crop, he sired the 2004 juvenile champion
Declan's Moon
. Suddenly Malibu Moon was a hot commodity. As Business Manager at Country Life Farm, Michael Pons, tells it, "He got too good to stay in the minor leagues, he had to go to the majors." In American breeding, the majors is the bluegrass of Kentucky.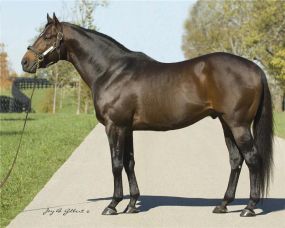 First on to Castleton Lyons in Kentucky and then on to legendary
Spendthrift Farm
in Lexington, Kentucky, Malibu Moon has made a steady climb up the ranks of American stallions. B. Wayne Hughes' Spendthrift Farm is the majority owner of Malibu Moon, with both Country Life and Castleton Lyons retaining a one quarter interest in the top stud. At Spendthrift, he now stands for $70,000 and covers a high quality list of mares. Malibu Moon is that rare stud who has proved successful at every level of breeding, from the basement to the penthouse, he continues to shine.
In 2012, Malibu Moon was represented by 6 different graded stakes winners. With the pensioning of A.P. Indy, and the premature passing of Pulpit, Malibu Moon stands as the predominant sire of all them from the great
Seattle Slew
line. He is one of those rare sires who has not seen his stud fee drop because of the economic downturn. As the clear king of the heap at historic Spendthrift Farm, and currently enjoying his finest season yet, there is no telling how high the consistent sire's stud fee may rise.
A not so short list of horses sired by Malibu Moon in his first ten crops include Declan's Moon, Malibu Mint, Life at Ten, Ah Day, Moon Catcher, Perfect Moon, Malibu Moonshine, Sara Louise, Raw Silk, Malibu Prayer, Luna Vega, By The Light, Bon Jovi Girl, Devil May Care, Prospective, Obruchev, More Chocolate, Moon Philly and of course, current sophomore stars, Orb, Freedom Child, and the fleet filly,
Kauai Katie
. 
In Orb, Malibu Moon has a colt with a legitimate chance to become racing's first Triple Crown winner in 35 years. If Orb wins next week's Preakness, as he will be heavily favored to do, it might come down to another Malibu Moon, in Freedom Child, that could be the Shug McGaughey runner's biggest stumbling block. And while those two are duking it out at 1 ½ miles in the Belmont Stakes, look for Kauai Katie to continue to flaunt her massive speed in that weekend's Grade 1 Acorn Stakes. Once an unheralded sire, Malibu Moon might be undoubtedly America's best by the time the smoke clears on June the 8th.