The Kentucky Derby is undoubtedly the big one, but the next few days at Churchill Downs offer far more great racing than only the "most exciting two minutes in sports".
The female counterpart to the Run for the Roses is the Kentucky Oaks, and it headlines a number of topnotch graded stakes on the day before the Derby. This year's edition of the Oaks looks like a great betting race, and one where I will try to beat the favorite.
Sprinkle in several more horses I like throughout the other big races on Friday and Saturday, and I am looking to make this a very profitable weekend. Let's take a look at many of many favorite wagers.
For more info on my wagering thoughts watch HorseCenter now!
In Friday's 8th race, the La Troienne (G1), look for last year's Kentucky Oaks winner Shedaresthedevil to get the bulk of the betting. She is a worthy favorite, but after a real tough race in her return, and with other good speed in here, I think Dunbar Road can beat her. Trainer Chad Brown has his stars ready to run first time out, and this classy 5-year-old mare should be primed for a big year.
$50 win - Dunbar Road - ($50 total)
In the very next race, the Eight Belles (G2), we have my best bet of the weekend. I believe the lightly raced Slumber Party will not only turn out to be the best horse in the field, but she comes in with two strong races at the 7 furlong distance already this year. Meanwhile, the race favorite Dayoutoftheoffice is returning off a long layoff and has to deal with some other fast fillies early. I also believe L'il Tootsie is a talented filly, who should appreciate the cutback in distance for trainer Tom Amoss.
$50 win - Slumber Party ($50 total)
$5 exacta box - Slumber Party and Li'l Tootsie - ($10 total)
       >>>Get a FREE $25 Derby Bet with NYRABets now!<<<
To round out Friday afternoon, I will be starting a great two-day Pick 3 of the Kentucky Oaks, Turf Classic and Kentucky Derby with my top two choices in the Oaks, Clairiere and Travel Column. I've liked them all year, and I see absolutely no reason to get off now. The favorite, Malathaat is a great looking filly, but I worry that she might be left with too much to do in the stretch on Friday.
How to Crush the Kentucky Derby 2021 Superfecta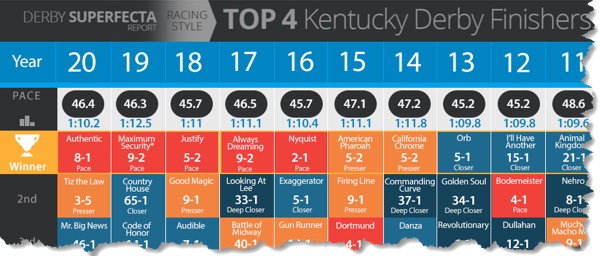 In the Turf Classic, I will use the lone speed, Smooth Like Strait, as well as the streaking Colonel Liam. I believe the latter is the best turf horse in the country and is the most likely winner, but watch out for the former if he is allowed to lope along on an uncontested lead.
In the Derby, I am going to put all my eggs in the basket of my top pick, Hot Rod Charlie. If I can get to the big race alive with this $10 ticket, I will be primed to collect big if I am right about the son of Oxbow.
$10 Pick 3 - Kentucky Oaks/Turf Classic/Kentucky Derby - ($40 total)
Leg 1: Clairiere, Travel Column
Leg 2: Colonel Liam, Smooth Like Strait
Leg 3: Hot Rod Charlie
Looking ahead to Saturday, I like a longshot in the afternoon's 10th race. The Churchill Downs is a race that I've cashed big in the past, and I am hoping that ShaShaShakemeup can help me connect again. Whitmore and Flagstaff are a pair of excellent old veterans, and deserving favorites, but they are not unbeatable. My longshot flashed some talent last year, but I really think he is on the verge of becoming a bigtime sprinter since moving to the barn of Peter Miller.
$10 exacta key - ShaShaShakemeup over Flagstaff, Whitmore and Tap It to Win - ($30 total)
The next race features many of America's best turf horses, and as already mentioned, I like Colonel Liam and Smooth Like Strait.
$20 exacta box - Colonel Liam and Smooth Like Strait - ($40 total)
And finally, the Derby. I've made some slight alterations since the draw, but I am sticking with Hot Rod Charlie as my go-to horse. I also really feel like this year's edition will not be a chalk fest, so I am looking to get the right long shot (or two) in there with my top pick for a big triple.
$1 trifecta key - Kentucky Derby - ($56 total)
1st: Hot Rod Charlie
2nd: Essential Quality, Rock Your World, Known Agenda, O Besos, Dynamic One, King Fury, Highly Motivated, Brooklyn Strong
3rd: Essential Quality, Rock Your World, Known Agenda, O Besos, Dynamic One, King Fury, Highly Motivated, Brooklyn Strong
Get Oaks & Derby full-card picks today!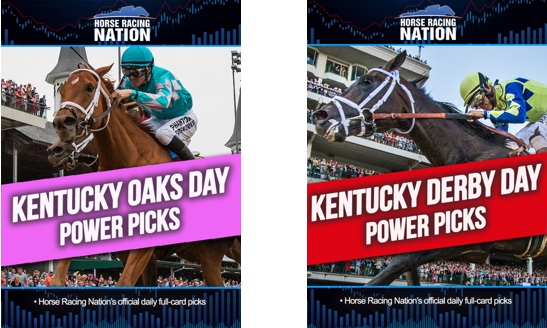 $1 trifecta key - Kentucky Derby - ($56 total)
1st: Essential Quality, Rock Your World, Known Agenda, O Besos, Dynamic One, King Fury, Highly Motivated, Brooklyn Strong
2nd: Hot Rod Charlie
3rd: Essential Quality, Rock Your World, Known Agenda, O Besos, Dynamic One, King Fury, Highly Motivated, Brooklyn Strong
$1 trifecta key - Kentucky Derby - ($56 total)
1st: Essential Quality, Rock Your World, Known Agenda, O Besos, Dynamic One, King Fury, Highly Motivated, Brooklyn Strong
2nd: Essential Quality, Rock Your World, Known Agenda, O Besos, Dynamic One, King Fury, Highly Motivated, Brooklyn Strong
3rd: Hot Rod Charlie