The history of Thistledown Racecourse is a long one. Opened in 1925, the proud home of the Ohio Derby has gone through plenty of changes in recent years. Long owned by the DeBartolo Corporation, the North Randall oval changed hands several times in the last two decades. Video Lottery Terminals (VLT's) were introduced in 2013, creating a boon to business, and in early 2016 a rebranding led to the new name of JACK Thistledown Racino. With it came a whole new attitude. Through it all, a pair of Northeast Ohio families have endured and thrived at the racetrack.
For many of us, horse racing is a family affair. The love of the horse, game, and a day at the races can be often thanked to a family member who first afforded us the enjoyment of experiencing live racing. For most of us, though, racing is simply a hobby or pastime, an enjoyable break from our day-to-day routines, but what about those people that wake up every day to go to work at the track? For them, the racetrack is a way of life. For the Ellsworth and Lynch/Moehring families, JACK Thistledown Racino has been their way of life.
It's not easy anymore to find a job or career that is passed on from generation to generation, and from family member to family member, but that is exactly what is happening at the Northern Ohio racetrack. For more than 40 years, they have called JACK Thistledown Racino home. Working in in a variety of different positions at Thistledown, the two families have seen it all.
If you follow the racing there, you are likely familiar with the Ellsworth name. Father and son, David and Patrick, each hold an important position at JACK Thistledown. David Ellsworth, 58, is the Director of Racing Operations, while his son Patrick, 35, is the Racing Secretary.
 (Patrick & David Ellsworth)
David Ellsworth has been at Thistledown for 40 years, working his way from the grounds crew on up to his current position. Along the way, he worked with both his grandfather, Carl, and his father, Charles. Among his favorite memories at the track, which has been his workplace for his entire adult life, include ten years as the Track Superintendent. As an explanation of the comradery shared at JACK Thistledown, David proudly points out that in ten years, they only had to close the track from live racing on one single day. A rainy afternoon which saw the temperature quickly drop down more than 30 degrees into the teens was the only day of racing lost during his Superintendent years. His staff cared too much about the track to let the racing fans down.
That sense of community and family is also readily conveyed by Kevin Lynch. Kevin no longer works at JACK Thistledown. After nearly five decades in the mutuel side of the business, Kevin decided one Kentucky Derby day that it was probably time to call it quits. He filled out his resignation letter on the back of a payoff ticket stub, and has been missing the people at the track he called home ever since. He misses his friends he worked with, and the friends he made at the track, some of whom would only bet at his window. Kevin also fondly remembers some of the characters that placed bets with him over his many years there -- Milton Berle, Tim Conway, and Kenny Rogers, to name a few.
Things are different at JACK Thistledown now than in the old days. "It is a beautiful place now. It has changed for the better," says Ed Lynch, Kevin's Brother. It's all part of a $70 million renovation designed to move the near century old track into the future. While the facelift has transformed the place, the importance of the addition of the video lottery terminals cannot be understated. "The VLT's saved racing in Ohio," tells David Ellsworth. Front and center amidst the new Thistledown, is the next generation. Patrick Ellsworth and Ashley Moehring are key components to all that is happening now at their families' racetrack.
Ashley Moehring is a young marketing executive, who only began working at JACK Thistledown earlier this year, although she has worked for the parent company for several years. Although working at the track is relatively new to her, the surroundings are not. Younger cousin to Kevin and Ed, Ashley is remarkably the seventh person in her family to build her career at Thistledown, beginning with her grandfather in the 1950s.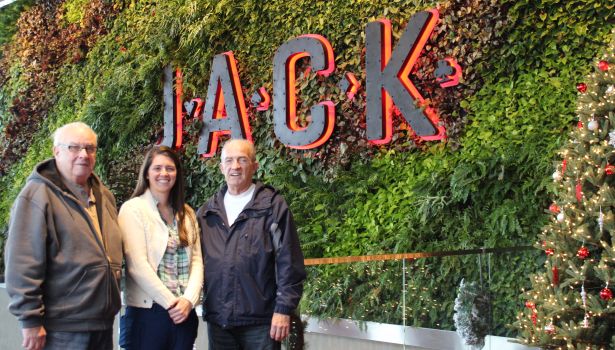 (Ed, Ashley & Kevin)
Today, Ashley oversees promotions at JACK Thistledown. She strives to make it a family driven location; to make the racing portion of the racino there bigger again. Big like it used to be. With all the improvements made in recent years, she can't help but wonder what her grandfather Bill would say about the new, versus when he worked there so many years ago.
Meanwhile, Patrick Ellsworth is all about the racing on a daily basis as the Racing Secretary. A fourth-generation Thistledown employee, Patrick started at an early age. As a young boy, he would walk the track to pick up any pebbles or debris to make the track a safer place for horse and rider. Patrick has held several jobs there between then and now, and like everyone else I spoke with, he says working there doesn't seem like work at all.
Maybe that's why David, Patrick, Ashley, Kevin, Ed, and there six other respective family members, have made JACK Thistledown the only place to build and maintain their careers. It's the kind of dedication that isn't often found these days, and I find it to be a wonderful thing.
They must be doing something really right there at JACK Thistledown, for these two families to be so loyal. So, next time you go to the races in Northeast Ohio think about the history, the people that work there, and the stories they have to tell, because for these two families and their race track, it truly is a family affair.