Zipse's Kentucky Derby Daily – Day 30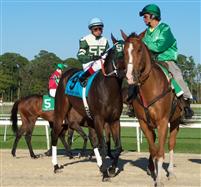 The Illinois Derby serves as the only real prep for the Kentucky Derby in the state, but this year a purse decrease has left the field a little light in the big name department. Initially the purse for the Illinois Derby was going to be $250,000, a decrease of 50% from recent runnings. It was however, raised another $50,000 in recent weeks as race sponsor TVG brought additional money in order to boost the purse. What it is missing in headliners, it makes up for in depth though, with a field of 12 three-year-olds entering Saturday's grade 3 affair at Hawthorne Race Course.


The Tampa Bay Derby victor Watch Me Go figures to go favored in the full field. He will attempt to become the second horse to win both the Tampa Bay and Illinois Derbies in three years, following in the footsteps of Musket Man. The son of West Acre, trained by Kathleen O'Connell, was made the 7-2 favorite for the 1 1/8 mile race. Watch Me Go has won four of nine starts for owner Gilbert Campbell, and will again be ridden by Luis Garcia as he breaks from the four-hole.


Main challengers to the favorite include The Fed Eased, who set the pace much of the way before weakening late in last month's Gotham Stakes. That effort was only his 3rd lifetime start, so further improvement could make the Richard Violette trainee tough to beat on Saturday. El Grayling is listed as the Morning Line 2nd choice at 9-2, but is winless in three starts in 2011. In his defense, has been facing tougher in his Florida starts.


Other colts who should get plenty of attention from the bettors include Sour from the Al Stall barn, and Todd Pletcher's entrant Joe Vann. Sour will be making his stakes debut after a win and two seconds in his first three starts against solid competition in New Orleans, while Joe Vann has turned things around of late with two easy wins at Laurel in his last two starts.


All twelve runners will be trying to emulate the amazing run made by War Emblem in 2002 when he used a win in the Illinois Derby to prepare for success in both the Kentucky Derby and Preakness Stakes.


Expecting such a repeat from this year's entrants seems to be wishful thinking at best, but hopefully this edition of the Illinois Derby will produce an exciting race, with a colt or two running well enough to merit taking a shot at the run for the roses.

[With no one higher than Watch Me Go at #42 on HRN's 2011 Kentucky Derby Contenders, can the Illinois Derby be considered a realistic Kentucky Derby prep?]