Watching yesterday's Fountain of Youth Stakes was a pure joy. Union Rags looked every bit the way an early Kentucky Derby favorite is supposed to look. After recent years, where our top three-year-olds disappointed on the track, fell off the trail due to health reasons, or were victims of tough trips, it was a pleasure to see the big horse power home in effortless fashion to win his first sophomore test. Not surprisingly the glowing way the performance was talked about after the race was off the charts.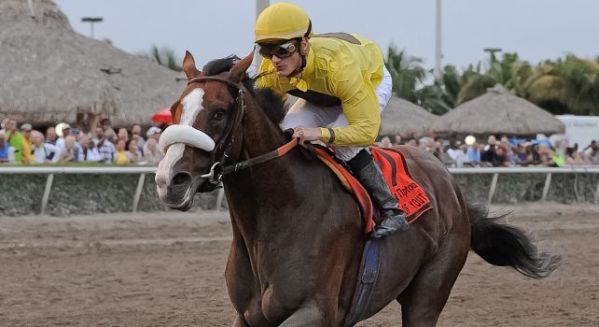 People are already calling him a freak, a sure thing for the Derby, the colt that at long last will end the torturous Triple Crown drought, and something just short of the next coming. Don't get me wrong, I was impressed yesterday, and I love to see this kind of enthusiasm in our sport, but I wonder in this "what have you done for me in the last five minutes" world we now live in, if expectations are being raised way too high, way too early.
Now for the voice of reason … As the horse I've called the best one of the crop, Union Rags only did yesterday exactly what he was supposed to do. No more, no less. 
When Algorithms was scratched before the race, it became apparent that there would only be one big threat to Union Rags in the Fountain of Youth. Clearly, Discreet Dancer did not live up to that billing, and gives every impression of a horse who will struggle going farther than a mile against good horses. Therefore, when Union Rags strolled down the Gulfstream Park stretch, he really wasn't facing any adversity at all, and no matter how good we think he is, or may become, adversity is something he will need to face along the rigorous trail of the Triple Crown. And for anyone that doubted the son of Dixie Union's ability to excel at classic distances, 1 1/16 miles at Gulfstream does little to disprove those fears.
Truth be told, I was as impressed with El Padrino's win as I was with what Union Rags did in the Fountain of Youth. In the Risen Star, El Padrino gave further credence to my belief that he is a horse that will handle the ten furlongs of the Derby with little trouble, and also that he can look a good horse in the eye, and come out on top. These are most valuable commodities for any horse that has visions of Triple Crown grandeur.
Listen, I like Union Rags a lot, and I always have, but let's temper down the fanatical enthusiasm a few notches here. I thought Union Rags was great yesterday, especially his push button second gear and his focus in the stretch, but let's be real … It's a long way to go to wear the roses, and yesterday was only a solid first step.