In a fearless display of handicapping prowess, many of the best and brightest of Horse Racing Nation have decided to lay their reputations on the line and try not only to pick the winner of the 2012 Kentucky Derby, but also nail down the entire superfecta of one of the most difficult races to handicap since the first Saturday of last May. Surely the old axiom, 18 heads are better than one, is in play here, so the consensus selections should offer some solid information for anyone with the willingness to listen. Before the race even begins, I believe these selections will answer the question which horse will be favored, as somewhat surprisingly nearly half of the group tabbed Union Rags as their overall top pick, while not a single voter went for Bodemeister in that spot. Without further ado, here is how Horse Racing Nation sees the Kentucky Derby …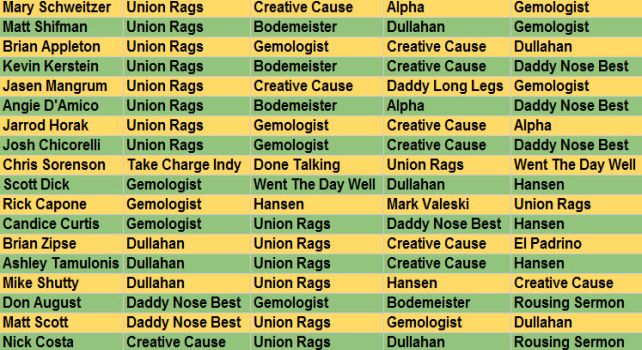 … Leaving us with the consensus Top 5 of:
1. Union Rags
2. Gemologist
3. Dullahan
4. Creative Cause
5. Daddy Nose Best 
Did we collectively get it right? Tell us what your Top 5 is.