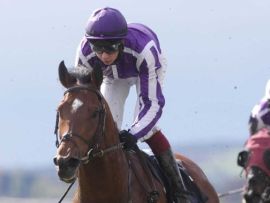 Do you remember the Washington Generals? Sure you do; they were the basketball team that took it on the chin from the Harlem Globetrotters too many times to count. Their amazing losing streak helped highlight the spectacular play of the winners. Why do I bring up the Generals in a horse racing column? I do because they remind me so much of that lovable loser, Excelebration. 
Now comparing Excelebration to the Washington Generals may be a bit too harsh, as while I have little knowledge how well the Generals played basketball, it is pretty clear that the son of Exceed and Excel is a very good horse. A quick scan of his lifetime record reveals 7 wins, 4 seconds, 1 third, and 1 fourth in his 13 career starts. Most any owner would be proud for their charge to carry such a consistent record. A deeper look into that record reveals a better understanding though of the tragic hero that is Excelebration.
It all began kindly enough in the summer of 2010. After finishing fourth in his career debut as a juvenile at Nottingham, the bay colt reeled off a pair of handy wins in a Doncaster maiden and then a stakes at Newmarket. Each was won with relative ease, and Excelebration was put away for his Juvenile season with the promise of a bright career ahead.
Things would change suddenly and for the worse though in his first race of the sophomore season for the Marco Botti trainee. Normally a second place finish in a Group 3 stakes at Newbury to start the season would not be a disappointment, but in fairness, the result in the Greenham Stakes was more a demonstration of superiority rather than a horse race, as Excelebration was squashed by a budding superstar named Frankel. A trip out of town ensued, and a romping win in the Group 2 Mehl-Mülhens-Rennen  in Germany gave his connections renewed hope for the prospects of their talented colt. Returning to England for the Group 1 St. James's Palace Stakes during the pomp and circumstance of Royal Ascot, Excelebration would suffer another defeat at the hands of the great Frankel. This time he would finish third, as Zoffany split the pair that would only become more familiar with each other over time. That defeat would mark the only time since his career debut that any horse other than Frankel would finish ahead of Excelebration.
The pattern of playing foil in between strong wins would persist, as in his next two starts he would account for the Group 2 Hungerford Stakes at Newbury in impressive fashion, before scoring in the Group 1 Prix du Moulin de Longchamp without too much trouble. Of course in those two races there had been no Frankel.  Excelebration would take one final big shot at his nemesis as a three-year-old in the prestigious Queen Elizabeth II Stakes on Champions' Day at Ascot. It was a good performance, but good is not good enough against a super horse, and Frankel cantered home by four lengths over Excelebration, with no one else close. 
New owners and a new trainer would come as Excelebration was purchased by Coolmore and transferred to Aidan O'Brien, but things in the one-sided Frankel- Excelebration rivalry would remain very much the same. Solid wins in the Group 3 Gladness Stakes and Group 1 Prix Jacques Le Marois would sandwich a pair of thumpings to the unbeaten Frankel in the Group 1 Lockinge Stakes and Group 1 Queen Anne Stakes at Royal Ascot. 
So in recap, Excelebration has lost but five times since his career debut, with each of those races being easily won by Frankel. In the other seven races sans Frankel, Excelebration has won seven stakes in rather easy style. This all leaves me to wonder what kind of star this colt could have been if not so unlucky to have been born the same year as the mighty Frankel.
There is some good news for our tragic hero, however; as he is back at Ascot to run in the same prestigious race where he was treated so rudely by his rival last year. A victory in the Queen Elizabeth II Stakes would be a career win for Excelebration, and with Frankel off to fight longer battles in the Champion Stakes on the same card, it would come as no surprise if he did just that. Maybe then he will get the recognition as a great horse in his own right.
Or more likely the ultimate fate of Excelebration is to be to Frankel what the Washington Generals were to the Harlem Globetrotters. But at least he gets to run once in a while without the horse that he makes look so good. I wish him the best of luck on Saturday at Ascot, for sometimes it's nice to see the losers get to win too.