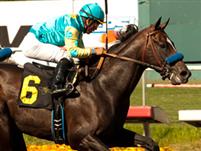 Say what you will about how the pace unfolded in yesterday's Super Derby, but one thing you cannot deny is that the winner is a horse on a roll … and a Derby roll at that.
Undefeated now in four starts in 2011, Prayer For Relief first jumped on the Derby train with a win in Prairie Meadows' Iowa Derby on June 25. Next, the Bob Baffert trainee accounted for Mountaineer Park's West Virginia Derby on August 6.  And then yesterday, the son of Jump Start made every pole a winning one as he was allowed to control a slow pace, and then had no trouble whatsoever in holding off Awesome Bet and Populist Politics in the stretch to win the Grade 2, $500,000 affair by 2 ½ lengths. Sent off as the 6-5 favorite, Prayer For Relief finished the 1 1/8 miles in 1:52.29 under a crafty and confident ride by Rafael Bejarano.
With his dominating wire-to-wire in the premier event at Louisiana Downs, Prayer For Relief will soon look to join such standouts as Sunday Silence, Unbridled, Concern, Tiznow who were able to use the Super Derby as a prep before winning the Breeders' Cup Classic less than two months later. While I am not ready to place him in the class of that crew, considering his Derby run, I think you may be able to compare him more closely to another pair of really nice horses from year's past who also went on a big Derby run in the summers of their three-year-old seasons.
Back in 1979 it was a bay colt by Cyane, named Smarten, who was the first horse I saw rack up the Derbies. Trainer Woody Stephens wisely kept him away from Spectacular Bid that summer and was rewarded with six graded stakes wins.  Under regular rider Sam Maple, Smarten ran in five different Derbies in 1979 and came very close to winning them all. After just missing in the Arkansas Derby, losing by a head to Golden Act, he was able to rattle off wins in the Illinois Derby, Pennsylvania Derby, Ohio Derby, and American Derby among his stakes scores.
Eight years later came a wonder horse from of all places, Alabama. While Alysheba and Bet Twice were going at it in each leg of the Triple Crown, a bay son of Codex, named Lost Code, began racking up stakes wins at an alarming rate. After a track record performance in winning the Hoop, Jr. Stakes, Lost Code followed with a win in the Alabama Derby. He then prepped for an Illinois Derby win with a victory in the Thomas D. Nash Memorial Handicap. After that it was the Ohio Derby, St. Paul Derby, and Arlington Classic that would be taken in front running fashion. His seven race stakes streak of 1987 ended in a fabulous edition of the Haskell in which Bet Twice narrowly defeated both him and Alysheba.
So if you are keeping score, that's Smarten and Lost Code – 4, and Prayer For Relief – 3 on the Derby win scorecard. Lost Code and Smarten are two excellent horses to be compared with, and certainly have greater career achievements than Prayer For Relief does yet, but a streak like this deserves some accolades.
 
I'm not sure if another Derby attempt is in the cards for Prayer For Relief, but maybe it should be. The Breeders' Cup Classic will probably prove too tempting for his connections, but wouldn't it be fun to see him get one more chance to join Smarten and Lost Code with 4 Derby wins?