They say having to make a decision like this is a good problem to have, and I guess that's true, but I'm sure that didn't make things any easier for jockey Javier Castellano of late. The decision has finally been made. As reported by DRF's Mike Welsch, Castellano has made the difficult decision to climb aboard the undefeated Algorithms, rather than the returning top juvenile Union Rags, in Gulfstream Park's Grade 2 Fountain of Youth two weeks from today. The decision, made with his agent Matt Muzikar, does not mean Castellano cannot still ride Union Rags in the Kentucky Derby, but in all likelihood, this choice means he has made a commitment to another horse that will carry all the way to Louisville.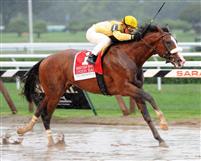 Not long after the choice was announced, I caught this tweet by Julien Leparoux, "I'm so excited about the news, can't wait to ride Union Rags :)" As the recipient of the good fortune of the mount on Union Rags becoming available, the Eclipse Award winning French rider was clearly giddy with the news. As one of the leading riders at Churchill Downs the last several years, and known for his patience, Leparoux could be the perfect jockey to team with the talented Michael Matz charge. 
While both horses are rated very highly on my new Down and Derby – Sweet 16 (due to be released on Tuesday), it is Union Rags that will hold down the #1 spot, and not Algorithms. Also of note is the current odds for the Kentucky Derby Future Bet Pool 1, which lists Union Rags a solid 7-1 favorite (among the single horses), with Algorithms back at 12-1 as the second choice, and is set to close in a few hours. It seems like many of us would have gone the other way with this decision.
But don't cry for Castellano, he is after all getting the hot horse in Algorithms, and the one that he chose to ride. Also making the blow a little more palatable for Castellano is the knowledge that he still has a few other Todd Pletcher trained guns like El Padrino and Gemologist in his Kentucky Derby holster. 
Don't tell Javier I said this, but … I could easily see any of these three, with Javier Castellano in the irons, running second in the Derby to Union Rags and Julien Leparoux.