Can you imagine a Kentucky Derby run at the extended sprint distance of one mile in the not too distant future?
Drosselmeyer was never considered the best of his generation. As a juvenile, he needed four races to break his maiden in his final start of the season. At three, he was defeated in his first three attempts in stakes racing before finally breaking through in the Test of the Champion, the Belmont Stakes. As an older horse, he languished with only a listed stakes victory in his first six starts, before busting out with a late run that swept him to victory one evening at Churchill Downs. Drosselmeyer's victory in America's richest race, the Breeders' Cup Classic, meant not only did he finish out each season with an impressive victory, but also that he became only the second horse in history to win the Belmont Stakes – BC Classic double. The first horse to accomplish the feat was the iconic American sire, A.P. Indy.
WinStar Farm's Drosselmeyer is one of the most decorated sons of champion sire, Distorted Humor. Also a WinStar stallion, Distorted Humor's stud fee stands at $100,000 live foal, one of the highest in the country. He is the only active stallion to sire all three legs of the Triple Crown. Funny Cide had given his sire wins in the Kentucky Derby and Preakness back in 2003. As a gelding, Funny Cide could not carry on the genes of Distorted Humor, but with his Belmont and Breeders' Cup Classic victor, the 19-year-old stallion may have a son ready to take up the mantle as one of America's best stallions. Making that prospect even more exciting from a racing purist standpoint, is the promise of distance that Drosselmeyer brings to the table.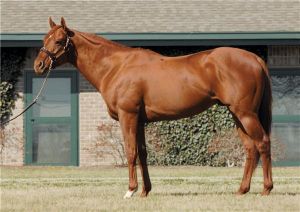 The first foal by Drosselmeyer  was born Tuesday in the Bluegrass at Denali Stud. The chestnut colt was bred by Galatyn Stables and is the second foal out of the winning Hennessy mare Heather's Angel. On the surface the foaling is just one of thousands every year in Kentucky, but looking at it another way, this colt could be the first of a revitalization of something American breeding sorely needs … distance.
While Distorted Humor has carried on the excellent speed and class of sire Forty Niner, and broodmare sire, Danzig, he was not a distance animal himself. While a talented runner, his best distance was probably only seven furlongs. Meanwhile, his big, beautiful chestnut son, Drosselmeyer only really got himself into the race after seven furlongs had already been run. Once a $600,000 yearling purchase, Drosselmeyer would seem to have it all. Out of the grade 1 winning Moscow Ballet mare, Golden Ballet, he promises American breeders a classic mixture of speed and stamina in his pedigree, with a real long-winded ability on the track.
So getting back to that original question … Can you imagine a Kentucky Derby run at the extended sprint distance of one mile in the not too distant future? For the sake of thoroughbred racing in our country, I sure hope note. I consider losing distance influences like I'll Have Another, Empire Maker and Summer Bird to Japan in recent years to be nothing short than a major blow. Celebrating new distance influences in our nation like Drosselmeyer, however; is a step in the right direction.
So far, it would seem that American breeders are willing to go against their speed and precocity at any cost tendencies and give a shot to a young stud who never won a race shorter than a mile. In 2012, Drosselmeyer covered 132 mares in his first season at stud, which included no less than 28 WinStar mares. This would seem to demonstrate a strong belief in the young stallion, not only from one of the finest farms in America, but also a vote of confidence from the entire industry. Who knows? Maybe if young distance influences are given the opportunity to flourish in the Bluegrass, stamina in American racing will not be completely lost.