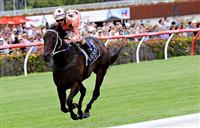 They say perfection is unattainable, and as a practicing golf instructor, I'm inclined to agree, but maybe even if this is the sad reality for the human race, we can still strive to find perfection within our world. Perhaps a glimpse of our unattainable will be in store for us tonight when Black Caviar sprints towards her 18th career win without a loss. Racing fans the world over will tune in with interest when Black Caviar resumes her quest for perfection in the $400,000 Group 1 Sportingbet C.F. Orr Stakes at Caulfield. The race, likely to be the next notch in the great mare's belt, will be run Saturday in Australia, but with the time difference, is scheduled for 11:50 Eastern here in America.
Arguably the greatest sprinter ever seen in Australia, Black Caviar still promises what so many modern day horses have failed to accomplish in their remarkable careers. Native Dancer got to the wire just a little late in the 1953 Kentucky Derby, leaving one big blemish on his near perfect career. More recently, Zenyatta suffered the same fate when she could not quite get to Blame in her career finale. World conqueror Invasor, included one failed attempt in the UAE Derby among his otherwise perfect career. Personal Ensign was the last horse to complete a career against top level competition with a perfect record, going 13 for 13 a quarter century ago, and it's been more than a half a century since the Italian great Ribot dominated his European competition in each of his 16 career starts. Some might say Zarkava should be included in this list, but with only a mere seven starts, I'm not sure she belongs in the discussion.
Black Caviar meanwhile, has dominated her competition in each of her 17 starts in such a way that it is almost unfathomable to believe she can lose in her native land. Even tonight's race, in which she will tackle a distance greater than six furlongs for the first time in the seven furlong Orr Stakes, and face a horse of group 1 quality, in Southern Speed, would seem to offer little chance to trip up the great mare. Perfection should remain intact tonight. After tonight, or possibly one more start in Australia after this, things look to become decidedly more difficult.
Black Caviar's main aims this year are said to be the Group 1 Diamond Jubilee Stakes at Royal Ascot in June and the following month's Group 1 July Cup at Newmarket. Those two affairs in England likely will offer her the greatest competition a turf sprinter can find. And if those two major tests are not enough, she could potentially head to Dubai before then for the $2 million Dubai Golden Shaheen, a race that would not only offer great competition, but would also take her talents off the grass for the first time and onto the synthethic surface of Tapeta. 
I am of the belief that perfection should never come easy, and clearly it will not for Black Caviar this year, but for tonight, let's all sit back, relax and enjoy perfection.