I went in to this holiday weekend of racing excited for two main reasons. First off, my favorite horse, Groupie Doll, was stepping outside of her large comfort zone to take on some salty males in the Grade 1 Cigar Mile in New York at a flat mile. I was hoping for a sixth straight win that would be a cherry on top of a magnificent season. I also was more than eager to wager on Bourbon Courage, a horse that I personally feel is developing into the finest three-year-old colt in the nation, against a deep Clark Handicap ensemble. Swing and a miss; the pair went 0-for-2, and I was left with nothing but tears to moisten my leftover turkey. But you know what? Now that the initial disappointment has gone, I can't help but admire the two fine colts that beat them. Shackleford and Stay Thirsty put together two very good careers, and what better way for them to go out then with hard-fought victories against grade one competition.
Shackleford has a fan base as big as all of Kentucky, and I can certainly understand why. He's got the looks of Brad Pitt and the speed of Usain Bolt. So what if there were a handful of races where he has not been able to carry his speed to the race's ultimate conclusion. The big son of Foresty, and the awesome mare, Oatsee, has run more than his fair share of monster performances. Big wins in the Preakness, Churchill Downs Handicap, Met Mile, and Friday's Clark Handicap demonstrated his courage as much as they did his speed. Even in several of his losses, Shackleford was all class. There was the brave 4th place finish when the Kentucky Derby pace collapsed, well collapsed other than the brave, and lightly raced Dale Romans' colt that battled the entire ten furlongs. After his fight-to-the-wire performance in the Florida Derby, I guess it should have come as no big surprise how game he would prove to be. Remember last year's Breeders' Cup Dirt Mile? He rebuked all challenges until finally a comet on the outside named, Caleb's Posse swooped by to win.
I really do not need to say too much more about Shackleford, because those of you who loved him, never wavered, while those of you who doubted, had to watch Shack at his best one more time in the Clark. He earned more than three million dollars for his grateful owners, and he did it his way. Class, courage, and speed are traits that should suit him well as he begins his second career at Darby Dan Farm. Love Shack baby.
Stay Thirsty could be a riddle wrapped in an enigma, but when he was good, he was very good. After a disappointing beginning to his 2012, the son of Bernardini probably fired the two best shots of his career, in his final two races. After a 2nd place finish in a listed stake, and back-to-back 5th place finishes in the Suburban and Woodward, it seemed the four-year-old version of Stay Thirsty was headed nowhere fast. Then came his bang-up performance in the Grade 1 Jockey Club Gold Cup. Doing his best Shackleford impression, the Mike Repole owned, and Todd Pletcher colt went straight to the lead and proved tough as a two dollar steak. Leaving horses like Fort Larned and Ron the Greek well behind, Stay Thirsty gave it everything he had all the way to the wire. It was reminiscent of his strong runner-up in the 2011 Belmont Stakes, only even better. Denied of victory, succumbing to the late rally of Flat Out, Stay Thirsty would not be denied yesterday. I guess you could say that about Groupie Doll as well, with the pair staging a magnificent, head-bobbing finish at Aqueduct, but in the end, it was Stay Thirsty's turn.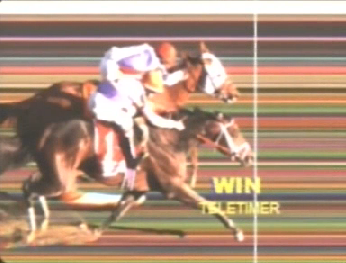 For a horse that threw in several clunkers, Stay Thirsty would have his day on several occasions. Easy wins in the Gotham and the Jim Dandy, got him out of the eclipsing shadow cast by his stablemate, Uncle Mo, but wins in the Travers and yesterday's Cigar Mile, let him stand alone as one of the best horses of his crop. Now it's off to Ashford Stud for the colt that many call, the most interesting horse in the world.
Oh, and if you will allow me one final indulgence, both Bourbon Courage and Groupie Doll ran big races. There should be no shame in their losses to Shackleford and Stay Thirsty this weekend, and I can't wait to see them both come back next year.