American racing needs some new stars, and if you are a fan of turf racing like I am, you could say we desperately need a star. After being disappointed with the news last week that a horse I believed could fill that role very nicely, Paddy O'Prado, had been retired because of injury, it did not take long for another El Prado offspring to step up and demonstrate the kind of ability we are all searching for. This time it is a filly, and she has the talent that could strike fear in the European invaders who expect to win the biggest of our turf races year after year. Five races into her career, Winter Memories would seem to have it all. She is bred to be a turf champion; her dam was a fabulous turf runner named Memories of Silver.
Winter Memories
is trained by a man who knows exactly how to develop turf talent in Jimmy Toner. She has looks to kill; I thought looks wise she was the most impressive of all the juveniles I saw up close last fall at the Breeders' Cup. And she has already proven to be absolutely top class so far in her short career. She has consistently impressed, and she does it with eye-catching ease.
Yesterday, Winter Memories flashed her great talent at Belmont Park with an overpowering performance in the Grade 2 Sands Point Stakes. With Jose Lezcano in the saddle, Winter Memories was allowed to bide her time through tedious early fractions set by race leaders Arch Support and Mystical Star. The pair led the pack through an opening quarter in :26.11, and a half mile in :51.41, as Winter Memories took a menacing position on the outside in third. The beautiful roan daughter of El Prado had decided she had waited long enough and made her move on the far turn, and in an impressive flash the race was over. At the wire, Winter Memories had cantered home by three effortless lengths over Celestial Kitten. Without any real prompting from Lezcano, the Jimmy Toner trained sophomore miss covered the 1 1/16 miles of Belmont's inner turf course in :1:42.61 for her fourth lifetime victory in only five starts. Her short career already includes three graded stakes wins, with her only defeat coming in a tough trip 2nd in last fall's Breeders' Cup Juvenile Fillies Turf.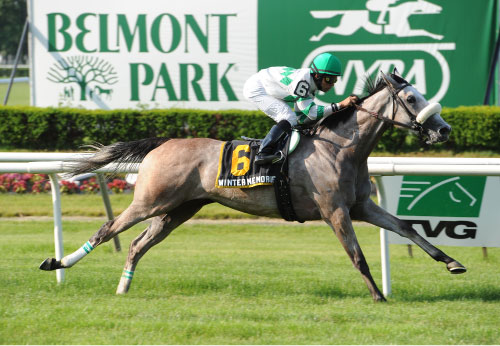 photo courtesy of Adam Conglianese/NYRA
The winning rider described the ease of victory and his tactical decision this way; "She just galloped over there," said Lezcano. "I had to go very close to the pace, but when I asked her, she gave me the same kick she always give me and she picked it up very quick. She usually sits back and makes a run, but today there was no pace in the race, so I had to do what I had to do. This is the kind of filly you can do whatever you want with, you can keep her close or you can take her back. Today, with six horses and no pace, I had to put her in the race."
Being able to do whatever the rider pleases is a valuable commodity of an outstanding horse, and one that should serve her well as the races get tougher and the stakes get bigger. As for her future itinerary, Toner mentioned the Lake George and Lake Placid Stakes as probable goals before the main goal of the Grade 1 Queen Elizabeth II Cup at Keeneland in October. Those races are all important turf races for sophomore fillies, but I think Toner left out one important race after the QEII. That being of course the Breeders' Cup Filly & Mare Turf on November 4 at Churchill Downs. A race in which no American three-year-old has ever won. Something tells me Winter Memories is just the filly to break that streak.