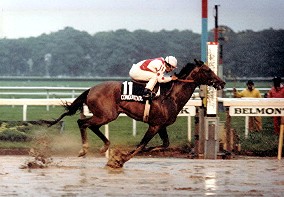 No fast track on
2011 Belmont Stakes
day … oh well. Let's make the best of a less than ideal situation.
A sealed and muddy track, with more rain coming down, is likely to change the way the big race is run, and therefore, alters the way I will bet. With this type of track, distance becomes less of an issue. The 1982 Belmont was a great example. Many thought Conquistador Cielo would not handle 12 furlongs. When the track came up sloppy though, the result was an absolute runaway. Horses that may have struggled home on a fast track, are now more likely to get out there and skip through the puddles on the way to the finish line. Conversely, those horses that were set to thrive at the extended distance by wearing down the others, are now more at the mercy of whether or not they can handle the messy surface.
Animal Kingdom, Nehro, and Master of Hounds, who are the three favorites, I believe will have a tougher time on today's track. Mind you, any of the three can still win, but each will have to prove that they really like an off track, if they are expected to make a powerful rally to win the Belmont. Of the three, Nehro might me the most up against it, as he has not looked good in the mornings when working over a wet surface. Brilliant Speed, at a little higher odds, is another who may see his chances diminish on a track that looks to be favoring closer to the pace types.
Horses like Shackleford, Mucho Macho Man, and Santiva, figure to be the ones to benefit from the track condition the most. Shackleford is the controlling speed, and bred to like an off track. Dale Romans has to be tickled pink with the weather development. Meanwhile, Mucho Macho Man and Santiva might be two horses sitting in the cat-bird seat. They will be stalking from not to far off the lead, and be ready to pounce if Shackleford begins to show the first sign of weakness. This could be an especially strong position if one of the longer shots in the race decides to pressure Shackleford early.
Wet tracks also can tend to result in more surprising finishes. Horses like Stay Thristy, Prime Cut, and Ruler on Ice might be more playable now. If any of the three prove to appreciate the wet surface, their chances of getting brave down the stretch goes way up.
Sometimes a wet track does not change what the result would have been, and maybe the riders will be more eager to press the pace because of what is happening, thereby taking the advantage of the frontrunners away, but more often than not a track , like we see today at Belmont Park, will have a big outcome on the final result. My advice is to alter your wagering accordingly.