Thanks to a compelling article by Matt Scott, I began thinking about two of the greatest juvenile fillies of my lifetime, Landaluce and Princess Rooney. The pair, whom I consider to be, along with Ruffian, the best two-year-old fillies to hit an American racetrack in my 40 years of watching the game, had very little in common with each other, save one important fact … they were both members of the 1980 foal crop. Their racing stories may have begun on opposite ends of the country, but their results were strikingly similar.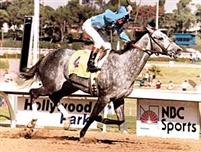 As a daughter of a sire known for distance, you would not have thought that Princess Rooney would be the precocious sort. The word that the gray youngster had some talent must have leaked out from the Frank Gomez barn, though, as on May 22, 1982, the gray youngster was made a 2-1 favorite in a five-furlong maiden special weight in a field of nine at Calder. In what would be the first of a 21-race Hall of Fame career, Princess Rooney won easily by 3 lengths. 
Her next outing came just a few weeks later, and in another five-furlong race at Calder. Princess Rooney won the June 7 allowance by 4 handy lengths. It would be her last race for nearly three months. While those two victories by the daughter of Verbatim did little to get her noticed on a national scale, trainer, D. Wayne Lukas was preparing to unveil something special out on the West Coast.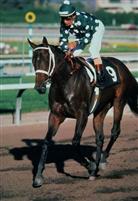 Being from the first crop of the great champion, Seattle Slew, Landaluce had a license to be fast, and on July 3, she began to show the world just how fast with a 7 length romp in a Hollywood Park maiden special weight. Final time for the six panels was a blistering 1:08 1/5, but it proved to be only a prep for race number two.
Coming back one week later, on July 10, Landaluce shook the racing world with a performance in the Grade 2 Hollywood Lassie that made her an instant sensation. Stopping the clock in 1:08 flat that day at Hollywood, Landaluce finished an unheard of 21 lengths clear of her nearest competition. It was as close to Secretariat like as a juvenile filly running six furlongs could get. 
Not be outdone, back in South Florida on September 1, Princess Rooney would reappear for her third lifetime race. It seemed the time off and the added distance did her well. As if to say, "Oh yeah, Landaluce … watch this!" the Paula Tucker owned miss trounced her Calder allowance competition by 18 lengths.
Meanwhile just four days later, on September 5, Landaluce made her long anticipated return after an eight-week rest in the Grade 2 Del Mar Debutante. The one-mile distance of the Debutante proved to be no problem for the dark bay filly that everyone was taking about, as she coasted home by 6 1/2 lengths as the 3-10 favorite.
Back at Calder, Princess Rooney would not wait long to show that her dazzling performance in the previous race was no fluke. On September 11 she demolished her seven foes in the Melaleuca Stakes by 12 lengths. The secret in South Florida was starting to get out. Bet down to 1-5 in her first stakes race, the seven furlong affair would be her final race at the Miami oval.
A month would go by before either juvenile sensation would run again. On October 10, Princess Rooney ventured away from Calder for the first time in her racing career for the rather large occasion of the prestigious Frizette Stakes at Belmont Park. Back in those pre-Breeders' Cup days, no two-year-old filly race was more important, so there were those who thought that the filly that had never raced against anything but Calder competition might be in store for a rude awakening. Still, she was sent off as a 13-10 favorite in the field of 13, and any doubts about her class were expunged by an 8 length dismantling of the New York bluebloods.
While Princess Rooney was starting to get talked about in the same way as the breath-taking California flash, Landaluce would quickly reply in electrifying fashion. The October 11, Grade 3 Anoakia Stakes at Santa Anita proved to be more of a coronation than it was a competitive horse race. Despite having seven other juvenile fillies in the field, her adoring crowd sent her off as a 1-10 favorite, and she made it look like a wise investment, completing the 10 length thrashing in 1:21 4/5 for the seven furlongs.
A few weeks later both fillies would come back for their first attempt at more than a mile, and they would do so on the same day. On October 23, Landaluce, making just her fifth lifetime start, was bet down to 1-20 in a grade 1 race. Seven fillies would line up for the Oak Leaf Stakes that day at Santa Anita, and for the first time the sensational Californian was given a bit of a test. She never looked in trouble under regular rider, Laffit Pincay, as she wired the field, but second place finisher, Sophisticated Girl got within 2 lengths of her at the wire.
Later that evening of October 23, Princess Rooney would make her final start of the season in the Grade 2 Gardenia Stakes at the Meadowlands. It was the first time I was able to see either of the great fillies in person, and I would not go home disappointed. In hand most of the stretch, the magnificent gray filly cruised home best by 11 lengths. Despite all that I had seen on television from the West Coast, no one was going to convince me that Princess Rooney was not the best juvenile in the nation. Just as I'm sure anyone in California would have said the same about Landaluce.
Of course, we would never get to see them race that year. If they had come two years later, in the era of the Breeders' Cup, a meeting would have likely taken place, but as it was, they both ended their two-year-old racing season with perfection.
Tragically, they would never get to meet as three-year-olds either, as the cruel hands of fate stepped in to take Landaluce from this world on December 11, 1982. Only a few weeks after missing the Hollywood Starlet with a virus, the great filly died in her trainer's arms from complications of the viral infection. She was named Champion two-year-old filly posthumously, and the Hollywood Lassie would be renamed in her honor.
As for Princess Rooney, she would go on to become an undefeated winner of the Kentucky Oaks, before an injury deprived her of much of her sophomore season. When she came back at the end of that year, she was not quite the same for several months, before regaining her best form the following summer for new trainer, Neil Drysdale. Princess Rooney would win her final five career starts in 1984, including a win in the inaugural Breeders' Cup Distaff in devastating fashion.
Together, Landaluce and Princess Rooney were the most dynamic pair of juvenile fillies that we will ever see. One on the East Coast, one on the West Coast, and never the two did meet. Combined they went 11-for-11, winning by an average margin of more than nine lengths. Who was better? It doesn't matter … I'm kind of glad they never met.