Z news from Kentucky – It was announced that super-mare
Zenyatta
 is in foal to Claiborne sire War Front. With a world full of prestigious sires at the beck and call and money never an issue, why stick close to home and send America's darling down the road to visit a stallion who never won a Grade 1 race – and a sprinter/miler at that? 
Who's the Daddy?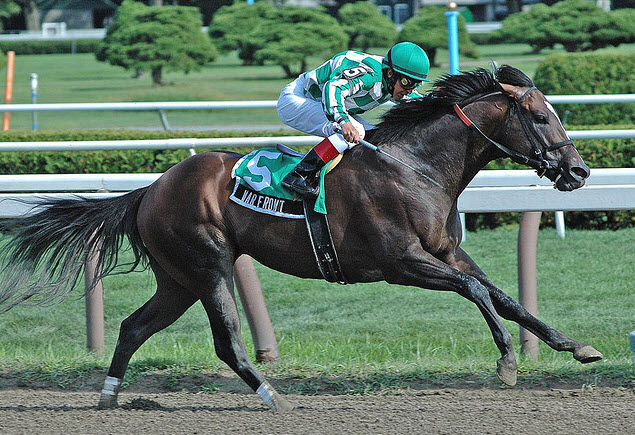 A son of the international sensation Danzig,
War Front
had a slow start to his career and didn't get into the swing of things until August of his three year old season. Veteran trainer
H. Alan Jerkens
took his time with the colt letting him win three straight before sending War Front into the graded stakes fray. As a four year old, War Front seemed to lack the killer instinct, finishing second four times, beaten a neck here and there, with plenty of daylight back to the third place finisher.
In between playing bridesmaid in the Tom Fool Handicap (G-2) and Forego (G-1), the bay colt won the Alfred G. Vanderbilt Handicap (G-2). In his career finale, War Front was an overlooked long-shot in the Breeders' Cup Sprint. After chasing the pace four wide, he faded to seventh. War Front retired with a 13-4-5-1 ($424,205) race record.
War Front's sire
Danzig
 is a cornerstone of breeding in the UK and Australia, not so much in the US. His sons Belong To Me, Langfuhr, and Boundary are adequate US sires and much better broodmare sires. New on the scene are Hard Spun, #2 on the third-crop sire list and U S Ranger, whose making noise as a freshman sire. Danzig's son Exchange Rate was slow to get his stud career going, but earned a trip to Kentucky after his babies started winning in Florida.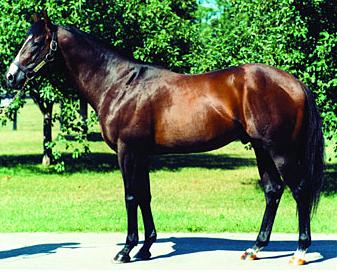 War Front went to stud before Hard Spun and U S Ranger. Given his race career and the average careers of other sons of Danzig, War Front's fee in 2009 was just $18K. As a freshman sire, War Front produced three stakes winners, including the adaptable Soldat, a stakes winner over dirt and turf. A year later, War Front's fee jumped to $60K and he placed third on the second crop sire list, mostly in part to the exploits of his blazing fast son The Factor. Last year, Claiborne Farm raised War Front's stud fee to $80K, where it remained for 2013.
The role-call of his offspring show the versatility of this stallion. His son Lines of Battle won the UAE Derby going 1 3/16 miles over Tapeta, Departing won the Illinois Derby at 1 1/8 miles over dirt, and Data Link is a turf miler. In only four racing crops, War Front has produced 20 stakes winners, 12 of them graded stakes winners, giving his offapring a 12% win/place rate for lifetime stakes runners. For some stallions, this would be a life-long achievement.
So War Front is the hot new stud on scene, but how does he match up with the Big Mare? Both prominent nicking companies give this match an A++. Nicking products are a useful tool and I'm certainly not knocking them, but they aren't the be-all and end-all. The nicking ratings in this case are based upon War Front or other sons of Danzig bred with mares by sons of Mr. Prospector. That's about as vague as one can get. It's a great starting point to see if certain sire lines might be compatible, but still ignores half of the pedigree.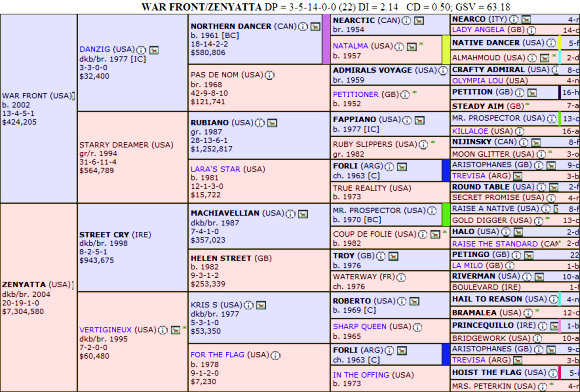 Baby Mama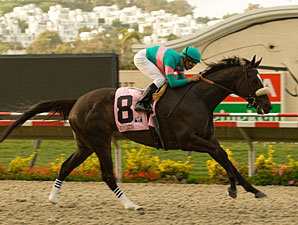 The other half of the pedigree, the distaff lines of War Front and Zenyatta are where things get interesting. Zenyatta and War Front are descended from the same female family, Lowe family 4-r. When the sire and dam trace back to the same foundation mare (in this case Artless) it is called a Formula One breeding pattern. How well does this work? Take a look at the pedigrees and careers of Man O'War, Quiet American, Numbered Account and more recently, Teuflesberg.
Danzig has sired eight blacktype runners out of mares from the 4-r family, including his sons War Front, War Chant (out of Hollywood Wildcat, by Kris S.) and U S Ranger (out of My Annette, by Red Ransom).
The branch to Zenyatta and War Front's respective distaff lines split back in the early 1900's. Their last common ancestress was Artless, dam of two important fillies Sweepless (by Sweeper) and The Minx (by Irish Lad). The later who, besides War Front, is the ancestress of the blue hen Andover Way (by His Majesty) dam of international sire Dynaformer (by Roberto) and grand-dam of Lines of Battle (by War Front) and Danzig's latest son to stand at stud, U S Ranger. Note that Dynaformer's sire Roberto also sired Zenyatta's second damsire Kris S. Danzig has shown his proclivity for the Roberto sire line through his sons, Breeders' Cup Mile hero War Chant and U S Ranger, whose damsire Red Ransom is another son of Roberto.
War Front's damsire
Rubiano
also mixes well with the
Roberto
 sire line. He's sired three black-type winners out of Roberto line mares.
So while the nicking tools agree that Danzig and Machiavellian sire lines are a good match, history and good old fashioned research shows that War Front's sire and damsire also work well with Zenyatta's sire and damsire. That's just the immediate family, and I haven't scratched the surface of the rest of the pedigree of the War Front/Zenyatta foal, but space is limited.
What can we expect?
Pedigree buffs are no doubt digging further into the genealogy, but the handicappers want to know – what type of foal can we expect? Breeding miler speed to solid stamina is a tried and true method to get a stakes winner. Speed over speed = more speed, stamina over stamina generally gets you either a grinder, plodder or a steeplechase horse who doesn't take a deep breath until he's gone halfway around the course. Miler speed over stamina offers a chance to get a route horse with tactical speed. They may not be the fastest critter out of the gate, but they'll be running at the end. Just like Zenyatta. Her sire Street Cry was a middle distance runner who had enough speed to win his maiden going 6 ½ furlongs.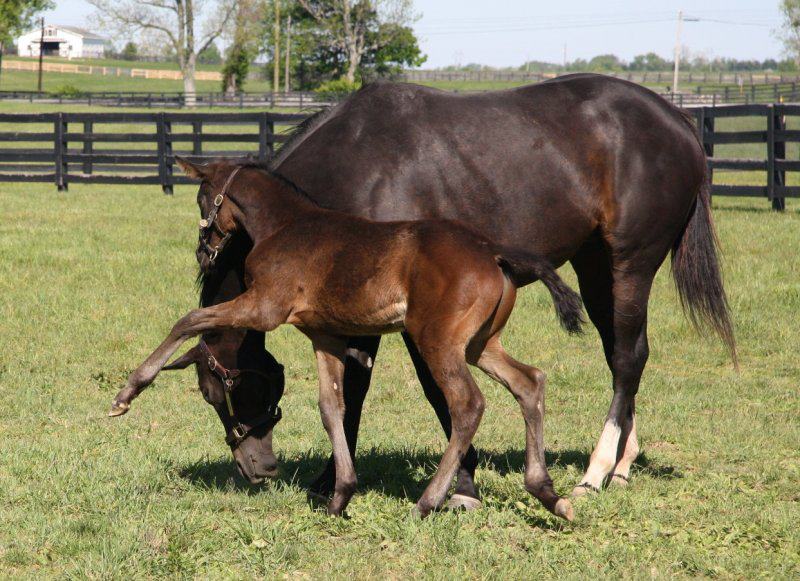 Zenyatta's foal likely won't be precocious, and from the looks of her other two foals, could need time to grow into the ears and feet. Baby Z3 may gain tactical speed from War Front and could be proficient over every surface. Distance likely won't be an issue. There's a 50/50 chance that Baby Z3 will carry the large heart or "X-Factor" gene. War Front may be a carrier, although recessive in him, he may be passing it along to his daughters. His sons who are out of dams with the gene may be expressing it on the track. This could explain one of the reasons War Front is developing into such a good sire. We know that Zenyatta carries the gene and it could be dominant in her sons. Here's hoping.