August 11 – 12, 2012 was the weekend of the Warrior.  Two of Majestic Warrior's offspring won at Saratoga while a third placed in the Prairie Meadows Juvenile Mile Stakes.  Their exploits placed their sire second on the First Crop Sire List in terms of earnings ($327,481) and he is tied for second place by number of winners (six).
It should be no surprise that Majestic Warrior's progeny are starting to win.  The royally bred son of A.P. Indy showed a flash of brilliance winning his debut in early August at Saratoga. A month later he dominated a small group of juveniles in the seven furlong Hopeful Stakes (G-1).  Majestic Warrior's victory in the Hopeful was the first win by a son or daughter of A.P. Indy in a Grade 1 race under a mile.
Majestic Warrior placed a shocking sixth in the Champagne Stakes (G-1) behind eventual Juvenile Champion War Pass. It was discovered that Majestic Warrior had injured his foot in the Champagne and was given the rest of the year off to heal.  The brave colt came back in the Louisiana Derby, but finished a dismal seventh, unable to fulfill the promise shown in his first two starts.   Issues with the previously injured foot continued and Majestic Warrior failed to hit the board in three subsequent starts. He retired in October 2008 with a 7-2-0-0 ($239,229) race record.
MAJESTIC WARRIOR (A.P. Indy - Dream Supreme, by Seeking the Gold) was bred by Kinsman Stable and raced as a homebred until Michael Tabor, Derrick Smith, and Sue Magnier purchased an interest in the colt after the Hopeful Stakes. Majestic Warrior retired to Coolmore America and stands for $10,000.
Majestic Warrior's sire A.P. Indy was phenomenal on and off of the racetrack. The highest priced yearling in 1990 at $2.9 million, he was a son of a Triple Crown Champion out of a mare sired by a Triple Crown Champion.  A.P. Indy lived up to lofty expectations by winning all except three starts and earning Champion Three Year Old and Horse of the Year honors.  As a sire, A.P. Indy has had international influence. He has over 145 stakes winners throughout the world. The son of Triple Crown Champ Seattle Slew is noted as both a sire of sires and as a broodmare sire.  His offspring include the Champion and hot young sire Bernardini, Champion and sire Mineshaft, prominent sire Pulpit as well as Belmont Stakes heroine Rags to Riches.  A.P. Indy was named a Chef-de-race for passing along Classic/Intermediate attributes to his progeny.
Sire:
A.P. Indy  (Seattle Slew - Weekend Surprise, by Secretariat)
Race Record: 11-8-0-1 ($2,979,815)
1st – Hollywood Futurity (G-1)
1st – Santa Anita Derby (G-1)
1st – Belmont Stakes (G-1)
1st – Breeders' Cup Classic (G-1)
1st – San Rafael Stakes (G-2)
1st Peter Pan Stakes (G-2)
Distaff family:
Like her son, Dream Supreme was also a Kinsman Farm homebred and raced in the colors of Kinsman Stable.  She announced her presence on the Saratoga racing scene by equaling the track record of 1:03.45 for 5 ½ furlongs in her debut.  Although she won an allowance in her second start at two, the dark bay daughter of Seeking the Gold was given time off to mature and didn't face competition again until May of her three year old season.  This proved to be the right move, as Dream Supreme evolved into a two-time Grade 1 winner.
As a broodmare, Dream Supreme bore eight foals and seven have raced. Her eighth foal is a son by Medaglia D'Oro.  Besides Majestic Warrior, Dream Supreme produced two more stakes winners. Her first first foal Crystal Current, a full sister to Majestic Warrior, is a stakes winner, while her son Evolutionist is a turf stakes veteran.  Churchill Downs named a six furlong race in honor of Dream Supreme in 2010.
Dream Supreme was the best of four foals produced by her dam Spinning Round (Dixieland Band – Take Heart, by Secretariat).  Spinning Round also won the Ballerina Handicap and four other graded stakes races. She set a new track record for 1 1/8 miles in 1:41.51 over the Keeneland turf in the Valley View stakes.
Dam:
Dream Supreme (Seeking The Gold – Spinning Round, by Dixieland Band)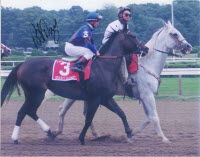 Race Record:  16-9-2-2 ($1,007,680)
1st – Test Stakes (G-1)
1st – Ballerina Handicap (G-1)
1st – Distaff Breeders' Cup Handicap (G-2)
1st – Humana Distaff Handicap (G-2)
1st – Princess Rooney Handicap (G-2)
1st – Gallant Bloom Handicap (G-3)
Majestic Warrior's damsire Seeking The Gold was a descendant of the Phipps Family breeding program. He was a consistent handicap horse, placing first or second in all except one start. His sole out of the money finish resulted in a seventh place finish in the Kentucky Derby.  As a broodmare sire, Seeking The Gold imparts stamina to his daughters' offspring.  Notable runners include Horse of the year Blame, Grade 1 stakes winners Carriage Trail, Good Reward, Dancing Forever, Excellent Art, Pomeroy, Riskaverse and Pine Island.
Damsire: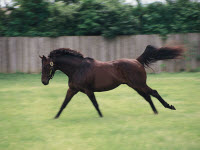 Race Record: 15-8-6-0 ($2,307,000)
1st – Dwyer Stakes (G-1)
1st – Super Derby (G-1)
1st – Peter Pan Stakes (G-1)
2nd – Travers Stakes (G-1)
2nd – Metropolitan Mile (G-1)
2nd – Breeders Cup Classic (G-1)
2nd – Wood Memorial (G-1)
Majestic Warrior was bred on a tried and true bloodline cross.  A.P. Indy has sired a total of 13 blacktype runners, eight of whom are stakes winners, from Seeking The Gold mares.  Majestic Warrior is the only graded stakes winner resulting from this nick. 
How to bet his offspring: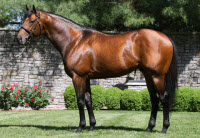 Majestic Warrior is represented by six winners and one stakes placed runner from 30 starters.  His offspring may not be as slow maturing as those of his sire and they should start to rack up wins from mid-August onward. They should mature into capable runners who will prefer two turns. His progeny will be best over dirt and off tracks; in fact, two are already winners in the slop.  Majestic Warrior's offspring should handle turf, especially if the individual's distaff family has strong turf affinity.
Be wary of betting Majestic Warrior's babies over Polytrack. He's had a few runners over the surface that have failed to hit the board. With very few exceptions, A. P. Indy and his sons are average to poor producers of Polytrack runners.  Cushion Track plays similar to dirt, so most should handle that surface. A wait and see attitude with other synthetic surfaces would be prudent.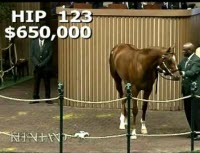 Noteworthy offspring include Rossweisse, a daughter of multiple G-1 placed Til Forbid, Seasoned Warrior, a daughter of Canadian Champion Saoirse, and Favorite Uncle, a half brother to multiple Grade 1 winner Lady of Shamrock.  Majestic Warrior's son Drum Roll finished fourth in the Saratoga Special after racing three and four wide. Perhaps he'll emulate his sire with a victory in the Hopeful Stakes on September 3.