This year's herd of first crop sires is, for the most part, all about speed with a smattering of classic-oriented and turf sires sprinkled in for decoration.

As usual, the most precocious lead the early standings, but the Freshman Sire list will look much different by the end of the year. Sixty-six sires will see their first crop race this year, with champion 3-year-old Will Take Charge boasting the highest advertised stud fee at $30,000.
Let's take a closer look at these stallions – and more importantly, how and when to bet on their offspring.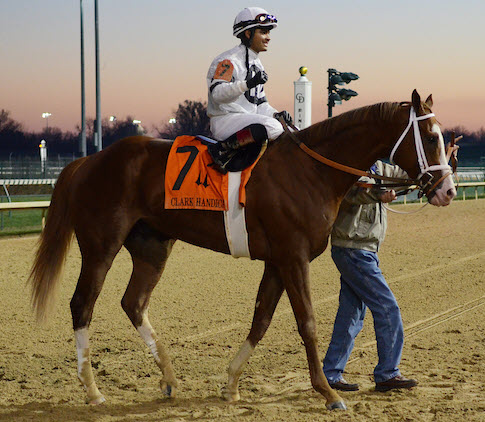 Will Take Charge (Unbridled's Song - Take Charge Lady, by Dehere)
Stud fee: $30,000
Current 2YO's: 109
Stands at: Three Chimneys Farm, KY
Outlook: Typical of the progeny of Unbridled's Song, Will Take Charge needed time to grow into his huge frame. He was fifth in his Saratoga debut, but came back in October to win at Keeneland.  This half-brother to leading second-crop sire TAKE CHARGE INDY has three starters and one winner. His babies resemble their sire, so Will Take Charge may get the occasional early winner, but most of his progeny will prefer longer sprints to middle/classic distances. Some could handle turf, but most will be dirt runners.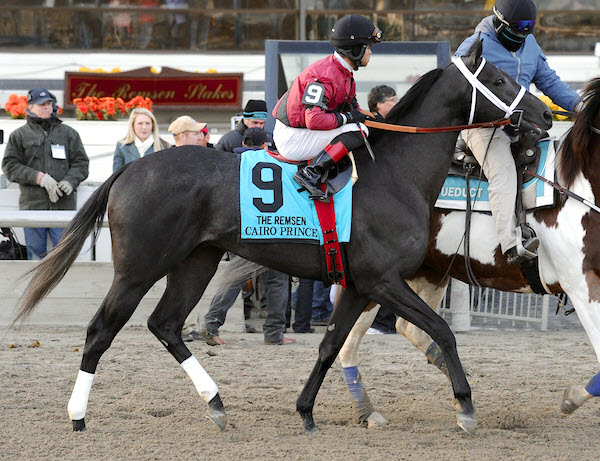 Cairo Prince (Pioneerof the Nile - Holy Bubbette, by Holy Bull)  
Stud fee: $25,000
Current 2YO's:  120
Stands at: Airdrie Stud, KY
Outlook: Cairo Prince won his debut as a late season 2YO, and immediately became a buzz horse on the 2014 Kentucky Derby trail. He followed his debut with a victory in the Nashua Stakes (G2), and just missed the Remsen (G2) victory by a nose. He started 2014 off with a huge 5 3/4-length win in the Holy Bull (G2) and headed to the Florida Derby as the favorite. Unfortunately, the pretty gray colt finished fourth. He was retired later due to an undisclosed injury. Cairo Prince is the leading freshman sire by 2YO sales ($4,774,500 gross), and is third leading sire by 2YO sales overall. His immediate family is filled with class, as his sister, Grade 1 stakes-placed Nonna Mia, bore two winners, Wood Memorial victor OUTWORK and Lamplighter Stakes winner NONNA'S BOY. Cairo Prince is also a half brother to Breeders' Cup Juvenile Sprint runner-up Holdin Bullets. Cairo Prince has three starters and one winner. A few of his babies may win early, but the bulk of his offspring will be best as mid to late season runners and improve with age and distance. His babies should handle all surfaces.
Verrazano (More Than Ready - Enchanted Rock, by Giant's Causeway)
Stud fee: $17,500
Current 2YO's: 135
Stands at: Ashford Stud, KY
Outlook: Verrazano didn't race as a juvenile, but took off running as a 3YO, capturing his first four starts, including the Tampa Bay Derby and Wood Memorial. After a 14th-place finish in the 2013 Kentucky Derby, Verrazano continued his winning ways in the Pegasus Stakes (G3) and Haskell Invitational. He went off form for his last three starts of the year. As a 4-year-old, Verrazano faced the best turf horses in England, placing in the JLT Lockinge Stakes and Queen Anne Stakes, both Group 1 events. Verrazano is a half-brother to El Padrino, who was a leading Freshman Sire in Pennsylvania. Verrazano's distaff line includes a wide variety of stakes winners: KEEN ICE, HARMONIZE, AL KHALI, JAPAN, SOMALI LEMONADE, HUNGRY ISLAND and the sire BRAHMS, to name a few. Verrazano's offspring should have average precocity and be equally proficient over all surfaces. They should handle sprints to middle distances, although a few may go farther over turf. So far, six of his babies have faced the starter. None have won yet, but his son Myhotrodlincoln is stakes placed and entered in a maiden race at Churchill on Saturday.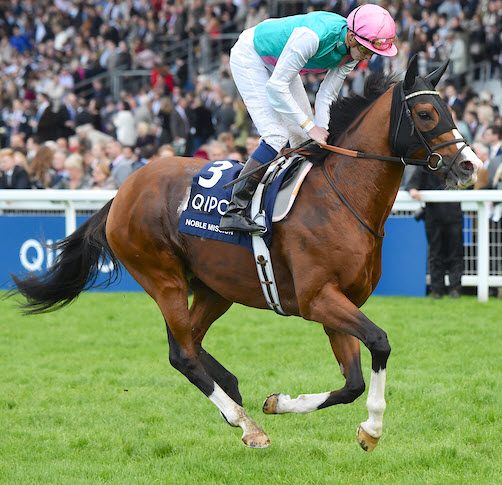 Noble Mission (GB) (Galileo (IRE) - Kind (IRE), by Danehill)
Stud fee: $20,000
Current 2YO's: 111
Stands at: Lane's End, Versailles, KY
Outlook: Noble Mission is a full brother to superstar miler FRANKEL. Noble Mission wasn't precocious, but placed in his sole start as a juvenile. He had a full career as a turf router, winning up to 1 1/2 miles, mainly in Group 2 and Group 3 company. However, in his last four starts, Noble Mission won or placed in four Group 1 stakes in England, Ireland, France and Germany. Noble Mission's babies are a no-brainer bet on turf, especially as they mature, but he's already sired a dirt sprinter, so there's hope that at least some of his offspring will be decent on the main track.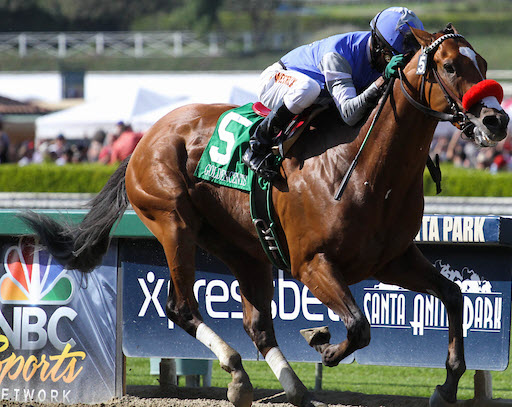 Goldencents (Into Mischief - Golden Works, by Banker's Gold)
Stud fee: $12,500
Current 2YO's: 119
Stands at: Spendthrift Farm, Lexington, KY
Outlook: Goldencents joins his sire, Into Mischief, at Spendthrift farm. He won his mid-season debut, and immediately jumped into the deep end of the stakes pool. Goldencents' only defeat in his first four starts was a 5-length drubbing by eventual 2YO Champ Shanghai Bobby in the Champagne Stakes. Goldencents found himself on the 2013 Triple Crown trail, and other than a fourth-place finish in the San Felipe, was considered a major Derby contender after a victory in the Santa Anita Derby. After off-the-board finishes in the Kentucky Derby and Preakness, Goldencents shined as a sprinter/miler, and pulled off back-to-back victories in the Breeders' Cup Mile. Miler sires are the most adaptable. They get sprinters, milers and if the distaff line is stamina-oriented, some of their babies will stretch to middle distances, and in rare instances win at classic distances. So, Goldencents' babies should be precocious. Most will prefer dirt, unless there's an affinity for other surfaces in distaff line. Distances ranges will be sprints to 1 1/16 miles, with a few handling 1 1/8 miles.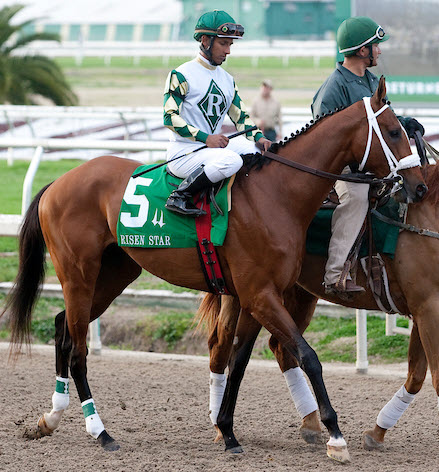 Mucho Macho Man (Macho Uno - Ponche de Leona, by Ponche)
Stud fee: $10,000
Current 2YO's: 69
Stands at: Adena Springs Kentucky, Paris, KY
Outlook: Mucho Macho Man is a throwback to the time when horses had full careers. He was a fan favorite, competing for six years at the top level of racing. He improved with maturity, and the highlight of his career was a victory in the 2013 Breeders' Cup Classic over a strong field that included 3YO champ Will Take Charge, globe-trotter Declaration of War, previous year's Classic winner Fort Larned, plsu Belmont Stakes winner and runner up Palace Malice. The tall, rangy Mucho Macho Man has already sired a winner, but the majority of his offspring will be mid to late season juveniles, prefer longer sprints to classic distances, and improve with maturity. Most will be best over dirt, with an occasional turf winner.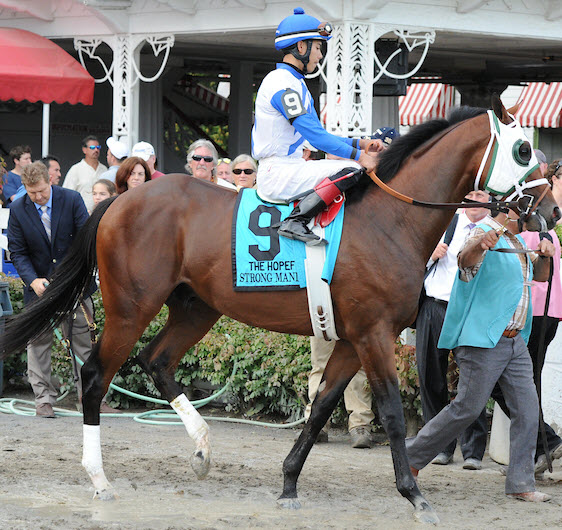 Strong Mandate (Tiznow - Clear Mandate, by Deputy Minister)
Stud fee: $10,000
Current 2YO's: 82
Stands at: Three Chimneys Farm, Midway, KY
Outlook: Strong Mandate has one of the best pedigrees of this year's first crop sires. His dam is a multiple G1 winner from a mile to 1 1/4 miles. Strong Mandate is a half brother to four sires, Full Mandate, the sire of Champion LAWYER RON, plus Newfoundland, The Mighty Tiger and League of Nations, all of whom stand in South America. Strong Mandate's second through fourth dams are all stakes winners, and this family produced Belmont Stakes winner CRÈME FRAICHE. During his brief racing career, Strong Mandate captured the Hopeful Stakes, was second in the Southwest Stakes and third in the Breeders' Cup Juvenile. His babies will be best from mid-season on and improve with maturity and distance over all surfaces.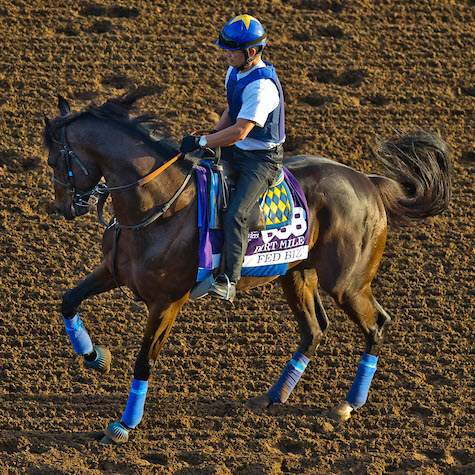 FED BIZ (Giant's Causeway - Spunoutacontrol, by Wild Again)
Stud fee: $10,000
Current 2YO's:  103
Stands at: WinStar Farm LLC, Versailles, KY
Outlook: Fed Biz had a four-year racing campaign in California, and could be counted upon finish on the board most of the time. The versatile son of Giant's Causeway won on dirt and placed on turf from seven furlongs to 1 1/8 miles. He was a later maturing juvenile, and after an off-the-board finish in his debut, returned with a three-race win streak. He has a strong pedigree, as his dam is a half-sister to the sire TALE OF THE CAT and to the dam of world champion and sire JOHANNESBURG. Fed Biz's babies will be best as mid to late season runners and mature into versatile competitors over all surfaces. They may be best at longer sprints to middle distances, with a few that should handle longer distances.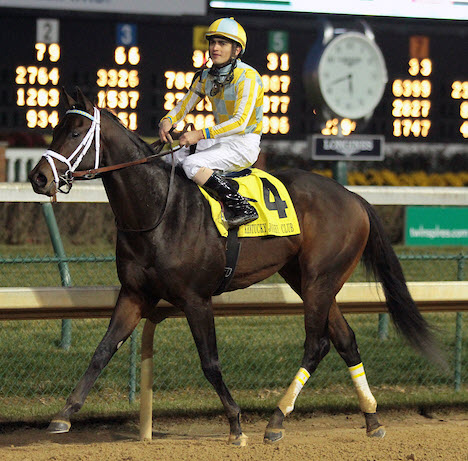 Uncaptured (Lion Heart - Captivating, by Arch)
Stud fee: $6,000
Current 2YO's: 77
Stands at: Ocala Stud, Ocala, FL
Outlook: Every year, there's a surprise "who knew?" sire. So far, Uncaptured fits the profile. Uncaptured was no slouch on the track. He was an outstanding juvenile, and earned Canada's Sovereign Award in 2012 as champion 2-year-old and Horse of the Year. The son of Kentucky Derby runner-up Lion Heart started his career with a four-race win streak, starting with his mid-May debut. He won six of seven starts, including the Iroquois Stakes (G3) and Kentucky Jockey Club Stakes (G2). By his 3-year-old season, the rest of the babies had caught up. He won only once more, stretching his speed to 1 3/16 miles in the Prince of Wales Stakes, but placed in a handful of Grade 2 and Grade 3 races between a mile and 1 1/8 miles. Uncaptured has turf affinity in his family through his damsire Arch. His half-sister DANCING RAVEN is a multiple stakes winner over the lawn. There's class in his distaff line, too. Multiple G1 stakes winner CURALINA is a member of the family. Uncaptured's babies should handle all surfaces and be best up to 1 1/16 miles, unless there's stamina in the distaff line. Uncaptured has four winners from six starters. He leads the early Freshman Sires by number of winners, and is No. 2 by way of earnings.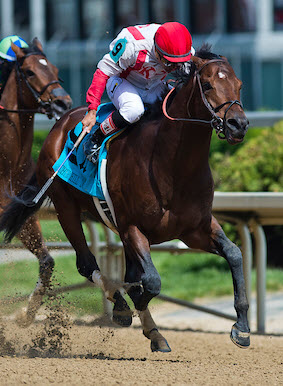 Central Banker (Speightstown - Rhum, by Go for Gin)
Stud fee: $7,500
Current 2YO's: 74
Stands at: McMahon of Saratoga Thoroughbreds, Saratoga Springs, NY
Outlook: Central Banker liked Saratoga. He won or placed in all four starts at the historic track, including a third-place finish in the King's Bishop (G1). The sprinter/miler's babies will likely be seen in most of the New York bred races this summer and should be fairly precocious sprinter milers over the dirt and turf.

Other stallions whose babies are ones to watch include Whitney Invitational (G1) winner Cross Traffic, Grade 1 winning sprinter, Shakin It Up, and, out in California, Grade 1-winning turf router Boisterous.