Tapwrit, with a strong victory in the 2017 Belmont Stakes, pushed his sire Tapit into elite company as a sire of Belmont Stakes Champions. Tapwit is the third son of Tapit to capture the 1 1/2 mile event in four years. Tapit's reign began in 2014 with Tonalist. Last year, his son Creator became Belmont Stakes winner number two. In the gap year of 2015 when American Pharoah completed the Triple Crown, Tapit's son Frosted earned second place in the Belmont Stakes.  
A Long Time Ago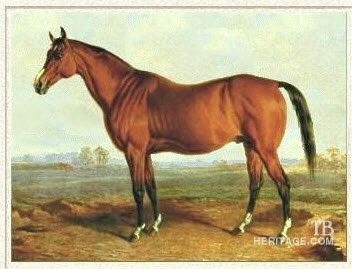 Only the great Lexington sired three Belmont Stakes winners within four years, and he's the only stallion who produced a tetrad; (1868 General Duke, 1870 Kingfisher, 1871 Harry Basset, 1879 Duke of Magenta). Lexington was leading sire for a total of sixteen years, from 1861-1874, again in 1876 and 1878.  The city of Lexington, Kentucky is named in honor of the exceptional stallion. 
Besides Tapit, three other stallions, in 149 years, have sired three Belmont Stakes winners, but none who had three Belmont winners in four years. Australian (1872 Joe Daniels, 1873 Springbok & 1879 Spendthrift), Fair Play (1920 Man O'War, 1924 Mad Play 1927 Chance Shot) and Fair Play's son, Man O'War American Flag (1925), Crusader (1926), War Admiral (1937).
Australian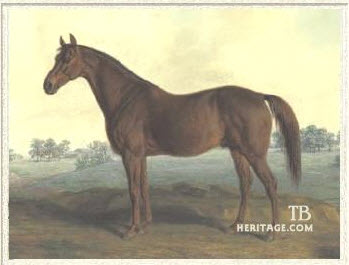 Australian was foaled in 1868 and imported from England to the US along with his dam.  The stallion produced three Belmont Stakes winners; Joe Daniels (1872), Springbok (1873), and Spendthrift (1879). Of these, the most accomplished both on the track and at stud was Spendthrift, who earned championship honors as a two and three-year-old. Spendthrift sired Belmont Stakes winner Hastings, a two-time leading sire. Hastings was noted for having a fiery temperament, which he passed along to some of his offspring. Hastings sired one Belmont Stakes winner, Masterman, but Hasting's most celebrated son was Fair Play.
Fair Play
Fair Play continued the family tradition of siring Belmont Stakes winners, giving us Man O'War (1920), Mad Play (1924), and Chance Shot (1927). Mad Play was sterile. After a stakes winning career, Chance Shot retired to Elmendorf Stud in 1930, replacing his sire, who had died the year before. Chance Shot sired Belmont Stakes winner Peace Chance, but the stallion was a better broodmare sire.
Man O'War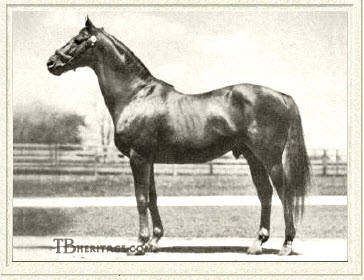 Fair Play's acclaimed son Man O'War needs no introduction to most racing fans. Man O' War's achievements earned him worldwide recognition to this day. In 1999, The Bloodhorse Magazine voted Man O'War as the greatest horse of the 20th Century. Man O'War carried his legendary status through his stud career, and his bloodlines are found in today's Thoroughbreds. Man O'War sired three champions in his first crop, including Belmont Stakes champ American Flag. The Legend's second crop included another Belmont Stakes winner, Crusader, who was a dud at stud. Man O'War's third son War Admiral completed a sweep of the Triple Crown in 1937. The diminutive stallion was a leading sire but is best known as one of the best broodmare sires in modern history. 
That brings us to our recent sire of champions, Tapit.  The pretty gray stallion blasted off to prominence as a leading sire with his first crop in 2008. His top earner for the year was Champion 2-Year-Old Filly Stardom Bound. Since then, Tapit has been no worse than seventh on the general sires list and topped the North American Earnings list from 2014 – 2016. He currently stands for $300,000.
It's All Relative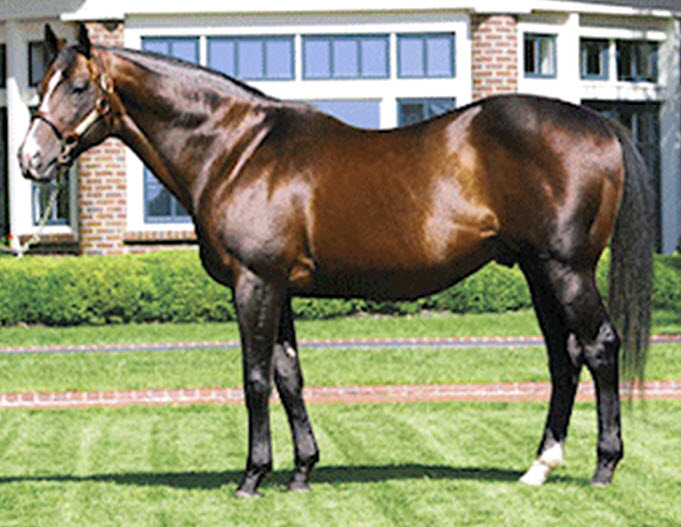 Tapit carries the bloodlines of Belmont Stakes winners and producers. His second tail sire A.P. Indy won the 1992 Belmont Stakes and in the same year, earned Eclipse Awards as Champion 3-Year-Old Colt and Horse of the Year. A.P. Indy was the offspring of two Triple Crown Champs. His sire is Seattle Slew and his damsire Secretariat.  
Surprisingly, A.P. Indy sired a lone Belmont Stakes winner, but hey, if you're going to get only one, make it a big one. His daughter Rags to Riches became only the third filly to win the Belmont Stakes in an epic battle with eventual two-time Horse of the Year and prominent sire, Curlin.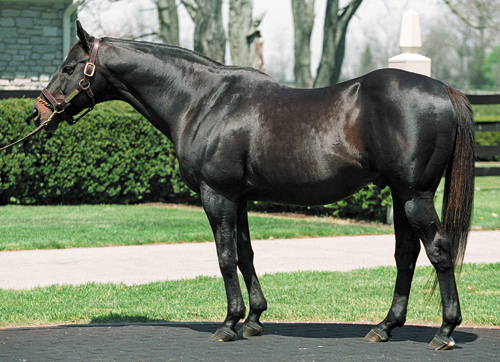 Tapit's third tail sire is Triple Crown Champ Seattle Slew. Besides A.P. Indy, who was his best son at stud, Seattle Slew sired Kentucky Derby and Belmont Stakes winner Swale. The racing world was shocked when the good looking dark bay suddenly died of a heart attack a week after the Belmont Stakes. Farther back in Tapit's male tail line is Bold Ruler, who gave us 1973 Triple Crown Champ, Secretariat. Bold Ruler's sire Nasrullah is noted for two Belmont Stakes winners, the remarkable Nashua and Jaipur.   
Nashua is the sire of Gold Digger, the dam of Mr. Prospector. Gold Digger's damsire is Triple Crown Champ Count Fleet, who sired two Belmont Stakes winners. Tapit is inbred to Mr. Prospector 3x4.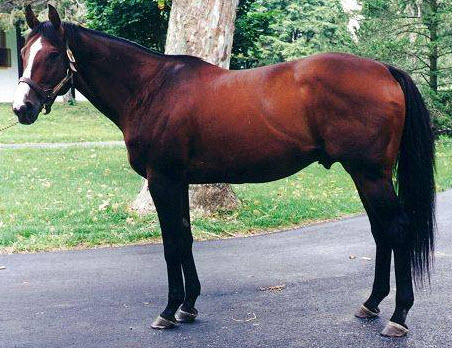 Tapit's damsire Unbridled won the Kentucky Derby but didn't compete in the Belmont Stakes after losing the Preakness. The stallion passed his classic genes to Belmont Stakes hero Empire Maker, who, along with his sons, is creating his own sire line filled with classic champions.
Farther back in Tapit's pedigree, we'll find the champion and four-time leading broodmare sire, Buckpasser. Tapit is inbred to Buckpasser (5x6). Buckpasser's damsire is War Admiral. Keep traveling back, and we wind up where we started, with Australian.
Back to the Future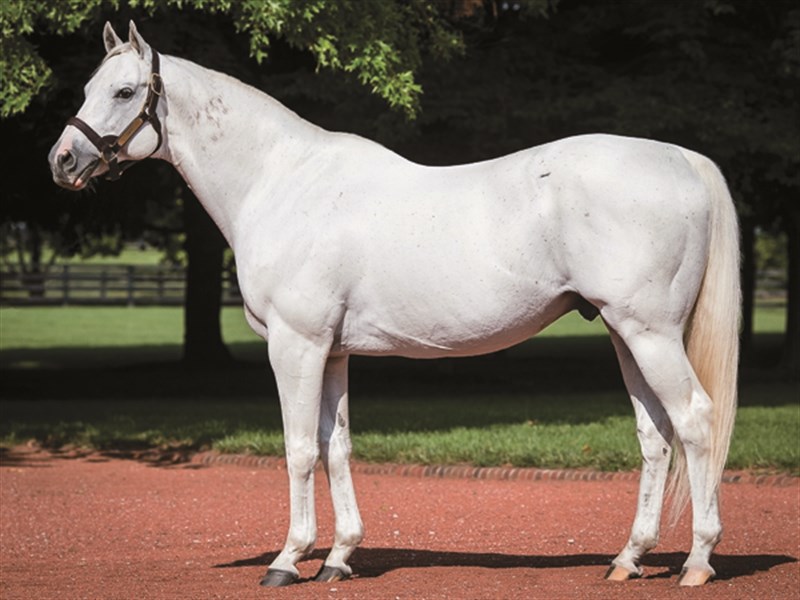 The 16-year-old Tapit is in the prime of his stud career and barring health or fertility concerns, could have a good eight to ten years left to produce scores of stakes winners. There's a good chance that Tapit could equal or surpass his ancestor Australian's record of siring four Belmont Stakes winners. Tapit's stallion resume lacks Kentucky Derby and Preakness credentials, so hopefully, we'll see a son or daughter bestow that honor on the nation's most expensive stud.   
References & Photos used by permission of Thoroughbred Heritage.com