Kentucky Derby #142 has been recorded in the history books and attention shifts to Maryland and the Preakness Stakes. The question on everyone's lips is, "Does he have what it takes to win the Triple Crown?" I'm talking, of course, about the sensational Nyquist, who remained unbeaten in his toughest test yet in the Kentucky Derby. The champ is poised to become our second Triple Crown hero this century, following on the heels of American Pharoah. 
Nyquist will vie to become the fourth California-based horse in six years to capture the Preakness Stakes.  Three of the last four Preakness heroes were based in California and were victorious the Kentucky Derby. All three carried their win-streak through the Preakness Stakes, but only one, American Pharoah, was able to keep his winning ways intact in the Belmont Stakes.  I'll Have Another retired from injury after the Preakness, and California Chrome tired to finish fourth in the Belmont Stakes, after competing in eight straight races without a break.
Nyquist traveled to Pimlico as a relatively fresh horse. He'll be making his fourth start since the beginning of the year. He captured his three victories this year by a combined six lengths.

Favoritism
Just like American Pharoah and California Chrome before him, Nyquist is the overwhelming favorite to triumph in the second Triple Crown event. From 1984 - 2000, only six favorites captured the Preakness. However, there was a string of five years, from 2001 – 2005 when the favorite won. Are we in the midst another favorite-winning trend?   
Does Nyquist's running style fit the Preakness?
That brings us to running styles in the Preakness. There's a widly held theory that inside speed rules at Pimlico.  Speed defined as a horse that runs on or within two lengths of the lead. 
Since 2000, this has been true half of the time, and only three horses, the phenomenal Rachel Alexandra, 2012's surprise, Oxbow, and last year's darling American Pharoah have wired the field. Six Preakness champs since 2000 proved that they could sit between fourth and tenth place and still get the job done.  Remember, the 1 3/16 mile race distance is only half a furlong shorter (330 feet) than the Kentucky Derby, so a horse that is suspect to navigate the nine to ten furlong range won't find the Preakness a cakewalk.

Pimlico Turning Point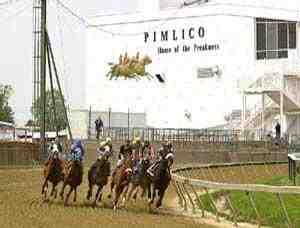 What about the tight turns? The turns at Pimlico aren't any tighter than those at Churchill. Both tracks are a mile oval, but Pimlico is 50 feet narrower, and the stretch is 1,152 feet compared to Churchill's 1,234. Our Derby champ is extremely athletic and has proven that he can cut corners, and play catch me if you can in the stretch.  
Tactical speed is beneficial at Pimlico. Since Nyquist is a natural pace presser/setter, he should be able to track the front running speed and unleash his powerful kick as they hit the stretch. He has proven that he can run his own race and isn't hampered by what is going on around him. The good horses do that.

What about the jock?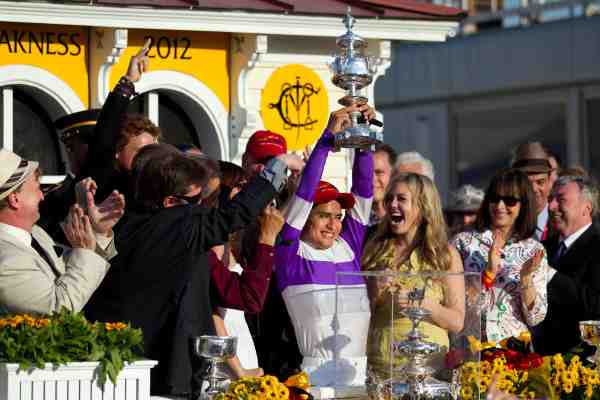 2012 part deux.  Mario Gutierrez has been down the Triple Crown trail before. He piloted I'll Have Another to winning scores in the first two legs of the Triple Crown for the O'Neil/Reddam team.
Mario began his racing career in Mexico at the tender age of 14.  He moved his tack to Canada in 2006 and shot to the top of the jockey leader standings at Hastings Race Couse in Vancouver in 2007 and 2008. After moving to California, trainer Doug O'Neil gave Gutierrez a shot to ride some of O'Neil's charges in 2011 and the rest is history.  Mario Gutierrez has a 2-2 record in the Kentucky Derby, a feat that hasn't been accomplished in 118 years. 
Gutierrez has a lifetime win rate of almost 19% and $33,011,008 in winnings, not counting his earnings in Dubai.

Reviewing the Trainers
Among the early Preakness entries, four trainers, Bob Baffert Doug O'Neil, Dale Romans and Steve Asmussen have owned the Preakness winners' circle. The four trainers have trained eight of the last fifteen Preakness winners.  The first three are hoping to add another winners circle photo to the collection.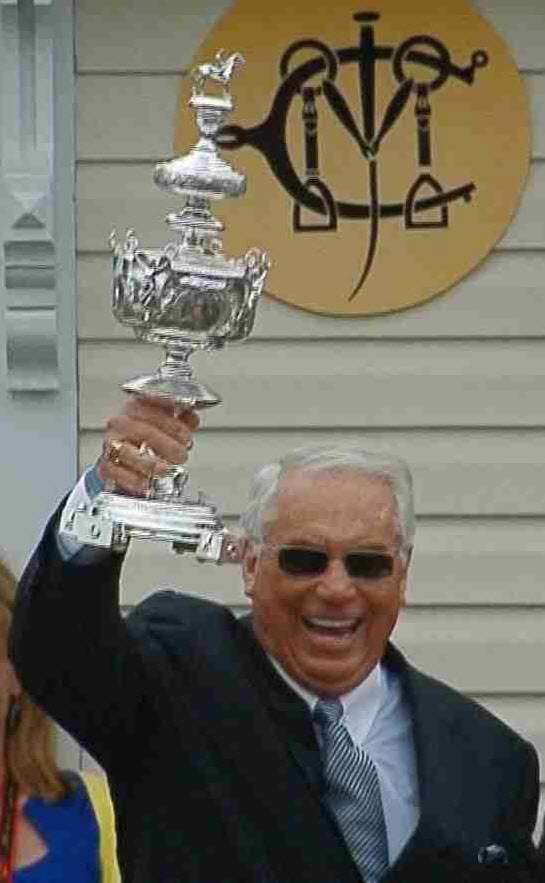 Although he's won just about every other race on the East Coast, Todd Pletcher has never captured the Preakness Trophy, although rumor has it his coach, D. Wayne Lukas, lets Pletcher polish the six trophies Lukas has collected since 1980. The veteran trainer holds the modern record of Preakness Stakes victories. His last was with the long shot bomb Oxbow in 2013.  Lukas is one Preakness victory short of Wyndham Walden, who trained seven Preakness heroes from 1875 – 1888.    
Kentucky Derby Runner-Up = Preakness Winner?
Only two Kentucky Derby contenders will tangle with Nyquist in the Preakness Stakes, the long-suffering Exaggerator, and the Japanese-based Lani.
Colts who race in the Kentucky Derby are overwhelmingly successful in the Preakness Stakes. Since 1990, ten colts wore the blanket of Roses in Kentucky and a Black-eyed Susan wreath in Maryland. Only one Kentucky Derby winner, Grindstone (1996), didn't contest the Preakness.

Does it matter how well, or poorly the other sixteen Preakness winners fared in the Kentucky Derby? Colts who finished second through sixth are the most likely to win the Preakness Stakes.

Since 1990, six rounded out the Derby Superfecta; five checked in fifth and six, while two placed tenth or worse.  

That bodes well for this year's runners up, Exaggerator, who is 0-4 against his nemesis, Nyquist. Lani crossed the Derby finish line in ninth place and has an outside shot.

Triple Crown Spoilers
Nyqyist's greatest challenge in the second leg of the Triple Crown may come from one of the newcomers. Seven or eight colts will vie to beat the champ. Good luck with that.  Since 1990, only three horses that didn't compete in the Kentucky Derby won the Preakness – Red Bullet, Bernardini, and Rachel Alexandra. 

Possibly as many as eight newcomers are expected to enter the Preakness starting gate. Abiding Star is awaiting release from a barn quarantine at Parx in Pennsylvania.

Of these eight, six have been bested by colts who raced in the Kentucky Derby and were defeated by Nyquist.
Let's take a quick look at the fresh faces.
Abiding Star – yet another son of the young super-sire Uncle Mo hopes to join the Triple Crown fray if he is sprung from quarantine. The late bloomer enters off of a five-race win streak after earning a maiden victory in a $45,000 maiden claimer on New Year's Day.  He hasn't faced more than three to six competitors since his maiden win while racing at Parx and Laurel. 

Awesome Speed – He's won three listed stakes, including the Federico Tesio (on a DQ of the winner). His one step up into graded company resulted in a 13-length thumping by Mohaymen in the Fountain of Youth.
Cherry Wine – owns a maiden and optional claimer victory. He gained ground in the Rebel and Blue Grass Stakes to finish fourth and third respectively, behind Cupid and Brody's Cause. The Dale Roman's trained colt's rallying style could earn him a minor Preakness prize.

Collected – has won three of four starts this year, including the Sham (G3) and Lexington Stakes (G3). The only black spot on the Baffert trainee's record was a fading 5 ¼ length fourth place finish to Suddenbreakingnews in the Southwest Stakes (G3).

Fellowship – was kicked around like a football in his last five starts. He's had distant views of Nyquist, Mohaymen, and Awesome Speed.  Fellowship was last seen fading to fourth place in the Pat Day Mile (G3).

Laoban – The Triple Crown's most famous maiden backed down to fourth place in the Blue Grass Stakes, deferring 4 ¾ lengths to Brody's Cause and three lengths to Cherry Wine.  Collected also took a turn beating Laoban in the Sham Stakes.

Stradivari – is Todd Pletcher's 2016 bid to earn his own Preakness trophy. The well-bred son of Medaglia d'Oro and multiple sprinter/miler Bending Strings has raced only three times. In his sole start this year, Stradivari ran away from a field of allowance winners at Keeneland in a sharp 1:48.64 for 1 1/8 miles.  Although he has yet to be tested for class, Stradivari is the strongest newcomer to challenge Nyquist's unbeaten record.

Uncle Lino – in three of his last four starts, the well-bred son of Uncle Mo had a good view of the tail of Exaggerator in the San Felipe and Santa Anita Derby. He was even bypassed by the one-paced Mor Spirit in the Robert B. Lewis Stakes (G3). Uncle Lino is out of a half sister to Preakness champ Shackleford. The Gary Sherlock trainee held on to win the 1 1/16 mile California Chrome Stakes at Los Alamitos by ½ length in his last start and set a new track record of 1:40.82 for 1 1/16 miles. Nice pedigree, but likely distance challenged and should stick with the allowance/listed crowd.  Perhaps his front-running style will earn him a minor share of Preakness pie. 

At this point, there are no chinks in Nyquist's armor. Unless he has a horrendous trip, there doesn't appear to be anyone in the field who can beat him. We won't know until the gate opens if the Champ will continue his undefeated run or if he has recovered from his efforts in the Kentucky Derby, but chances are very good that the racing world will start another round of Triple Crown hype on Saturday evening.