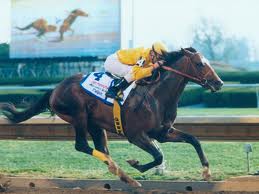 The racing world was shocked by the announcement of Pulpit's sudden death in his paddock last Thursday, December 6. The 18 year old stallion's passing is a devastating blow to the breeding industry, in particular, to Claiborne Farm. The royally bred Pulpit was bred and campaigned by historic Claiborne and he returned home to become one of their most celebrated sires once his racing career concluded.
Racing Career:
Pulpit (A.P. Indy - Preach, by Mr. Prospector) finished out of the money only once in his career. Unraced as a two year old, Pulpit announced his arrival on the racing scene in early January, 1997 with a 7 ½ length score over maidens. He flew seven furlongs in 1:21.98. The Frank Brothers trainee duplicated his maiden feat in an allowance race, decimating allowance runners by over six lengths. A few weeks later, Pulpit made burst on the Triple Crown scene scoring a 1 ½ length win in the 1 1/16 mile Fountain Of Youth as the favorite, beating Captain Bodgit by two lengths.
Pulpit was sent to the post of the Florida Derby as the heavy favorite. Piloted by his regular jockey Shane Sellers, Pulpit sat a little farther back than usual in the early stages of the Grade 1 race. Pulpit passed pace setters Wrightwood and Frisk Me Now in the stretch, but he couldn't hold off the furious charge of Captain Bodgit. Captain Bodgit turned the tables on Pulpit, handing him a 2 ½ length defeat.
Skeptics were quick to point out Pulpit's failure to win at 1 1/8 miles might have been due to receiving speed influences through his damsire, Mr. Prospector. In response, Shane Sellers remarked that Pulpit wasn't the same horse in the Florida Derby as he had been in previous races. No matter. The brilliant colt pressed on to Keeneland, again going to the post as the heavy favorite in the 1 1/8 mile Blue Grass Stakes (G-2). Pulpit reverted to his previous form, waiting patiently in second behind the pace-setting Jules. Given his head in the stretch, Pulpit responded with an easy 3 ½ length triumph.
Meanwhile, Captain Bodgit had parted ways with Pulpit in Florida and earned a victory in the Wood Memorial. He was made the favorite for the Kentucky Derby based upon his two consecutive Grade 1 victories. He, along with the best in the west, Freehouse and his nemesis Silver Charm, converged upon the grounds of Churchill Downs to challenge Pulpit for the ultimate prize. Unfortunately, the brilliant Pulpit suffered a hind leg injury in the Kentucky Derby and was retired.

1997 Kentucky Derby

Career Highlights:
Pulpit (A.P. Indy - Preach, by Mr. Prospector)
Race Record: 6-4-1-0 ($728,200)
1st – Fountain of Youth Stakes (G-2)
1st – Toyota Blue Grass Stakes (G-2)
2nd – Florida Derby (G-1)
Breeding: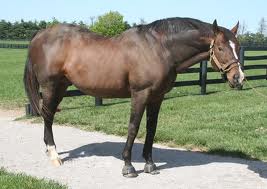 Pulpit was bred to be a Champion. In 1997, he was a member of the highly anticipated first crop of Horse of the Year A.P. Indy, who wound up to be the best producing son at stud for his sire, Triple Crown Champion Seattle Slew. Both A.P. Indy and Seattle Slew were accorded Chef-de-race status; A.P. Indy as an Intermediate/Classic influence and Seattle Slew as a Brilliant/Classic influence. This sire line's tradition of getting outstanding runners and producers can be traced back nine generations to Phalaris arguably the most prominent sire in the world.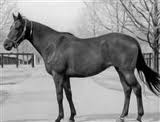 Akin to his sire, Pulpit's dam Preach was no slouch on the track either. The daughter of Mr. Prospector won the Frizette (G-1) in her third start. Later in her career, Preach placed in the Test (G-1) and Prioress Stakes (G-2) as well as winning the Bourbonette. Pulpit was the first foal born of Preach. His dam produced two stakes placed runners, but none approached the class of her firstborn son. Preach was the best competitor of all of her siblings. However, her full sister Myth bore Minardi, Champion Juvenile Colt in England and she is also the granddam of Champion Juvenile and sire Johannesburg.
The first five generations of Pulpit's pedigree contain an amazing 20 blue hens. They are superior mares who have widespread influences through their sons and daughters. Pulpit traces back through his dam to the Knight's Daughter, who was culled from the Royal Stud in England and acquired by Claiborne. Knight's Daughter became one of the foundation mares for the farm. Bred to Princequillo, another of Claiborne's acquisitions, Knight's daughter foaled the legendary Round Table and his full sister Monarchy, who later became Pulpit's fourth dam.
The incomparable Mr. Prospector is Pulpit's damsire. Equally adept as both a sire and broodmare sire, The stallion was awarded status as brilliant/classic Chef-de-Race, as he passes both brilliant speed and classic staying power to his offspring.
Pulpit at Stud: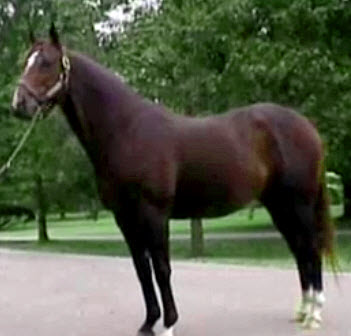 Claiborne Farm traditionally doesn't over-breed their stallions, and Pulpit's initial crop contained just 49 foals. He proved to be a solid producer, finishing the year in the top ten of First Crop sires in terms of earnings. Pulpit's first crop included eight black-type runners, including Norfolk Stakes (G-2) winner Essence of Dubai, his leading first crop money earner.
Pulpit has 12 crops of racing age foals. 38 of them are graded stakes winners. Pulpit has a lifetime juvenile winning rate of 18%, which is superior. The average is 10%. His offspring develop their talent as the mature. The key to Pulpit's success is that his offspring win over all surfaces. They are best as sprinters to middle distance runners; however, Pulpit is represented by five stakes winners at 1 ¼ miles or farther. So far, Pulpit hasn't sired a Champion or Classic winner. His son Ice Box came closest to the feat, finishing second in the 2010 Kentucky Derby.
With 30 sons at stud internationally, Pulpit is carrying on the tradition of his sire line as a sire-of-sires. For four of the last five years, Pulpit's sons have been in the top 20 on the Freshmen Sire list. Tapit, Sky Mesa, Corinthian and Purge have led or been at the top of their respective Freshman Sire lists.
Pulpit is a young broodmare sire. His daughters have bore 15 stakes winners, seven of whom are graded stakes winners. Undoubtedly, that number will grow throughout the years as his daughters retire from their racing careers.
Pulpit's last crop will hit the track in 2015, so there is still a chance that Pulpit will get a Classic winner posthumously. One thing is for sure. Pulpit's legacy will live on world-wide through his many high-class sons and daughters.