The first full week of the
Keeneland
Fall meet is in the books. Double-digit win payouts were the norm for most races held over the Polytrack. Astute handicappers were scoring left and right. Some of the winners stood out as good plays, yet these horses were dismissed at long odds. Let's take a closer look at the primary factors to which horse players should pay attention.
BREEDING:
Polytrack has been in use long enough to gather relevant data about which sire's offspring have a proclivity for artificial surfaces. Sires who are hot (3 or more runners) right now at Keeneland:
Ghostzapper. Smart Strike (6 starters, 67% ITM);
Indian Charlie (5 starters, 60% ITM);
Harlan's Holiday, Medaglio d'Oro, Unbridled's Song (7 starters, 43% ITM);
Dixie Union, Eurosilver, Officer, Scat Daddy (4 starters, 50% ITM);
Bellamy Road, Mr. Greeley, Offlee Wild, Speightstown & Stormy Atlantic (3 starters, 2 ITM);
Other sires who are doing well:
Catienus, Henny Hughes, Johar, Malibu Moon, Scrimshaw, Sky Mesa (2 starters, 100% ITM)
Stallions whose offspring aren't hitting the board so far:
Afleet Alex, Dynaformer, Tiznow (0-5)
Birdstone, Congrats, Flatter, Hard Spun, Tenpins, (0-4)
This isn't an all inclusive list, but sires to watch include:
Any given Saturday, Big Brown, Broken Vow, Candy Ride, City Zip, Closing Argument, Distorted Humor, Leroidesanimaux, Out of Place, Proud Accolade, Ready's Image, Smoke Glacken, Spring At Last, Street Boss, Street Hero, Swain, Tapit, Tribal Rule, With Distinction, With Approval, Wildcat Heir, War Front, War Pass, Yankee Gentleman.
WORKS:
Many of the competitors will have superior Poly breeding but with so-so dirt running lines. Watch the works very carefully on any horses switching from dirt, they will tell you a ton about how they feel about Poly. Here is a classic work that illustrates this point:
October 12, Race 8, Allowance, 3 YO +, for fillies & mares, 6 ½ F.
One contender stood out on the basis of her works.
QUEEN'S AWARD
(by Medaglio d'Oro):

Note her five furlong :58 2/5 handily breeze over the Keeneland surface, which is a full two seconds faster than any of her works over dirt. She was the only filly in the race to have a recent breeze at Keeneland. She also owned the third highest late pace figure in the race (88). So, a mare by a good polysire with a sharp breeze at Keeneland and a good late pace figure would, in my estimate, make Queen's Award one to including in my bets. Queen's Award won by 4 ½ lengths and paid $60.20 to win.
These diamonds in the rough aren't easy to find and you may only pick up three or four during an entire race meet. Here are a couple more with the same pattern:
LOOKY HERE
is entered on October 14, Race 2, a claiming race. Take a look at her works:

She's 4/1 morning line.
LEMONS AND ROSES (by Any Given Saturday) a two year old maiden filly.
The improvement doesn't have to be that stark. Look for horses that were breezing four furlongs in :50/:51 or five furlongs in 1:02/1:03 over dirt that run :48's or 1:00 at Keeneland. The ideal candidate is one who is working at Churchill in 1:02, is a Yankee Gentleman who finished 5/6/5 in his three runs on dirt and is now at Keeneland and worked :47/2, 1:00, 1:00. These are the kind that pay $20-40 and are just gimmes. And that extends far beyond two year olds as 7 year old Golden Yank proved in April – he had never run on Poly and was entered in a race with Successful Dan, was just completely forgotten about and ended up going off at 56/1. The exacta with Successful Dan paid a mind blowing $211.
FEEDER TRACKS
We kept track of where the horses shipped in from. Here are some notes worth a look:
POLYTRACK:
Maidens/Maiden Claimers:
First time starters in Maiden/Maiden Claiming sprints were more likely to complete the exotics than win. (39 starters, 2 winners, 8 ITM). There was one winner, 2 ITM from 5 starters at route distances.
Arlington Park – sprinters performed better than allowance or stakes runners (10 starters, 2 winners, 2 ITM).
Sprinters from Kentucky Downs transfer their turf form to Polytrack. 3 of 8 sprinters hit the board while only 3 routers from ten starters did the same.
From 12 races overall, Saratoga runners won only twice and hit the board 3 times. Ellis Park runners fared the worst. From ten sprinters, none won while two placed. The route runners went 0-10.
Claiming/Starter Allowance:
No surprise that the majority of the entrants shipped in from Presque Isle Downs, Turfway, Ellis Park and Kentucky Downs. Those from Presque Isle fared best, with a 21% win and 41% ITM with sprints and 13%, 38% in two-turn races. Kentucky Downs runners kept their form with 27% wins, 47% ITM sprinting, but only 8% wins, 17% ITM in routes. Saratoga claimers in routes surprised with a winner and ITM runner from three starters, but only one sprinter hit the board.
Allowance:
Once again,
Kentucky Downs
runners proved best. Out of 10 runners, five hit the board. Turfway runners went 0-5.
Stakes:
Saratoga overwhelmed the entry box with 19 stakes runners. Of those, two won and three were ITM.
Turf:
Maiden/Maiden Claiming:
First Time Starters: From 9 starters, only 1 placed.
Arlington: Maidens did very well over turf routes (6 starters, 3 winners, 1 ITM). Also, one of two stakes winners hit the board.
Out of five runners from Woodbine, two won and one placed.
The lone shippers from Calder and Europe won their starts.
Summary: Few runners represented Monmouth Park, but they do very well. Out of seven runners across all class designations, five won or placed. Churchill runners are mostly a play against. From 13 starters, only 2 hit the board. Runners from Woodbine are hit or miss. Stakes runners performed the best. Half hit the board in route races and two of three turf runners did the same.
Post Position:
Post #5, #6 and #10 gain the most winners in main track sprints, while the longer races play more evenly. Posts #4, #5 and #7 are the place to be in turf routes.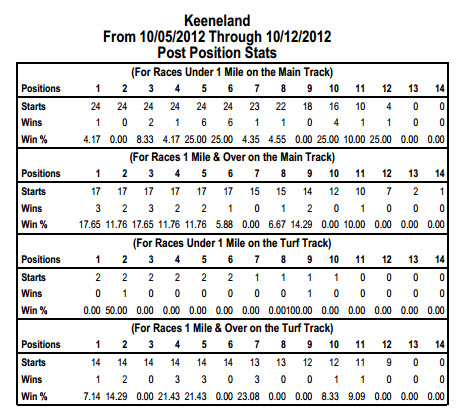 Jockeys:
Julien Leparoux
leads the meet with the number of runners/winners, but keep an eye on Julio Garcia. From just seven mounts, he's won with two and placed three times. Jose Lezcano and Javier Castellano are also doing well over the Poly. Lezcano has won with two of his four turf mounts while Castellano has one winner from four starters. Corey Lanerie has three winners from nine turf mounts.
Who do you want to ride your two year olds? Julio Garcia has two winners from five starters. Bridgmohan, Leparoux and Lanerie each have multiple wins.
Leparoux is king of the maidens/claimers with six winners from19 mounts. He and Lezcano each own two stakes winners.
Trainers:
Michael Maker
sits atop the trainer standings by number of wins. From 22 starters, he has five winners and six ITM. Keep an eye on runners from Charles Lopresti (6-2-0-1), Eduardo Caramori (6-2-0-0) and Tim Richardson's (3-2-0-0) barns.
As usual, Wesley Ward and Wayne Catalano sent out the most two year olds. Each trainer owns three wins. Bill Mott rules the allowance turf contests with two winners from four starters. Todd Pletcher seems to take home all of the candy when it comes to stakes races. Not at Keeneland. His embarrassment of riches includes 15 starters in stakes, with only two winners. Compare that to Dale Roman's seven stakes starters with the same number of winners. Underdog Charles Lopresti sent out one stakes horse, which found the winner's circle.
Summary:
Of course, not all of the longshots will be this easily recognizable.  If they were, they woudln't be longshots. Barring a work over polytrack, look for runners who have decent breeding for the surface. Previous class is also an indicater as are speed figures. If you do your homework, you can reap huge rewards at Keeneland.