Does the large heart factor play a role in the Kentucky Derby? Is it another useful tool for handicappers or just an interesting notion that, while entertaining, is a theory better suited to the breeding shed? What do horsemen mean when they say, "that horse has a lot of heart?"
Let's delve into the components behind these questions.
Unlike humans, a large heart in a thoroughbred is a good thing. It gives the horse greater stamina and strength. This particularity is passed amongst Thoroughbred families. The large heart gene is also known as the X-Factor, because the gene is located on the X-chromosome. Therefore, a colt can only inherit an oversized heart through his dam, and a stallion can only pass on the gene to his daughters.
The exact heart size seems to vary from horse to horse. Multiple factors probably contribute to heart size, and the x-factor gene, being a mutation itself, probably works in conjunction with these; it "supersizes" the heart based on the existing blueprint, so to speak.
The gene can be passed from father to son and from mother to daughter, but in that case, the gene is recessive.  It only generates in the opposite sex. Therefore, a dam may pass along the trait to her daughters, who in turn would bear sons with the large heart gene.  This is one theory to explain how class may skip a generation.
The only reliable measurement to determine if a horse has a large heart is to do an ECG of the dam/foal to see if they carry this mutation. The large heart has a 50/50 chance to be passed along to each foal. Therefore, one could have it, while the rest don't. It's a roll of the genetic dice. Other ways to determine (not as reliable) are to examine the pedigree for large-heart ancestors, winning traits of the family, and certain physical aspects.
[Get a $300 BONUS for the Kentucky Derby!]
Pedigree: X-Factor stallions pass the gene to their daughters, thus becoming good broodmare sires. Secretariat, perhaps one of the most famous stallions noted for his large heart, was noted as one of the greatest broodmare sires in modern history. Some mares are "Double copy" mares, receiving the gene through their sires and dams. For instance, Weekend Surprise was a double copy mare, as she received the gene through her sire Secretariat and damsire, Buckpasser. Weekend Surprise's dam Lassie Dear and her second dam Gay Missile (by Sir Gaylord) were also carriers. The large heart gene expressed itself in Weekend Surprise's sons A.P. Indy and Summer Squall. Additionally, Lassie Dear's daughter Charming Lassie (by Seattle Slew) passed along the x-factor gene to her son Lemon Drop Kid.
Take a look at A.P. Indy's pedigree.  Note that the double copy mares are underlined in blue and the single copy horses are outlined in red.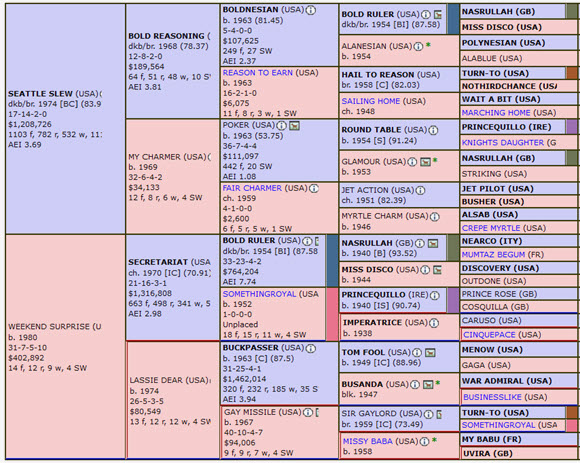 A family's racing ability can also be a clue to whether a horse may have the X-Factor. For instance, if a mare who carries a copy (or double copy gene) has ten foals and half of them are stakes winners, she is likely passing along an active large heart gene. If only three or four of her ten foals win and none win a stakes race, she either isn't passing the gene along or the gene is recessive in those foals
Also, the X-factor gene can be recessive in a mare. Therefore, she may pass the gene to her babies, but it won't be expressed until her offspring have progeny of their own. That's one of the reasons we see talent skip a generation or two. This is how that comes about. A mare with few winners in her first two generations carrying a recessive heart gene is mated to a stallion with the large heart gene. Surprise - here's a stakes winner. It isn't always that simple, but it does explain why one runner out of ten from a mare will be a superstar while the rest languish in claiming races.
Physical Aspects: There is one unique physical characteristic found among horses with an active large heart gene. That distinctive feature is, curly ear tips. Take a look at Secretariat's ears. Another noted for her curly ears is Zenyatta. Not only is she a super-mare, but she's also a double copy mare, receiving the gene from her sire Street Cry (whose entire distaff line is X-factor) and Vertigineux, who receives the gene from both her sire Kris S. and dam For the Flag.  If Zenyatta passes along the X-Factor gene to her sons, they should become excellent runners and sires. Unless Zenyatta's daughters receive the gene from their sire, it is likely that they won't emulate their dam on the racetrack, but they will pass the X-Factor along to their sons. Other notable runners who carry the large heart gene are California Chrome, Shared Belief and this year's Derby contender, American Pharoah.
 American Pharoah:                                                           Zenyattta: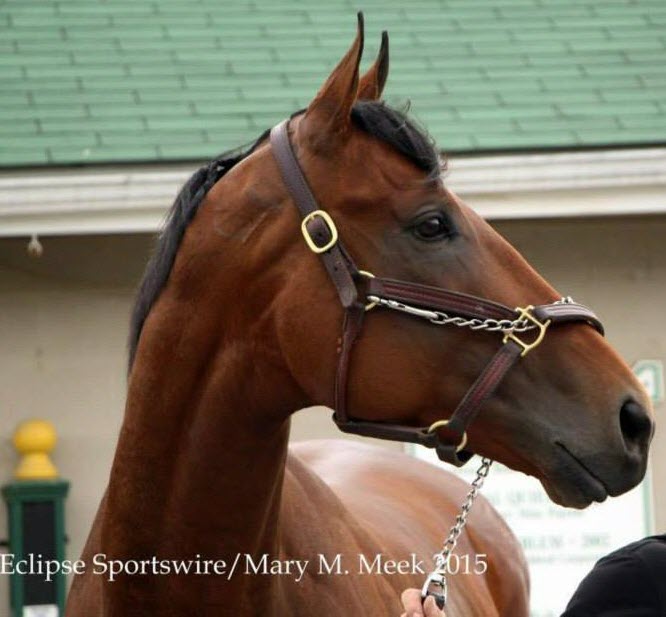 X-Factor & Handicapping: So how does the X-Factor work to the handicapper's advantage? Nothing is ever mentioned regarding large-hearts and handicapping because it would be impossible to include the info in the past performances. Not every good racehorse carries a large heart. Certain Thoroughbred families carry the large heart gene.
Review the pedigrees and racing backgrounds of the contender's families. Also, look for a leaf-like "curly" appearance to the ears. A horse doesn't need to be a statuesque 17 hands high to carry the large heart. Physical size doesn't matter. War Admiral was a small horse, but he carried the double X factor from his sire and dam.
Kentucky Derby Contenders: That brings us to the Kentucky Derby. How many winners have carried the large heart? Reviewing the pedigree charts back to 1970, it seems that the trend comes and goes. Following are the years that, according to their pedigree charts, horses with the X-Factor won the Kentucky Derby. Note that there is no more than three years between winners who may carry the X-Factor gene.
1973 – 1975 – yes

1993 – 2001 – yes

1976 – no

2002 – 2003 - no

1977 – 1981 – yes

2004 – yes

1982 – 1983 – no            


2005 – 2007 – no

1984 – yes

2008 – yes

1985 – 1986 – no

2009 – no

1987 – yes

2010 – yes

1988 – 1989 – no

2011 – 2012 – no

1990 – yes

2013 - 2014 - yes

1991 – 1992 - no
Keep in mind that heart size alone doesn't guarantee a stakes winner. A horse's biomechanics - gait, stride length, conformation, power, health and training all play a part in their ability. However, if the large-hearted horse has these other factors in their favor, there's a strong chance that they will be a tough customer in their races.
2015 Kentucky Derby X-Factor Carriers:
So which of this year's Kentucky Derby contenders might carry the large heart gene?  There are five possible carriers, based upon their pedigree and physical aspects. As you may already have suspected, American Pharoah and Dortmund are among them. The X-Factor, pedigree and surface ratings and more details are covered in the HRN Pedigree Report which is a part of the Super Screener package.