FIRING LINE showed his true capabilities in Sunday's Sunland Derby. Finally out of the hulking shadow of his nemesis, Dortmund, Firing Line blasted away to win the Sunland Derby (G-3) by 14 ¼ lengths against a field of six over-matched rivals. While enjoying a confidence builder, Firing Line established himself as a very serious contender for the 2015 Kentucky Derby by setting a new track record at Sunland Park for 1 1/8 miles in 1:47.39, an eye blink better than the old record of 1:47.54.
FIRING LINE (Line of David - Sister Girl Blues, by Hold for Gold) is the only colt who has given Dortmund all he could handle, battling the undefeated behemoth to a head decision in both the Robert B. Lewis Stakes and Los Alamitos Futurity. Both times Firing Line was on the losing end, but not for lack of trying.  Firing Line is also a veteran of the auction ring.  Bred by Clearsky Farms, the Line of David colt brought $65,000 at the Keeneland November 2012 sale.  A year later, the well-conformed colt sold for $150,000 at the Fasig-Tipton July yearling sale and was pinhooked to the 2014 Keeneland April sale.  Firing Line caught the attention of Arnold Zetcher LLC after breezing :20 1/5.  Firing Line is trained by Simon Callaghan and has been piloted by Gary Stevens in his last two starts.  The colt has racked up a 5-2-3-0 ($574,800) race record and has earned 58 Kentucky Derby qualifying points.
Sire:
Line of David  (Lion Heart - Emma's Dilemma, by Capote) won three of seven starts during his racing career. A late maturing colt, he raced in California and needed four starts to win his maiden.  After two victories over the turf, Line of David was ambitiously spotted in the Arkansas Derby.  Making his first start over dirt, he scored a shocking front running neck victory over eventual Kentucky Derby winner Super Saver in the Grade 1 event, earning a spot in the Kentucky Derby.  Line of David incurred a few minor injuries during the running of the Kentucky Derby and finished eighteenth.  After some time off, Line of David was slated to run in the Will Rogers Stakes (G-3) at Hollywood Park, but was sold to B. Wayne Hughes and sent to stud at Spendthrift Farm.  Line of David retired with a 7-3-0-1 ($662,000) record.
Line of David stood initially for $7,500 and has seen his fee fluctuate from that figure down to $2,000 last year. Currently he stands for $3,500.   He has a very nice pedigree for the stud fee and I expect we'll be hearing a lot about his offspring as the mature into older horses.  A member of last year's crop of Freshmen Sires. Line of David has the pedigree of a middle distance runner.  His sire Lion Heart won from seven furlongs to 1 1/8 miles, and was second to Smarty Jones in the 2004 Kentucky Derby.  He was a decent sire, getting over 20 stakes winners, but has since been transferred to stand stud in Turkey.  Lion Heart's damsire Capote was a Champion Juvenile.  Capote was noted for getting precocious sprinters to middle distance runners.
Line of David has a deceptively nice female family.  His dam is a half sister to three blacktype runners and Line of David is a direct descendant of the blue hen Gold Digger, also known as the dam of the legendary Mr. Prospector.  I noted in last year's Freshman Sire Guide that Line of David's offspring  should be later maturing juveniles and prefer longer sprints through middle distances. Besides Firing Line, Line of David's notable offspring include Cross the Line, winner of the California Derby, the stakes placed sprinter Carolina Jasmine and multiple stakes placed Dirt Monster, who finished behind Firing Line in the Sunland Derby.
Female Family:
Firing Line's dam Sister Girl Blues (Hold for Gold - Sister Girl, by Conquistador Cielo) is a multiple graded stakes placed veteran of ten starts.  After winning her debut, Sister Girl Blues finished second to eventual Juvenile Champ Adoration, beaten only a length after dueling the entire way in the Hollywood Breeders' Cup Oaks (G-2). The following year, the determined Sister Girl Blues battled the Champion mare Azeri for 1 1/8 miles in the Vanity Stakes (G-1) before being outclassed by only two lengths. Sister Girl Blues is a half sister to Dwyer Stakes winner Mint Lane (Maria's Mon).
Class has been known to skip a generation, which it did in Firing Line's third generation. His fourth dam, the unraced Forlis Key is a half sister to the multiple Grade 1 winner Gorgeous (whose descendants include multiple G-1 winners Swift Temper and Turbulent Decent), Kentucky Oaks heroine Seaside Attraction (dam of the G-1 winner and sire Cape Town), Canadian Champion Horse Key to the Moon, European stakes winner Hiaam, grand-dam of multiple G-1 winner and new sire Alpha, and to Jood, the dam of Fantastic Light, who was both a European and American Champion.  Firing Line's fifth dam Kamar was a Canadian Champion Juvenile Filly and blue hen.
Firing Line is the fourth foal and first blacktype earner produced by his dam. Only one other half sibling made it to the track and is a winner.  Sister Girl Blues has a two year old Bellamy Road colt named Kancamagus, an un-named Line of David yearling and is in foal to Super Saver. She will visit Malibu Moon later this year.
Firing Line carries Rasmussen Factor breeding (inbred to a blue hen within five generations) to Gold Digger, through his sire and Mr. Prospector, the damsire of Hold for Gold and sire of Conquistador Cielo.  This inbreeding gives Firing Line a 5x5x5 cross to Gold Digger.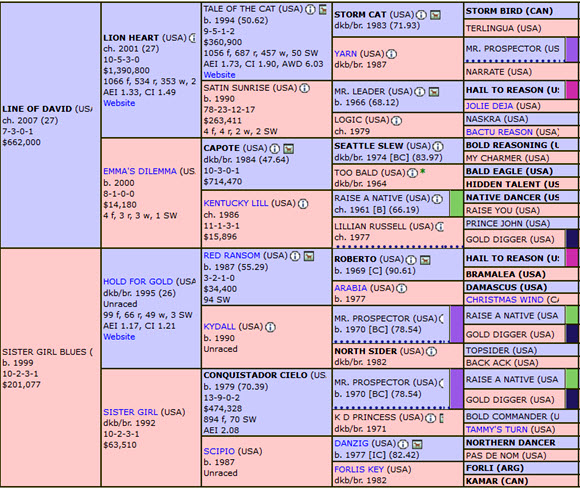 Damsire: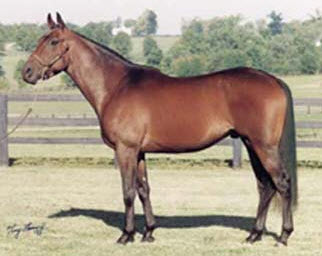 Firing Line's damsire Hold for Gold (Red Ransom - Kydall, by Mr. Prospector) is an unraced stallion standing in Arizona. He sired eleven blacktype runners, including the popular stakes veterans Bright Gold and Plug Me In.  Besides Firing Line, Hold For Gold's daughters have produced two turf stakes runners.  Hold For Gold's stakes winners won up to nine furlongs.  
Firing Line's second damsire, Champion Three Year Old and horse of the year Conquistador Cielo won the Belmont Stakes by 14 lengths and set a new stakes record in the 1 1/8 mile Dwyer (G-2).
Outlook:
Firing Line is an average-sized colt, possessing an athletic, well-balanced body. He has a muscular, long neck tying into a deep, slanted, well-developed shoulder. His hindquarters show a long, powerful hip.  Firing Line has a smooth stride with no wasted leg action.  Line of David is built like a two turn horse.  There's no doubt that Firing Line inherited the determined steadfast demeanor of his sire and dam.  This lightly raced, but experienced colt has shown that he won't back down from a fight.  Already a track record holder at 1 1/8 miles, his conformation and temperament indicate that he'll have no difficulties getting the 1 1 /4 mile of the Kentucky Derby.  
Of concern is the record of previous runners in the Sunland Derby on the Triple Crown trail. Other than longshot Mine That Bird, none of the other runners in the Sunland Derby have hit the board in the Kentucky Derby.  The Sunland Derby participants have a better record with the Belmont Stakes rather than the Derby; of the four who have contested the Belmont, three hit the board. Ruler On Ice won in 2011, Commissioner was second last year, and Mine That Bird finished third in 2009.  Horse racing is not a sport of absolutes, so Firing Line, with the assistance of his veteran jockey Gary Stevens, could very well become the first Sunland Derby winner to become a Kentucky Derby hero.