Far From Over
is well named. In the Withers Stakes (G-3) at Aqueduct on Saturday, Far From Over briefly stumbled at the start, almost clipping the back leg of Classy Class to his inside. The bad break gave the field 4 ½ lengths head start over the bay ridgling and at one point, he was ten lengths behind pace setter Classy Class. The colt appeared hopelessly beaten, but jockey
Manuel Franco
kicked Far From Over into gear, cutting the corner on the far turn.  Displaying a huge turn of foot, exploded past a dueling
El Kabeir
 and 
Classy Class
 to win by 1 ¾ lengths. El Kabeir held on by a length over Classy Class, who finished 1 ¼ lengths ahead of Tencendur, while March was fifth. Far From Over stopped the clock in 1:43.93, the fastest time since the race was expanded to 1 1/16 miles four years ago.
Far From Over gave the world a hint of his ability in his first start. In his December 12 debut, the
Todd Pletcher
trainee dueled through the entire race, to win by a nose. It was more than six lengths back to the third place finisher. The time for the 1 mile 70 yards was 1:43.11, which was the second-fastest time for that distance in the racing week. For comparison, El Kabeir won the Jerome in 1:44.69. 
FAR FROM OVER
(Blame - Alchemist, by A.P. Indy) was bred by
Alexander Groves Matz
and sold at the 2013 Keeneland September Yearling Sale for $550,000 to Steven Marshall of
Black Rock Thoroughbreds
. Far From Over is trained by Todd Pletcher.  These same connections sent Violence to a second place finish behind Orb in the 2013 Fountain of Youth. Far From Over is undefeated in two starts with earnings of $186,000. His Withers victory earned him ten
Kentucky Derby 2015
qualifying points.
Sire:
Blame will go down in history as the only horse to have beaten superstar Zenyatta, which earned the stallion honors as Champion Older Male in 2010. Never out of the money in 13 starts, Blame raced once each during his two and three year old seasons. As a four year old, the son of Arch was a multiple Grade Two winner.  Blame put it all together as a five year old, reeling off victories in the William Donald Schaefer Stakes, Stephen Foster and Whitney Handicaps before a distant second place finish in the Jockey Club Gold Cup, against a runaway Haynesfield. Blame rebounded to capture one of the most emotional Breeders' Cup Classic editions in the history of the race. 
Blame has one of the best pedigrees in last year's stellar group of freshmen sires. His second through seventh dams are all blue hens. Blame's breeding combines the best of the Claiborne Farm's sires and female families. His second dam Bound is a three-quarter sister to Champion and leading sire Nureyev, plus she's a half sister to the dam of the legendary Sadler's Wells. Other illustrious names found in Blame's distaff line include Champions Thatch, Gamely, Moccasin, Apalachee, and Althea.   
I mentioned in the 2014 Freshman Sire Guide that Blame's offspring will be mid to late season two-year-olds and improve with maturity and distance. He has a classic oriented pedigree and his high-quality offspring will prefer a route of ground over all surfaces.
BLAME
(Arch - Liable, by Seeking the Gold)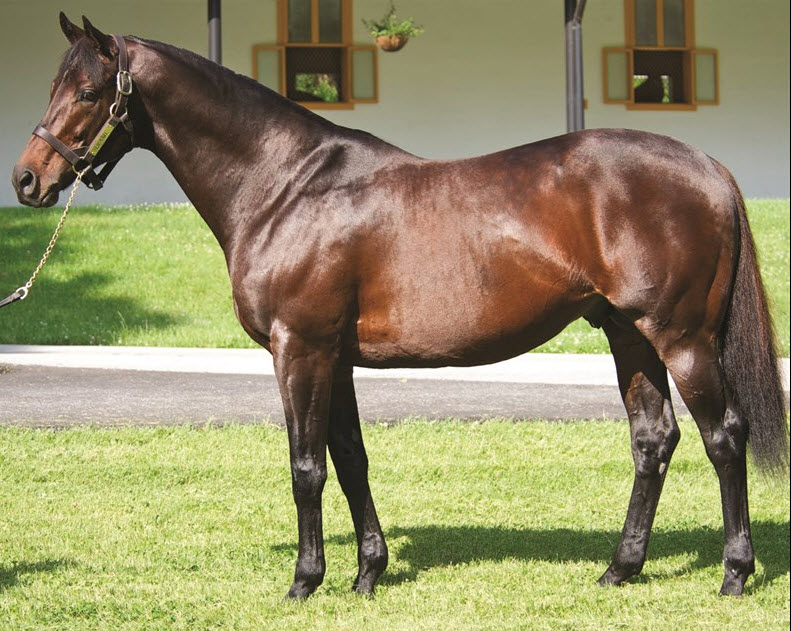 Race record: 13-9-2-2 ($4,368,214)
2010 Champion Older Horse
Career highlights:
1st - Breeders' Cup Classic (G-1) 1 ¼ miles
1st – Stephen Foster Handicap (G-1) 1 1/8 miles
1st - Whitney Handicap (G-1) 1 1/8 miles
1st - Clark Handicap (G-2) 1 1/8 miles
1st - Fayette Stakes (G-2) 1 1/8 miles
1st - William Donald Schaefer Stakes (G-3) 1 1/16 miles
2nd - Jockey Club Gold Cup Stakes (G-1) 1 ¼ miles
2nd - Super Derby (G-2) 1 1/8 miles
Female Family:
Far From Over has one of the classiest pedigrees in this herd of newly-turned three year olds.  His dam Alchemist started her career as a May three year old, winning three starts and placing twice, including a third place finish, beaten only 2 ½ lengths in the Anne Arundel Stakes at Laurel. The daughter of A.P. Indy had a full dance card as a four year old as a solid allowance class performer. She finished off of the board in four stakes attempts. The mare won from seven furlongs to 1 1/8 miles on dirt and at a mile over the turf.
Before bearing Far From Over, Alchemist foaled five other foals, including Far From Over's half brother, the minor stakes placed Burj Dubai (Distorted Humor) and And Why Not (Street Cry), who placed in five stakes races, including the Spinaway Go For Wand Stakes and Delaware Handicap, all grade one contests. 
Alchemist is a full sister to the multiple stakes winner Altesse who won stakes at distances ranging from 1 1/16 to 1 1/8 miles. Far From Over's second dam Aldiza (Storm Cat) won the Go For Wand Stakes (G-1) at 1 1/8 miles, the Glamour Stakes at 6 ½ furlongs, and hit the board in The Test, Frizette and Spinster Stakes, all Grade 1 events, plus runner-up placings in five other grade two and three events.  Far From Over's third dam, the stakes winning Aishah (Alydar), is a full sister to the aforementioned Althea.  Blame is a grandson of Althea.  
Far From Over has 5 x 4 Rasmussen Factor inbreeding (inbred to a blue hen within five generations, through full or half siblings) to Courtly Dee (Never Bend) through full sisters Aishah  and Althea, the second dam of Blame's sire Arch.  Courtly Dee was an underachiever on the race track.  She entered the starting gate a remarkable 33 times in only two years, earning less than $20,000. Courtly Dee has a royal pedigree.  Her dam was a ¾ sister to Iron Maiden, dam of Kentucky Derby winner Iron Liege and granddam of Swaps, who also won the Kentucky Derby.  Named 1988 Broodmare of the Year, Courtly Dee bore 18 foals, seven of which were graded stakes winners, plus two stakes placed runners.  Grade One winners who trace directly back to Courtly Dee through their female families include Breeders' Cup Classic victor Bayern, Juddmonte Spinster heroine Acoma and Frizette winner Ballato.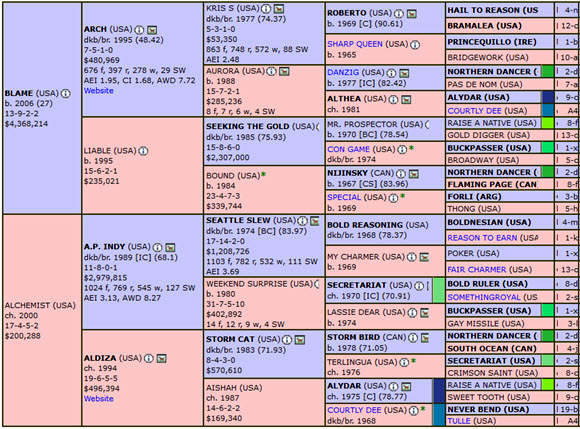 Damsire:
Far From Over's damsire A.P. Indy is one of great sires of his generations.  The stallion passes along stamina attributes to his offspring to the extent that he was designated an Intermediate/Classic Chef-de-Race. Now retired from stud duty, A.P. Indy's status as a racehorse and major stallion is already cemented in history.  By a Triple Crown winner out of the daughter of a Triple Crown winner, A.P. Indy earned Horse of the Year status with victories in the Belmont Stakes and Breeders' Cup Classic.  He is recognized worldwide as a sire of sires and his genes live on through his sons and grandsons Pulpit, Bernardini, Malibu Moon, Mineshaft, Majestic Warrior, Tapit, and many more. 
A.P. Indy is no slouch as a broodmare sire, either, as he's been a top 20 leading broodmare sire for the last fourteen years. His daughters have produced over 200 stakes winners, including the Champion mares Royal Delta and Wait a While, Kentucky Derby hero Super Saver (now a top sire himself), Kentucky Oaks heroine Plum Pretty, Grade One winning sires Any Given Saturday, Bluegrass Cat, and the young stallion Revolutionary, winner of the 2013 Withers Stakes.
A. P. INDY
(Seattle Slew - Weekend Surprise, by Secretariat)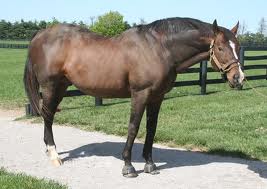 Race Record: 11-8-0-1 ($2,979,815)
1992 Champion Three Year Old Colt
1992 Horse of the Year
2000 – Hall of Fame
Career Highlights:
1st – Belmont Stakes (G-1) 1 ½ miles
1st - Breeders' Cup Classic (G-1) 1 ¼ miles
1st – Santa Anita Derby (G-1) 1 1/8 miles
1st -  Hollywood Futurity (G-1) 1 1/6 miles
1st – Peter Pan Stakes (G-2) 1 1/8 miles
3rd - Jockey Club Gold Cup (G-1) 1 ¼ miles
The internationally acclaimed Storm Cat is Far From Over's second damsire. Storm Cat is a chameleon of sorts. Bred to mares with stamina oriented pedigrees, he would get two turn runners, and those mares who were sprint oriented would produce sprinter/miler types. This was the key to his remarkable success in the breeding shed.   Storm Cat is the broodmare sire of Grade One winners Bodemeister, Close Hatches, Dialed In, Drill and Folklore, to name a few.
Blame's sire Arch has had good success with A.P. Indy mares.  Getting 14 foals, 6 winners, 1 stakes winner (in Russia) with earnings of over $200,000.
Outlook: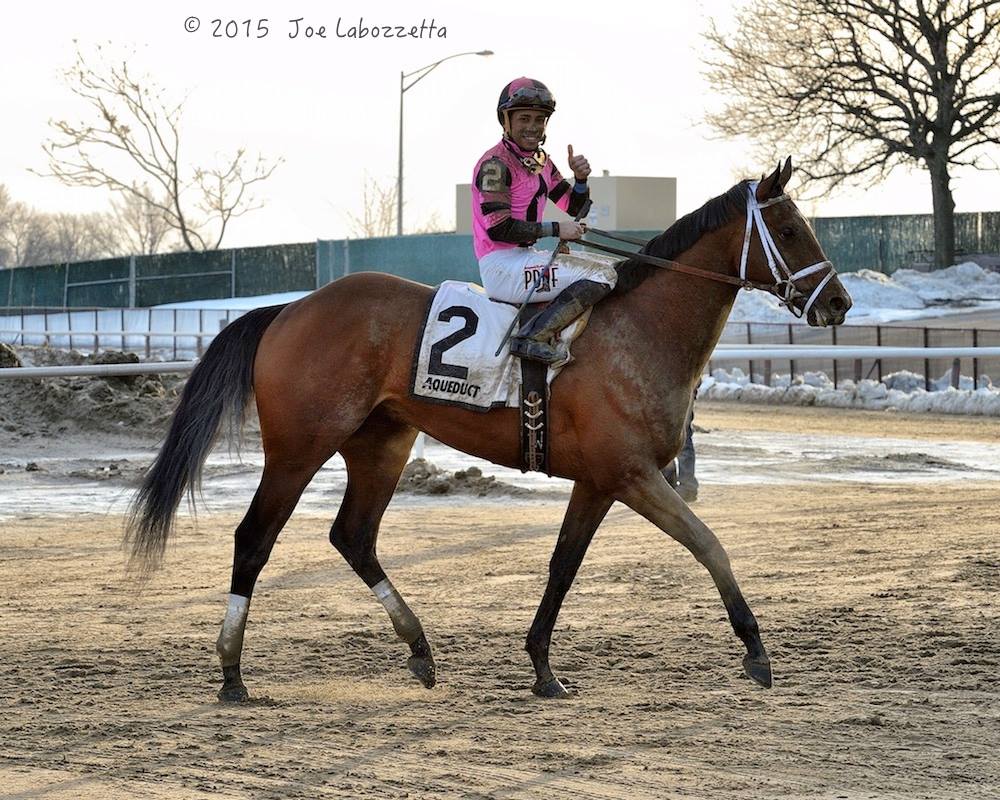 Far From Over is a tall, leggy ridgling.  As one would expect from his breeding, he has the body of a stayer, with a deep, well-slanted shoulder and short back, balanced by powerful hindquarters. He appears to be fairly sleek, and has inherited his sire's refined looks. He has slender legs and delicate looking hooves. The ridgling is a May foal, and he will likely put on muscle as he matures. Far From Over doesn't have the prettiest leg action.  He has high knee action with average leg extension. He switched leads passing El Kabeir and Classy Class under left handed whipping, galloping under the wire on his right lead.  He switched back to his left lead a few strides later.  This is a sign of greenness, which he will undoubtedly outgrow.
Far From Over has "curly ears" which is a physical characteristic of a large heart. Only an EKG can determine if the ridgling does indeed have a large heart, however, his dam Alchemist is a double copy mare, which means both her sire A.P. Indy and dam, Aldiza are carriers of the large heart gene.  Note that A.P. Indy and Storm Cat are noted as excellent broodmare sires and have passed on the large heart gene to many of their progeny. Far From Over's third dam Aisha and fourth dam Courtly Dee are also double copy mares, who passed along their superior genes to ensuing generations.
Far From Over has a pedigree filled with the class and stamina to be labeled as a serious Triple Crown contender.  Not only should he relish the 1 ¼ miles of the Kentucky Derby, but the 1 ½ miles of the Belmont Stakes should be within his scope as well.  Todd Pletcher doesn't have the best of records in the Kentucky Derby.  In the last fourteen years, the super trainer has saddled 40 horses in the classic race, winning just once (Super Saver), finishing second twice and third three times.  This year, Pletcher has a strong hand and Far From Over could have him standing in the winner's circle again.
Far From Over pedigree conformation photo used by permission:
Coglianese photos / Joe Labozzetta