The best two year old in the land stayed home on Breeders' Cup day. Instead, he made  the last graded stakes race at Hollywood Park a memorable one with a dazzling show of brilliance in the CashCall Futurity (G-1). Shared Belief has run away from his competition by over 20 lengths in three starts. He's thoroughly professional. In ever start he's sat  behind the pace in the early race stages then blasts away through the stretch. The dark bay's final quarters have been quicker than the previous ones – something we rarely see and the mark of a very good racehorse.  Shared Belief's final time in the 1 1/16 mile CashCall was 1:42.16, the fastest time since 2008. His time is comparable to that of Belmont Stakes winners Point Given and A.P. Indy, and Kentucky Derby runner-up Lion Heart.
Shared Belief was bred by Pam and Martin Wygod and made his first start for them under trainer Jedd Josephson. He was then sold privately to a partnership that included trainer Jerry Hollendorfer,
Jungle Racing, Alex Solis II, Jason Litt, and KMN Racing.  The two year old has a 3-3-0-0- (
$451,200) record and has the Hollywood Prevue (G-3) and CashCall Futurity (G-1) on his resume.
SHARED BELIEF
(Candy Ride (ARG) - Common Hope, by Storm Cat) is by the unbeaten Candy Ride. The stallion was brought to the US by veteran trainer Ron McAnally after eye-catching performances in a pair of Group 1 races in Argentina. Candy Ride raced only three times in the US, but had racegoers buzzing with excitement. After defeating allowance company going 1 1/16 miles on dirt, A month later Candy Ride switched to turf and captured the 1 1/8 mile American Handicap (G-2). He faced a small but tough field in the Pacific Classic and proved up to the task, beating Medaglia D'Oro by 3 ¾ lengths and setting a new track record for 1 ¼ miles in 1:59.11. McAnally wanted a fresh horse for the following year, and kept Candy Ride out of the Breeders' Cup Classic.  While in training the following year, the stalllion was injured and retired.
At stud, Candy Ride is siring offspring as versatile as their sire. They're hardy runners, sticking around until they're five or six.  Dirt, turf, synthetics, Candy Rides babies run over everything and their distance range is sprints to middle distances.  Although he won at 1 ¼ miles and set a track record, Candy Ride's stakes progeny are distance challenged past 1 1/8 miles. To date, he has six crops on the track and only one, Misremembered, has won at 1 ¼ miles, although four other stakes horses have placed at the distance. Besides Shared Belief, Candy Ride's most accomplished runners include the stakes veterans Kettlecorn, Clubhouse Ride, Evita Argintina, Sidney's Candy, Twirling Candy and Capt Candyman Can. Incedently, Candy Ride is also the sire of Candy Boy, the second place finisher in the CashCall Futurity.
CANDY RIDE
( Ride the Rails - Candy Girl (ARG), by Candy Stripes)
Race record: 6-6-0-0 ($749,149)
1st – Pacific Classic (G-1) 1 ¼ miles
1st – American Handicap (G-2) 1 1/8 miles (T)
1st - Joaquin S. de Anchorena (Gr. 1)  1 mile
1st - San Isidro (Gr. 1) 1 mile
Shared Belief's dam Common Hope won once in five starts, a nose decision over maidens traveling 6 ½ furlongs on the Del Mar Polytrack. She placed in an optional claimer at the same distance on Santa Anita's dirt. Besides Shared Belief, Common Hope bore seven other foals. All raced, six are winners.  Her daughter Little Miss Holly (by Maria's Mon) won the Iowa Oaks (G-3) and son Double Major (by Bertrando) is stakes placed.  Common Hope's offspring are multi-talented over dirt, mud, turf and synthetics. 
The second dam Sown, won both starts before being injured and retired. Her most accomplished foal on the track was Santa Monica Stakes (G-1) winner Key Phrase (by Flying Paster). That one bore the stakes winner and sire Yankee Gentleman (by Storm Cat) and stakes placed Key Deputy (by Deputy Commander).  Key Phrase is also the grand-dam of the multiple graded stakes winning sprinter and sire Half Ours (by Unbridled's Song) and Grade 3 winner Khancord Kid (by Lemon Drop Kid). Sown's son Tribal Rule never won a stakes, but he's a top California sire. By Storm Cat, Trible Rule is a full brother to Shared Belief's dam Common Hope. Tribal Rule is noted for getting win-early, distance challenged types. He's represented by two stakes winners at 1 1/8 miles and none past that distance.  

Shared Belief, Common Hope and the second dam Sown, are all Wygod homebreds.  Shared Belief's third dam Bad Seed was a minor stakes winner and his fourth dam Rich and Rare was Champion Two Year Old Filly in England. Shared Belief is a member of the Lowes Female Family 19. There are no blue hens in this particular branch. Shared Belief may carry the large heart gene or "X-Factor" gene from his damsire.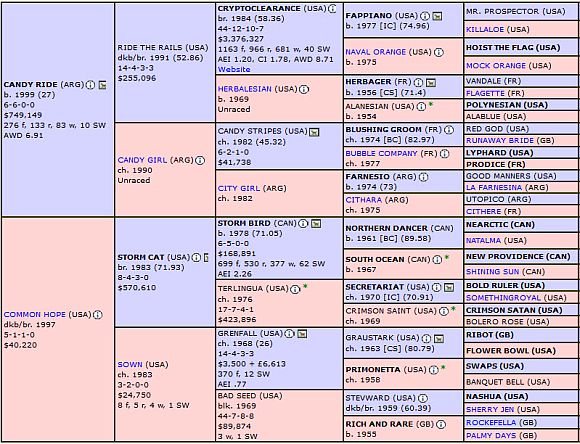 The international sire Storm Cat is Shared Belief's broodmare sire. Storm Cat is a chameleon of sorts. Bred to  mares with stamina oriented pedigrees, he would get two turn runners, and those mares who were sprint oriented would produce sprinter/miler types. This was the key to his remarkable success in the breeding shed.
Storm Cat is excelling as a broodmare sire as well. He's been the leading broodmare sire for two years running and has been among the top ten leading broodmare sires since 2005.  Among the 101 stakes winning offspring produced by his daughters are Classic placed Bodemeister, Florida Derby winner Dialed In, and  this year's Remsen winner Honor Code.
Shared Belief has similar breeding to Santa Anita Derby winner Sidney's Candy. Both are by Candy Ride out of daughters of Storm Cat.  Sidney's Candy won only once at 1 1/8 miles. He finished 17th in the 2010 Kentucky Derby, but continued on to become a multiple stakes winner.  The stallion won over dirt, turf and Cushion Track.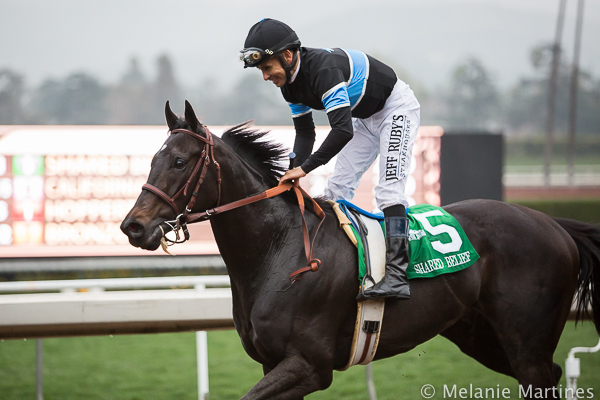 Shared Belief favors his damsire Storm Cat in the looks department.  He has an amazingly devastating and noticable burst of speed with a beautiful extension and stride. The only drawback is that he paddles slightly with his left foreleg. Shared Belief's pedigree indicates that he's very borderline for 1 1/14 miles, but his natural talent could overcome that in the right circumstances. 
Oh, did I mention that Shared Belief is a gelding? They don't fare too well in the Kentucky Derby, only nine have won since the Classic race's inception.  There's still hope though, since two of those nine winners wore the roses in 2003 (Funny Cide) and 2009 (Mine That Bird). 
So what can we expect from Shared Belief on the Triple Crown trail? Currently, he's mane and tail above anything California has to offer and his performances have made the East Coast horses look boring.  There are always those looking for chinks in the racing tack though, so I suppose Shared Belief could fall into the "Who did he beat" category. Lets see…Bond Holder, winner of the G-1 Frontrunner Stakes and fourth in the Breeders' Cup Juvenile, Tamarando, winner of the Del Mar Futurity (G-1) and Real Quiet Stakes, and Kobe's Back, winner of the Willard L. Proctor Memorial.  Not too shabby. This extraodinary gelding will have many racing fans believing in him before the first Saturday in May.