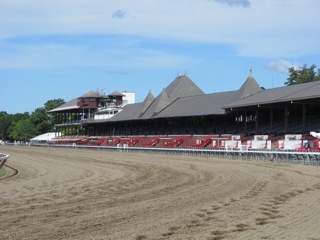 First contested in 1913, the
Sanford Stakes
has a long, storied history.  The roll call of victors reads like a who's who of racing legends. The 1914 winner was the filly Regret, who would become the first filly to win the Kentucky Derby the following year. Two Triple Crown Champs, Secretariat and Affirmed, won the Sanford in their respective years and another Triple Crown hero, Omaha, was a runner-up in the race.  In more recent years, Belmont Stakes hero and Champion Three Year Old Afleet Alex won the Sanford Stakes in 2004 and Florida Derby champ Scat Daddy took the Sanford in 2006.  Famous also-rans include the great Man O'War, who suffered his only defeat in the Sanford Stakes in 1919, and Champions Cavalcade (1933), Forward Pass (1967), and Boston Harbor (1996). 
Juvenile Graded Stakes races are surrounded by an air of expectation.  Untested babies have a whole future ahead of them and racing fans love to speculate about today's winner becoming tomorrow's superstar.   In the last five years, the winners of the Sanford Stakes have, for the most part, been a tad disappointing down the road.  They were distance challenged or haven't lived up to high expectations.  Let's take a look at the pedigree of this year's Sanford Stakes hero Bern Identity for clues to his future.
As the gates sprung open at the start of the Sanford Stakes, Handsome Jack and Brave Dave hustled to the lead, quickly separating themselves from the rest of the pack. Bern Identity, saving ground on the rail, raced as a team with Rose Junction and Special Jo, 2 ½ lengths behind the dueling duo.  Handsome Jack and Brave Dave sped through an opening quarter of :21.60. They rumbled through the half in :44.70, and fought to the top of the stretch, getting five furlongs in a blazing :57.50.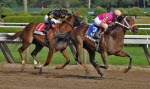 Meanwhile, Bern Identity, Rose Junction and Special Jo had their own three-way race going, albeit at a more sensible pace.  By midstretch, the quick fractions caught up to the two pace setters. Brave Dave was the first to crack. He blew the far turn, winding up in the middle of the course. Nonetheless, he fought on, and it appeared that he would make up ground to grab the show spot, but was denied on the wire. Handsome Jack battled, but was no match for Bern Identity, who rallied to a 1 ¼ length victory in 1:11.13, getting his final quarter in a slow :13.63.  Handsome Jack valiantly held on for second, half a length in front of Onetwentyeight, who charged up for third place. Special Jo, who was wide throughout, faded to sixth and Rose Junction just couldn't keep up and checked in last.
Bern Identity announced that he might be something special when he won his maiden in his second start. He galloped to a 13 ¾ length victory, getting five furlongs in :57.55.  In the Sanford, the son of Bernstein showed his professionalism  by rating nicely for his jockey
Rosie Napravnik
. 
BERN IDENTITY
(Bernstein - Maddalena, by Good and Tough) was a $43K January 2011 Keeneland Sales purchase for his owners George and Lori Hall.  The bay colt's sire Bernstein began his racing career in Ireland for the Coolmore team. The precocious son of Storm Cat won at first asking in May of his two year old season, then came back a month later to score in the Railway Stakes (Ire-3) at six furlongs. Bernstein continued on to win an allowance and another Group 3 race, but finished off the board in three Group 1 starts. In the fall of his three year old season, Bernstein shipped to Churchill to race in the River City Handicap, but finished fifth and was subsequently retired.  Bernstein recorded an 8-4-0-0 ($173,120) race record.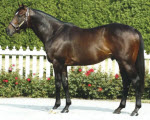 At stud,
Bernstein
(Storm Cat – La Affirmed, by Affirmed) evolved into above average sire. He descended from a strong distaff line, that of La Troienne, through her grand-daughter Busher, Bernstein's fourth dam. Busher was the dam of the great champion Buckpasser. Bernstein's full sister Caress, a multiple graded stakes winner, produced the Grade 1 winner and sire Sky Mesa.  Initially, Bernstein stood for $7,500.  His first crop contained just 37 foals.  Eleven of his 19 runners won and 10 were repeat winners. Bernstein finished 2004 as #11 by earnings on the First Crop sire list. A year later, Bernstein's stud fee rose to $15,000 and by 2011 reached $20,000. Bernstein died of colic last year at the young age of  14.  His offspring are win early types. Most are milers, but Bernstein has sired five stakes winners at 1 1/8 miles and beyond in the US.  Bernstein's progeny win over all surfaces.
Bern Identity's dam
Maddalena
(Good and Tough - Two Foxie, by Fair Skies) was also precocious. She  earned a victory in her debut in April of her two year old season. The Pletcher trainee didn't come back to the races until January of the following year. She continued her winning ways in an allowance, then won the Old Hat Stakes (G-3).  During her career,  Maddalena won a listed stakes at Delaware and placed in the Prioress (G-1), Safely Kept (G-3) and Victory Ride Stakes.  She ended her career at age four with a 12-4-3-0 ($250, 820) record.
Maddalena bore five foals, all colts.  Four have raced, three have won. Bern Identity's half-brother Agresivo is a stakes caliber runner in
Venezuela
.  Maddalena is the best foal produced by her dam Two Foxie. A half-sister, Haley's Lolipop is stakes placed.  Otherwise, there is little blacktype in this female family.  An interesting note regarding the distaff line, but one that has no bearing on the quality of Bern's Identity, is that Maddalena and Bernstein's damsire Affirmed are descended from the same Lowe Female Family 23-b, although the branches split back in the 1800's.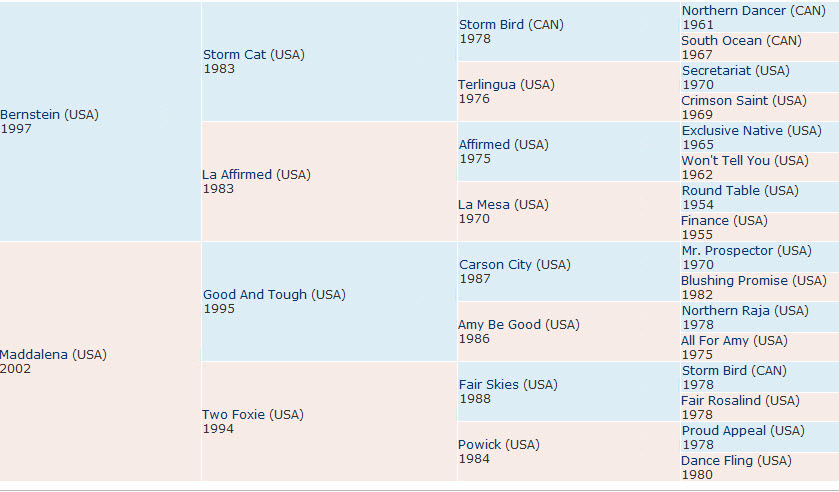 Good and Tough
(Carson City - Amy Be Good, by Northern Raja), the damsire of Bern Identity, continues the theme of precociousness in Bern Identity's linage. He won his first two starts and evolved into a Grade 2/3 class sprinter.  Besides Bern Identity, Good and Tough's daughters bore two other stakes winners, Feisty Suances and General Maximus.  The latter is a two-time winner of the six furlong Hudson Handicap. Bern Identity and General Maximus are bred along the same lines, as both are by sons of Storm Cat out of mares by Good and Tough.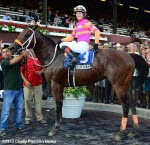 Bern Identity is a powerful looking colt with an upright shoulder and large hindquarters. He has the body of a sprinter.  His leg extension is good, with no paddling or high knee action. Although he drifted a bit through the stretch of the Sanford, this was likely due to inexperience and tiredness.  Bern Identity looks like a sprinter and has the pedigree of a sprinter, so, it's not too short of a leap to say that he'll be distance challenged as his career progresses.  He may stretch his speed to a mile. His trainer
Kelly Breen
indicated that Bern Identity's long term goal will be the Breeders' Cup Juvenile Sprint and he may point short term for the
Hopeful Stakes
  (G-1) on September 3.