Synonyms of the word Forte include ability, aptitude, competence, strength and talent.
These qualities have been displayed consistently throughout Forte's career and earned 2-year-old male championship honors for the dark-bay colt. Forte kicked off his 3-year-old season with an effortless, 4 1/2-length victory Saturday in the Fountain of Youth Stakes (G2), demolishing a field that included Holy Bull (G3) winner Rocket Can.
Forte (Violence - Queen Caroline, by Blame) was bred by South Gate Farm. The dark bay colt went through the sales ring twice, going as a weanling for $80,000 in the Keeneland November mixed sale and drawing $110,000 in the following year's Keeneland September yearling auction. Forte is owned by Repole Stable and St. Elias Stable, who also campaigned 2019 champion older dirt male Vino Rosso.
Forte has won 5 of 6 starts and earned $1,833,230. His lone loss was a fourth-place finish in the Sanford (G3) in his second start.
Forte's Fountain of Youth victory earned him 50 qualifying points toward Kentucky Derby 2023, and he leads the herd with 90 points. San Felipe (G2) winner Practical Move is a distant second with 60.
Does the current points leader have what it takes to become the third Breeders' Cup Juvenile-Kentucky Derby winner in history?
Violence (Medaglia d'Oro - Violent Beauty, by Gone West) was a dazzling but fragile competitor who won his first three starts, including the Nashua Stakes (G2) and CashCall Futurity (G1).
One of the early 2013 Kentucky Derby favorites, Violence had his Kentucky Derby hopes derailed after injuring his right front medial sesamoid while finishing second in the Fountain of Youth (G2).
Violence set about producing precocious offspring and led the first- and second-crop sire lists by the number of winners and earnings. Not surprising since he hails from the brilliant distaff line that includes the 1993 filly triple crown and champion older mare Sky Beauty and Grade 1 winner and producer Maplejinsky. 
Violence's stakes-winning offspring have a distance range from sprints to 1 1/8 miles. But three of his offspring contested 1 1/4 miles in the last five years. His son Something Natural finished second, beaten a neck, in the Canadian Derby (G3), with a final time of 2:03.77. Another son Unrighteous won an off-the-turf, allowance-class race, beating three other contenders on a sloppy track in 2:03.15.
Violence's most accomplished runners include Forte and the swift Grade 1 winners Dr. Schivel, Volatile and No Parole, all sprinter-milers.
A first foal, Forte hails from a classy, stakes-winning female family with heavy Phipps influences. Dating to 1926, 7 of 10 dams in Forte's direct distaff line own black-type earnings. 
Forte traces to La Troienne, the foundation mare of the Lowe family 1-x through the mare's granddaughter, 1961 Kentucky broodmare of the year Striking.
This prolific family gave us three champions, Kentucky Derby hero Smarty Jones, Folklore, the brilliant Grade 1-winning sprinter Come Dancing and two-time champ Essential Quality, who is descended from Jeno, Forte's fourth dam. Jeno is Essential Quality's third dam.
Forte's immediate distaff line is speed-oriented. His dam Queen Caroline (Blame - Queens Plaza, by Forestry) won 6 of 20 starts, five of them stakes. She was second or third six additional times, all on the lawn between a mile and 1 1/16 miles. Forte has an unnamed, 2-year-old half-brother by Uncle Mo.
Queen Caroline has two stakes-placed half-sisters, including three-time stakes-placed K P Slickem, capable up to 1 1/6 miles, and Churchill Debutante (G3) third-place finisher Queen Teuta.
Forte's second dam is the precocious Sorority Stakes heroine Queen's Plaza, who is by Forestry.
Forte's damsire 2010, champion older horse Blame (Arch - Liable, by Seeking the Gold), has the best combined bloodlines of the Phipps and Claiborne breeding programs. The appropriately named Blame always will be known as the horse who ruined Zenyatta's perfect record and her chance to earn back-to-back Breeders' Cup Classic victories.
Blame is just getting started as a broodmare sire. From only 119 starters, 78 have won and 12 are stakes winners. So far none of his daughters' babies have won beyond nine furlongs, but it could be just a matter of time until they do.
Forte's first four damsires are carriers of the large-heart gene, and the colt's performance suggests that he also does. The Pedigree Query chart of Forte's female family marked in red for single copy and blue for double copy traces the large-heart gene.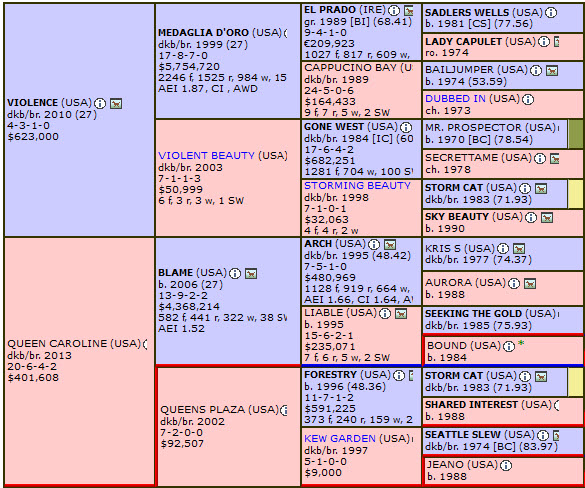 Kentucky Derby contender or pretender?
Since 1995 only two colts, Thunder Gulch in 1995 and Orb in 2013, have completed the Fountain of Youth-Kentucky Derby double. Forte is only the third colt in the last decade to win this race in his first 3-year-old start. The others were Promises Fulfilled in 2018 and eventual Belmont Stakes hero Union Rags in 2012.
Mentally and physically, Forte is a professional. He's comfortable rating on the rail between horses or on the outside, and the athletic youngster glides through holes or around horses. He has a smooth stride, keeps a straight path and switches leads at the right time.
Forte's pedigree suggests he would be most competitive up to 1 1/8 miles. But 1 1/4 miles could be within his scope with the right trip.
The Florida Derby (G1) on April 1 will be Forte's next test. If he wins, he'll be the first Fountain of Youth hero to capture it since Orb in 2013.