Good Magic broke the "no maiden has ever won" race key with his 4 1/2-length surprise victory in the 2017 Breeders' Cup Juvenile. Chalk up another example that proves there are no absolutes in horse racing.
Good Magic (Curlin - Glinda the Good, by Hard Spun) was bred in Kentucky by Stonestreet Thoroughbred Holdings. He brought a cool $1 million dollars as a 2016 Keeneland September Yearling, and the colt's buyer, E5 Racing Thoroughbreds, partnered with Stonestreet to campaign Good Magic. Last year's Eclipse Award-winning trainer Chad Brown was tapped to condition their prized colt. Leading New York jock Jose Ortiz piloted Good Magic in the colt's last two starts. 
The Chad Brown trainee was the buzz of the Saratoga backstretch this summer, and expectations were high for the enchanting son of Curlin. In his first two starts, Good Magic flashed signs of speed and class while finishing second in both a maiden sprint and the Champagne Stakes. Good Magic was a little tired at the end of the one mile Champagne, and was passed in the shadow of the wire by the more experienced Firenze Fire.
On paper, Good Magic was a longshot exotics contender in the Juvenile. Good Magic's speed figures improved from his maiden to Champagne score, and there was a good chance that he could take a step forward in the Breeders' Cup. Don't you love hindsight?
Good Magic has improved in each of his three starts and has earned $1,216,600 for his connections. The flashy Chestnut's Breeders' Cup victory propelled him to the head of the 2018 Kentucky Derby Qualifying Board with 24 points. So far, only Street Sense and Nyquist have pulled off the Breeders' Cup Juvenile/Kentucky Derby double.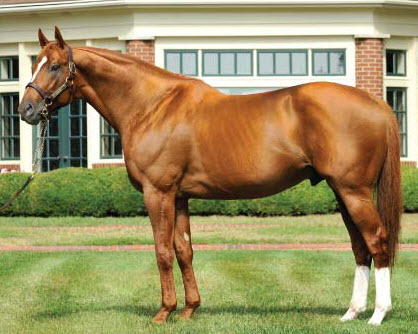 Curlin (Smart Strike - Sherriff's Deputy, by Deputy Minister) is one of the most consistent young stallions standing at stud. The flashy Chestnut, himself a Classic hero, has only six foal crops on the track, yet has already proven his ability to sire Classic contenders.
Many of Curlin's progeny make their initial starts as mid-to-late season juveniles and flourish as they mature. In the last three years, Curlin has been represented by three colts in the Breeders' Cup Juvenile. Exaggerator placed in 2015, and this year's Exacta pair, Good Magic and Solomini. Since the inception of the Breeders' Cup, the son of Smart Strike is only the second stallion whose progeny have completed the exacta. The first was Capote in 1996.
Offspring from Curlin's first five crops have consecutively hit the board in the Triple Crown from 2013-2017.

Curlin's offspring win from sprints to 1 ½ miles. Given the sprint-oriented nature of U.S. racing, few stakes races are carded at classic distances, so the bulk of Curlin's offspring are middle-distance types, (8F – 9F).  Five of his offspring are stakes winners at 9.5 furlongs to 12 furlongs, and certainly, more victors will be added with future crops.
Curlin has two foals of racing age out of Hard Spun mares. Both have started, and one, Good Magic, is a winner.
Female Family

Good Magic's distaff line is enjoying a resurgence of notable blacktype earners in this century.
Way back in the 1940s, the colt's seventh dam, Lindos Ojos, bore two significant daughters. One was the Darby Dan foundation mare Soaring, whose daughter, the Champion Ballade, produced three Champions; sire Devil's Bag; Glorious Song (dam of sire Rahy and Champion Turf Horse and sire Singspiel); and Saint Ballado (sire of Champions St. Liam and Ashado).  
Lindos Ojos' other daughter, two-time Champ Linaria, bore three daughters; Arctic Line, the ancestress of 1992 Kentucky Oaks heroine Luv Me Luv Me Not, and multiple graded stakes-winning sprinter Wild Gams; Linear, whose offspring became champions in Puerto Rico; and Courting, Good Magic's fifth dam.
Good Magic's second through fifth dams were indifferent runners, but were increasingly better producers with each generation.
Good Magic's third dam, Magical Flash, bore nine blacktype earners. Most were precocious juveniles and were capable over dirt and turf. The majority were sprinter/miler types including Good Magic's dam Glinda the Good.  
There are two exceptions. Glinda the Good's stakes placed half-brother House of Magic (Free House), an allowance winner at 1 1/4 miles, and half-sister Flash Forward (by Curlin), who dominated the 1 1/8-mile restricted My Flag Stakes by 8 1/4 lengths. Flash Forward was multiple stakes placed between a mile and 1 1/8 miles.  
Other notable members of the distaff line include Grade 1-winning juvenile and 1992 Breeders' Cup Distaff third-place finisher Magical Maiden, who is the second dam of Arkansas Derby winner and sire Papa Clem.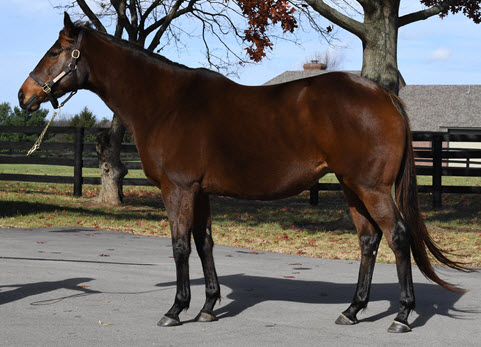 Displaying the early winning talent of her immediate family, Glinda the Good (Hard Spun - Magical Flash, by Miswaki) ran second in the listed Blue Hen Stakes behind eventual Breeders' Cup Juvenile Fillies runner-up Grace Hall. Glinda the Good returned to finish third in the Pocahontas Stakes (G2) beaten by less than two lengths. The following year, the bay mare won and placed in three listed stakes at a mile. She closed out her racing career with an 11-4-2-1 record and $226,758 in earnings.
Good Magic is the second foal and first blacktype earner out of his dam. His older half-brother Goodzapper (Ghostzapper) began his career this year as a dirt sprinter. Good Magic has an unnamed Speightstown yearling half-brother and a weanling Super Saver half-sister.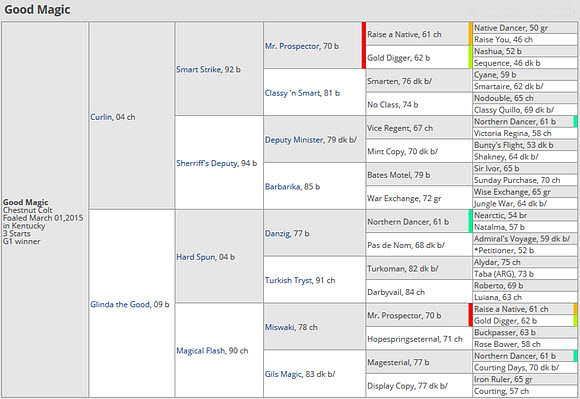 Broodmare Sire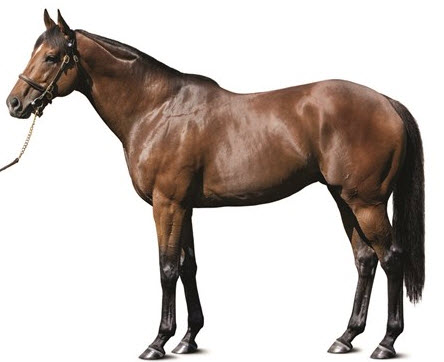 Hard Spun (Danzig - Turkish Tryst, by Turkoman) is a member of the excellent foal crop that included Curlin, Street Sense, and Scat Daddy. The bay son of Danzig never placed worse than fourth in his thirteen race career, and earned over $2 million dollars.
Hard Spun tangled with Curlin five times, battling through the Triple Crown to the Breeders' Cup.  Hard Spun got the better of his nemesis twice; placing ahead of him by 5 3/4 lengths in the Kentucky Derby and grabbing second place by a narrow head in the Haskell Invitational (G1). The eventual Champion Three-Year-Old and Horse of the Year got the final say in the 2007 Breeders' Cup Classic, putting Hard Spun firmly in second place by 4 1/2 lengths.  
Hard Spun won from six furlongs to 1 1/8 miles, and placed at 1 3/16 to 1 1/4 miles over dry and sloppy tracks. His offspring are hardy, later maturing runners over all surfaces. The majority are best from a mile to 1 1/8 miles, although eight have won from 1 3/16 miles to 1 3/4 miles.  
Hard Spun is a young broodmare sire, and his daughter's oldest offspring are currently four-year-olds. Four are stakes winners, including Good Magic. None have competed past 1 1/16 miles, but they should handle middle to classic distances when given the opportunity.   
Expectations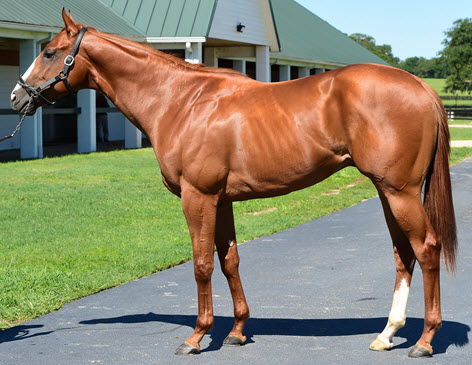 Good Magic resembles his sire Curlin physically. Sire and son also share a similar gait, running style and demeanor on the track. Good Magic breaks sharply in his races and has the speed to get into position, yet he relaxes and sits where his jockey places him. Given his cue to go, the large Chestnut colt lengthens stride and flashes a burst of speed.  He has an efficient, ground-eating stride, with no paddling or excessive leg movement.  Good Magic is still learning what it's all about, but he shows the focus and willingness to pass other horses and to draw off.  

Good Magic has the pedigree, family class, conformation and running style to handle classic distances. This is a promising colt who should only get better as he matures and stretches out.
Good Magic will take a little vacation in Ocala before joining his stablemates in Chad Brown's barn in South Florida.

Photos of Glinda the Good and Good Magic used by gracious permission of Stonestreet Farms.