So, Bolt d'Oro, the favorite for the 2017 Breeders' Cup Juvenile, didn't win. He tried really hard, but they don't give trophies for trying. Or do they?  The winner of the Juvenile may receive the designation of being the favorite for the 2018 Kentucky Derby in the future wagers, but that doesn't mean he's a shoo-in for the Eclipse Award.  
Since 2000, three Breeders' Cup favorites lost the race but won the Eclipse Award. On a technicality, American Pharoah didn't compete in the Breeders' Cup but still earned the honors as best Two-Year-Old. 
Bolt d'Oro is our likely Two-Year-Old Champ and is second on the list of Derby qualifiers with fourteen points.
Bolt d'Oro (Medaglia d'Oro - Globe Trot, by A.P. Indy) was bred by WinStar Farm and consigned to the Fasig-Tipton New York Saratoga 2016 Select Yearling Sale by Denali Stud. The Ruis family shelled out $630,000 for the handsome bay half-brother to the sprinter Sonic Mule, who was third in last year's Saratoga Special (G2) and in this year's Swale Stakes (G2). 
Conditioned by Mick Ruis, (Sr.), who took out his trainer's license this March, Bolt d'Oro captured his 6 1/2-furlong debut on Aug. 5. He earned Grade 1 status next time out in the Del Mar Futurity.  The son of Medaglia d'Oro made it a hat-trick in the FrontRunner Stakes (G1) to earn favoritism for the Breeders' Cup.
Bolt d'Oro was all heart in the Breeders' Cup Juvenile. After a slow beginning as the 11th horse in a 12 horse field, Corey Nakatani took the dark bay colt on the scenic route, seven to nine wide the entire way. According to Trakus, Bolt d'Oro ran 5,756 feet, just 185 feet shy of 1 1/18 miles. Despite traveling farther than the rest of his rivals, Bolt d'Oro was gaining ground in the stretch and finished third, 1 1/4 lengths shy of Solomini for second place and 7 3/4 lengths ahead of fourth place runner Givemeaminit. Bolt d'Oro's split times were 23.67, 23.84, 25.19, 25.15, and 6.49, with a final time of 1:44.34, exactly one second slower than the winner, Good Magic. 
Bolt d'Oro ends his first year of racing with a 4-3-0-1 ($576,000) record, and most probably, a shiny new Eclipse Award. Hopefully, the courageous colt will have an easier time on the Kentucky Derby trail than he did in the Breeders' Cup. Let's take a look at some of the elements of a champ.
Sire

On the Track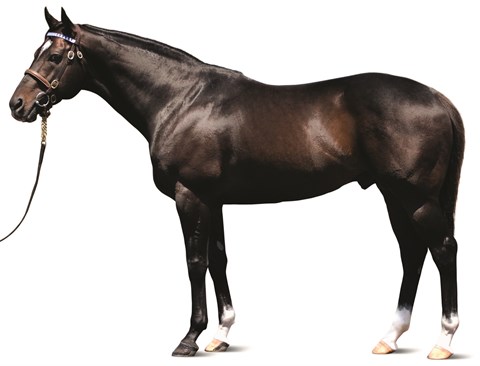 Medaglia d'Oro (El Prado (IRE) - Cappucino Bay, by Bailjumper) ran once as a 2-year-old, finishing second in a sprint in December. Trained by the patient legendary Bobby Frankel, the large dark bay colt surfaced on the 2002 Triple Crown trail. Medaglia d'Oro raced only twice before the Kentucky Derby, and the colt finished fourth in the classic race. He was unplaced in the Preakness but rebounded to take second place in the Belmont Stakes. Medaglia d'Oro's weakness on the track was that he wasn't a true 1 ¼-mile horse. In six starts at 1 ¼ mile or farther, he was victorious only once, capturing the Travers Stakes on a sloppy track against a weak field.  Medaglia d'Oro race twice in the Breeders' Cup Classic, finishing second both times. He was also second in the Dubai World Cup. Medaglia d'Oro raced for four years and retired to stud with a 17-8-7-0 ($5,754,720) record.
At Stud

Medaglia d'Oro was retired in 2004 and stood at Hill 'n' Dale Farm for an initial fee of $35,000. The stallion is popular with breeders, and his fee rose to $250,000. He currently stands at Darley USA. Medaglia d'Oro has been among the top leading sires since 2008 when his first offspring hit the track. He has sired three champions, 47 graded stakes winners, and 93 stakes winners.
Medaglia d'Oro carries the bloodlines of Northern Dancer through his son Sadler's Wells, Champion Handicap horse Damascus and Champion Two-Year-Old Colt Silent Screen. Bloodlines not commonly seen among modern stallions. His offspring are sound, durable runners who are superior over dirt, mud, and turf but are average over Polytrack. It isn't uncommon to see Medaglia d'Oro progeny winning at the highest level as 4 and 5-year-olds. His babies tend to improve with maturity, and his precocious 2-year-olds are even better as 3-year-olds.  Scary news for the opponents of Bolt d'Oro. 
Even though Medaglia d'Oro gets a good proportion of winning colts and some of his sons are now doing well at stud, he has a reputation as a sire of fillies.  Twelve of his 21 Grade 1 winners are fillies, three of whom are his top five lifetime earners.  The majority of Medaglia d'Oro's progeny are best up to 1 1/8 miles over all surfaces. However, the stallion is quite capable of getting classic distance winners at the highest level.  Medaglia d'Oro is represented by eight winners between 1 1/4 miles to 1 1/2 miles worldwide.
Female Family

Bolt d'Oro's distaff line is filled with carefully planned Claiborne breeding. He is descended from the same female family as the legendary Mr. Prospector, through 3/4 sisters. The colt has no inbreeding within five generations of his pedigree, which is uncommon in modern Thoroughbreds.
Bolt d'Oro is a second foal, and as previously mentioned, he is a half-brother to Sonic Mule (Distorted Humor), who has been in the money nine of 13 attempts and is a winner of close to $225,000. Sonic Mule is a listed stakes winner and multiple G2 stakes placed as a sprinter/miler. He's won over dirt, mud, and placed on the lawn.  
The half-siblings have an unnamed yearling half-brother by Curlin, who sold for $250,000 to Sagamore Farm at this year's Keeneland September Yearling Sale. Sadly, this is the last foal Globe Trot produced, as she died last year.
As a competitor, Bolt d'Oro's dam Globe Trot (A.P. Indy - Trip, by Lord At War (ARG)) was an allowance class runner with a fondness for Polytrack. She was in the money eight of 17 starts and earned just over $83,000. All three of her victories were on the artificial surface. She placed on dirt and mud but was unplaced over turf.
Globe Trot's 3/4 brother Passport (Pulpit) won or placed over all surfaces. He captured the 1 1/16-mile Cradle Stakes as a juvenile and competed until he was 6 years old.  Globe Trot's un-raced half sister bore multiple graded stakes placed sprinter-miler Recruiting Ready (Algorithms).
Bolt d'Oro's second dam Trip (Lord At War (ARG) - Tour, by Forty Niner) was a multiple graded stakes winner from seven furlongs to 1 1/16 miles. Typical of this family, she was versatile over all surfaces.
The third generation of Bolt d'Oro's family bore the most stakes winners in five generations. His third dam Tour (Forty Niner - Fun Flight, by Full Pocket) was a listed stakes class miler who was in the money 18 of 28 starts. Besides Trip, Tour bore two listed stakes winners. Her daughters produced G1 stakes-winning sprinter and sire Zensational; multiple graded stakes-winning miler/middle distance runner Departing; stakes-winning turf sprinter The Great War, and listed winner and multiple graded stakes placed miler/middle distance runner Irish You Well. 
Bolt d'Oro's fourth and fifth dams Fun Flight and Fun and Tears were both stakes winners.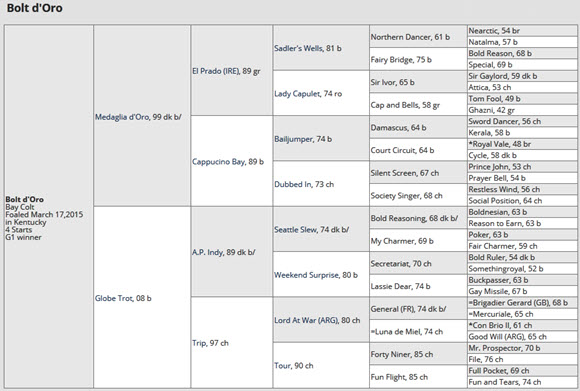 Broodmare Sire
There are plenty of long-winded influences in Bolt d'Oro's pedigree, starting with his Belmont Stakes winning sire, the Intermediate/Classic Chef de Race A.P. Indy.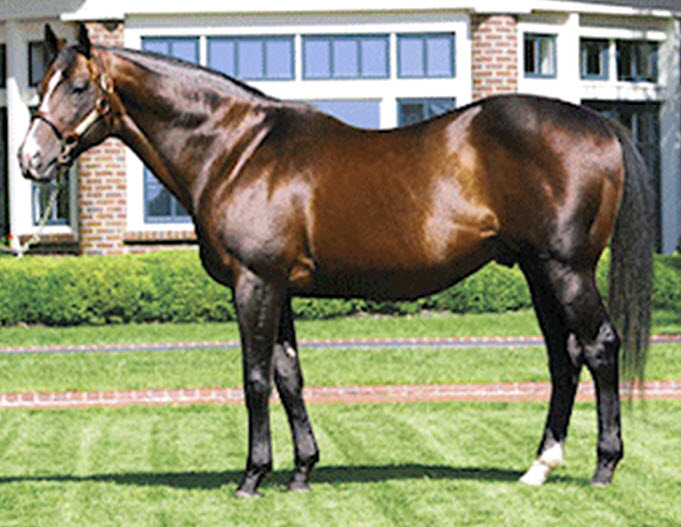 A.P. Indy (Seattle Slew - Weekend Surprise, by Secretariat) is one of the leading sires and broodmare sires of modern Thoroughbreds. This year, he's the second leading sire of stakes winners (26). Only Galileo has more stakes winners. As a broodmare sire, the stallion is represented by fourteen winners at classic distances.  Champions Roya Delta, Wait Awhile, plus Kentucky Oaks Heroine Plum Pretty, Kentucky Derby Champ Super Saver and this year's Preakness winner Cloud Computing count A.P. Indy as their damsire.
Medaglia d'Oro has five stakes winners out of A.P. Indy mares. Their stakes-winning distance range is from six furlongs to 1 1/4 miles. Bolt d'Oro is in pretty good company, sharing similar breeding with Kentucky Derby heroine Plum Pretty, G1 stakes-winning turf mare Dickinson, plus listed winners Bay of Plenty and the French route horse Floodlight. 
Bolt d'Oro's second damsire Lord at War shows up as the broodmare sire of Kentucky Derby hero War Emblem, Kentucky Derby runner-up and hot young sire Pioneerof The Nile, and Breeders' Cup Classic winner Raven's Pass, to name a few.
Going back a generation, we find Champion Two Year Old and Kentucky Derby runner-up Forty Niner as Bolt d'Oro's third damsire.
Expectations
Bolt d'Oro's pedigree is filled with winners. His sire and first three damsires are in the bloodlines of past Classic heroes, and his distaff line is filled with class.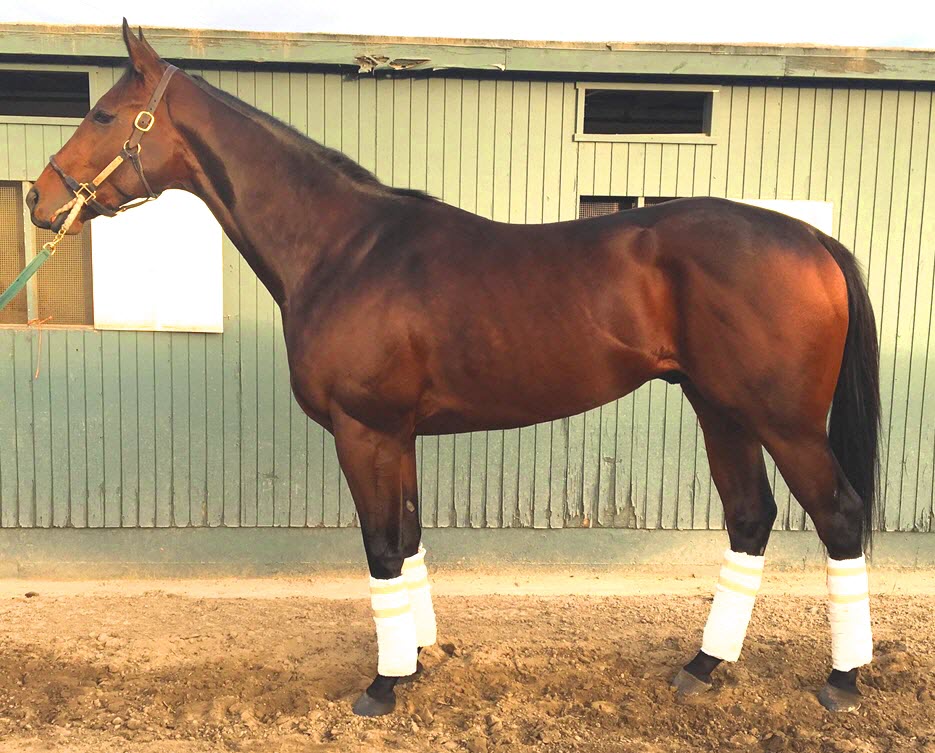 Bolt d'Oro has a well-balanced, athletic conformation and the body of a classic contender. He has refined, clear throatlatch area (the underneath portion where the head and neck meet). A clear throatlatch aids a horse in breathing. He also has a deep heart girth.  Additionally, Bolt d'Oro has a smooth topline and a nicely sloped, well-muscled shoulder. There's nice separation between his elbow and rib-cage (aids in range of motion). Bolt d'Oro has a short back tied into a strong, but not overly powerful hind end, giving him a strong, lean appearance. He will undoubtedly add some weight and muscle as he matures.

The colt's athletic build shows in Bolt d'Oro's smooth, efficient gait, which enables him to have an effortless high cruising speed. He travels professionally, without bearing in or out. Bolt d'Oro has a calm demeanor both in the paddock and on the track. He's demonstrated the willingness to target and pass other horses and has proven that he can overcome difficulty in his races. He displayed tremendous heart in the Breeders' Cup Juvenile. He had every excuse to quit, but he kept going and was gaining ground in the stretch.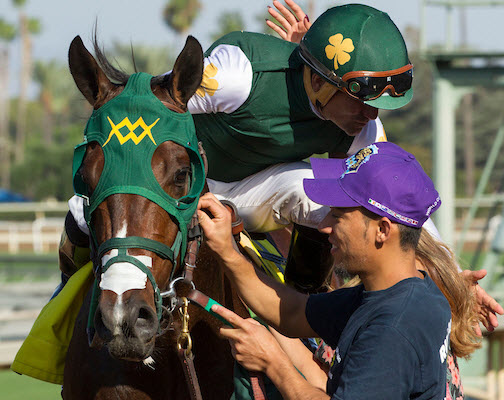 Does Bolt d'Oro carry a large heart gene? Only an EKG test could tell us for sure if the colt carries the X-Factor or large heart gene. The only outward appearances are leaf-like ears that slightly curl at the tips.  A larger than average heart means greater pumping capacity, and greater ability to perform at top speeds longer.
The large heart gene is passed from sire to daughter and from daughter to son. Additionally, a dam can pass a recessive version of the gene to her daughters.  The presence of a dominant large heart gene doesn't mean a horse is an automatic superstar. Many suspected carriers have indifferent race records. However, having a larger heart can give an edge over competitors without it.
Secretariat and Man O'War had hearts much larger than the average Thoroughbred. Recent competitors who probably have a dominant large heart gene include Zenyatta, American Pharoah and Nyquist.
Bolt d'Oro damsires A.P. Indy and Forty Niner are noted large heart carriers, who could have passed the genes to their daughters. His second through fifth dams owned blacktype, and Bolt d'Oro's dam is two-for-two in producing stakes earners.  Bolt d'Oro's race record and the physical presence of leaf-like ears are positive indications. 
Does Bolt d'Oro have all the factors necessary to be a legitimate Kentucky Derby contender?

  Pedigree? Check.

  Conformation? Check
  Temperament and willingness to win? Check

  Running Style? Check.
The only chink in Bolt D'Oro's armor is his propensity to break slow. He's had issues at the start of three of four races. He's been talented to overcome the slight hesitation in two starts. As the race distances get longer and competition gets stronger, Bolt d'Oro's habit could cost him, as it did in the Breeders' Cup. Of course, he's still young and learning so he may be faster on the uptake next year.
Bolt this colt to the top of your Derby dozen.
Conformation photo of Bolt d'Oro used by gracious permission of Shelbe Ruis.