McCraken  is the latest exciting addition to the early list of 2017 Kentucky Derby hopefuls. The son of Ghostzapper defeated eleven other rivals in the Kentucky Jockey Club Stakes (G2)  to retain his three-for-three race record.  
McCraken made his debut in early October at Churchill Downs for trainer Ian Wilkes. Jockey Brian Hernandez, Jr. settled McCraken just behind the pace in his debut. They were stuck on the rail behind a wall of horses with only two furlongs remaining, yet once he had running room, the leggy colt made the victory look easy, besting ten rivals by a widening 2 ½ lengths. 
In his next start, McCraken sat farther back in the Street Sense Stakes. Hernandez and McCraken had a rail trip near the back of the pack for much of the race before shifting out seven wide around the bend. Eight foes proved no match, as McCraken powered by in the stretch to capture the mile stakes by 3 ¾ lengths.
Street Sense Stakes
McCraken had a wide trip in the Kentucky Jockey Club Stakes, traveling in ninth place during the race's early stages. Hernandez unleashed the colt near the 3/8 mile pole, and McCraken immediately accelerated, picking off horses in a breathtaking move. The front-runners were staggering as McCraken swept by under a hand ride to capture the Grade 2 event by 1 ¼ lengths. The last colt to complete the Kentucky Jockey Club/Kentucky Derby double was Super Saver in 2009.
The dark bay McCraken has a 3-3-0-0 race record with $190,848 in earnings. He earned ten Kentucky Derby qualifying points for his triumph in the Kentucky Jockey Club Stakes. 
McCraken (Ghostzapper - Ivory Empress, by Seeking the Gold) is a homebred racing in the silks of Whitham Thoroughbreds, LLC. The stable paired with Wilkes and Hernandez to capture the 2012 Breeders' Cup Classic with Fort Larned.
McCraken's sire, damsire, and second damsire are part of Breeders' Cup Classic history. His dam and second dam were hardy competitors on the track and have passed class to their offspring.
Sire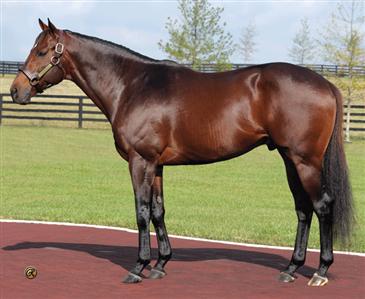 Ghostzapper (Awesome Again - Baby Zip, by Relaunch) was a later maturing two-year-old who showed flashes of talent in his winning debut. Despite his promise, Hall of Fame Trainer the late, great Bobby Frankel didn't push the colt to compete on the 2003 Triple Crown trail because Ghostzapper's ankles weren't fully mature. Ghostzapper raced only four times as a three-year-old, but he closed out the season by demolishing older horses by 6 ½ lengths in the Vosburgh Stakes (G1).
The dark bay's return to the races as a four-year-old was delayed by a quarter-crack. However, patient Hall of Fame trainer Frankel was rewarded by Ghostzapper's perfect season of four stakes victories, including an epic front-running score in the Breeders' Cup Classic against an accomplished field that included two Classic heroes, the previous BC Classic winner, and a Horse of the Year.  Ghostzapper's exploits earned him Eclipse Awards as Champion Older Horse and Horse of the Year.
2004 BC Classic
Ghostzapper entered stud at Adina Springs in 2006. His progeny are slower to mature and often show their greatest talent as three-year-olds through their four and five-year-old seasons. Although some have inherited their sire's natural speed and matured into successful sprinters, most of Ghostzapper's offspring prefer running two turns over all surfaces.  Despite their proclivity for distance, so far, his babies haven't won or placed in a Triple Crown race.  
Female Family
The first few generations of McCraken's distaff line are multi-talented over a variety of surfaces. Farther back it is replete with international turf stars.
McCraken is the second foal and second blacktype earner out of graded stakes placed sprinter. His three-year-old half-brother Bondurant (War Front) is beginning his stakes career. He recently finished second, bested by a neck, in the Commonwealth Turf Stakes (G3) at Churchill. Bondurant is McCraken's stablemate.
McCraken has two other half-siblings, a soon to be two-year-old colt named Kearny County (Stroll) and a weanling Declaration of War filly named With Dignity.
Ivory Empress (Seeking the Gold - Madame Pandit, by Wild Again) was bred by the Whithams and trained by Ian Wilkes. The hardy mare was in the money 12 of 20 starts and earned $189,402. Ivory Empress was a later maturing filly who competed in allowance class sprints on dirt and turf. As a four-year-old, she placed in the Unbridled Sidney Stakes on turf and the Endine Stakes (G3) on dirt. 
Ivory Empress is the second blacktype earner out of the multiple graded stakes winning sprinter Madame Pandit. Ivory Empress' half-sister Mea Domina (Dance Brightly) won four turf stakes, including the 1 1/8 mile Gamely Breeders' Cup Handicap (G1). 
McCraken's second dam Madame Pandit (by Wild Again) was successful over dirt and turf. She captured two graded stakes at 6 ½ furlongs and placed in the Santa Monica Handicap (G1) at seven furlongs. Her two stakes winning half siblings, Sunlit Silence (Tremolino) and Fiscally Speaking (Belong to Me) were also successful over multiple surfaces.
McCraken's fifth dam General Store (To Market) endowed her multitude of descendants with plenty of stakes winning ability, which they have passed to their offspring.  General Store is the direct ancestress of Irish Champion Filly Al Bahathri, 2000 Guineas Stakes winner and sire Haafhd, Santa Anita Handicap hero Heatseeker and multiple Grade One winning turf mare Spanish Fern, to name a few.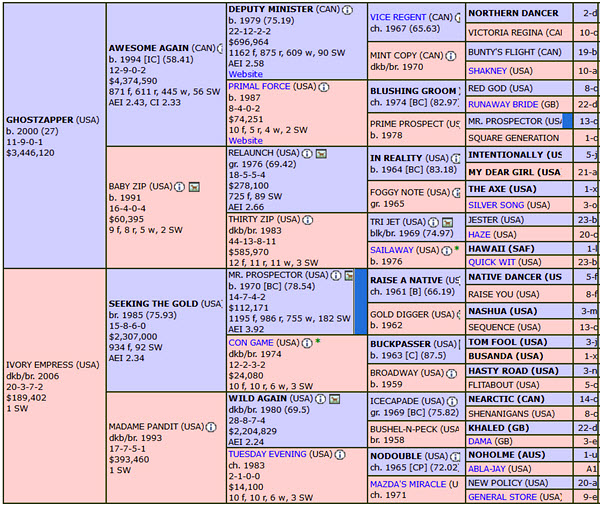 Damsire
Seeking the Gold (Mr. Prospector - Con Game, by Buckpasser) was a product of careful Phipps family and Claiborne Farm breeding. The swift stallion won or placed in 14 of 15 starts racing against the best of his generation. His only off the board finish was in the 1998 Kentucky Derby.
Seeking the Gold started in four stakes races at 1 ¼ miles. His only victory at the distance was the Super Derby (G1) although he was an unlucky second in the Travers Stakes, bested a nose by his nemesis Forty Niner, who had previously nosed out Seeking the Gold in the Haskell.  Seeking the Gold was second in the 1988 Breeders' Cup Classic to Horse of the Year, Alysheba.
1988 Haskell Stakes
The well-bred stallion is noted as a top broodmare sire rather than a sire of sires. He has some minor sons standing at stud, but many have been sold overseas for stud duty.  His greatest son, Dubai Millennium, the one who may have carried on his legacy, sired only one crop before his untimely death.
Seeking the Gold sired three Breeders' Cup winners; Cash Run and Flanders (Juvie Fillies), Pleasant Home (Distaff) plus Flanders was awarded US Champion Juvenile Filly honors. Seeking the Gold also sired Champion 3YO Filly Heavenly Prize, Canadian Champion Filly Catch the Ring, Belmont Stakes hero Jazil, and Grade 1 winners Dream Supreme, Cape Town, and Bob and John.
Seeking the Gold has been a top ten leading broodmare sire since 2007. His daughters have produced over 110 stakes winners, including Champions Blame, Surfside (daughter of Flanders), and Take Charge Brandi.  Seeking the Gold is also the second damsire of Champion Nyquist.
McCraken's second damsire Wild Again won the inaugural Breeders Cup Classic in 1984.   
The combination of Seeking the Gold and Wild Again on the distaff side yielded the good Canadian, Up With the Birds, a multiple graded stakes winner at distances ranging from a mile to 1 ½ miles.  He captured the Belmont Derby Invitational in 2013 on the lawn, and won two listed stakes on dirt.
Expectations
McCraken has the pedigree to handle all three Triple Crown distances and the class to be competitive at the top of his division. He may carry a dominant large-heart (X-Factor) gene.  His damsire Seeking the Gold received a dominant large heart gene from his dam, the rene-de- course Con Game who is a double copy mare (received the large heart from her sire and dam).
Seeking the Gold's damsire Buckpasser is a noted large-heart sire.  Many excellent broodmare sires have a dominant large heart gene that they pass to their daughters. Seeking the Gold undoubtedly passed the gene to his daughters, who have, in turn, passed the gene to their sons. Wild Again is also a large heart sire.
McCraken has encountered full fields in all three starts. He's raced on the rail in traffic and on the outside of horses. He settles nicely behind horses early in the race and displays a sharp acceleration that one often sees in turf horses.  He's proven to have the early speed necessary to be placed, as race circumstances dictate.
A proper conformation photo of McCraken wasn't available. I've observed that McCraken is a leggy colt with the body of a route horse. He'll undoubtedly fill in and add muscle as a three-year-old. He has wonderful leg extension and appears to float over the track.  The colt's regular rider Brian Hernandez hasn't asked McCraken for his best and hand rode him through the stretch of their last two starts.  Although I've yet to see McCraken in person, the dark bay reminds me of his damsire, who was one of my favorites.
Per Brian Zipse's interview with trainer Ian Wilkes, McCraken will winter in Florida.
The 2016 crop of two-year-olds has yielded an exciting glimpse of what could be a contentious Triple Crown Trail. Classic Empire and McCraken are just two of the classically bred colts that have flashed early potential.
Race fans were very disappointed when Not This Time was injured and retired. Yet, McCraken is a strong, legitimate contender to take over the second favourite's position behind Classic Empire on the early Kentucky Derby list. Let's hope that both colts stay healthy and ready to give their best in next year's Classics.