Tapwrit solidified his 2017 Kentucky Derby potential with a 4 ½ length victory in the Tampa Bay Derby (G2).  He became the second son of leading sire Tapit to capture the Tampa Bay Derby in four years.
Tapwrit's final time of 1:42.36 for 1 1/16 miles set a new stakes record for the Tampa Bay Derby, besting the time of 1:42.82 set by Destin last year. In his first start as a three-year-old, Tapwrit placed second to McCraken in the 1 1/16 mile Sam F. Davis Stakes.
Tapwrit was a late-developing two-year-old. He wasn't quite ready for prime time in his September debut at Saratoga and finished last of ten. Two months later, the big gray colt won his second start. In December, Tapwrit galloped away from a field of seven colts in the one-mile Pulpit Stakes at Gulfstream Park.
Tapwrit (Tapit - Appealing Zophie, by Successful Appeal) was bred in Kentucky by My Meadowview LLC. He was consigned to the Fasig Tipton August Yearling Sale by Denali Stud. The handsome gray was scooped up by the partnership of Bridlewood Farm, Eclipse Thoroughbred Partners, and Robert LaPenta for a cool $1.2 million dollars and sent to the barn of Todd Pletcher. Jose Ortiz has guided Tapwrit in his last two starts. Tapwrit has a 5-3-1-0 ($313,902) race record and 54 Qualifying Points, landing him in second place behind Gunnevera on the Kentucky Derby leaderboard.
Sire
Tapit  (Pulpit – Tap Your Heels, by Unbridled) faced the starter only six times, due to a career beset by injury and setbacks. He flashed signs of brilliance but retired with a 6-3-0-0 ($557,300) record.
Tapit retired to Gainsway Farm for an initial stud fee of $15,000. He quickly gained attention as major sire and within ten years, has sired six champions and almost 60 graded stakes winners.  He gets a remarkable 12% stakes winners from starters. This success has caused Tapit's stud fee to soar to $300,000.
At stud, Tapit has more than filled the horseshoes of his deceased sire, Pulpit and is well on his way to emulating the success of his second tail sire, A.P. Indy. Tapit's offspring are generally best up to 1 1/8 miles, although he has proven entirely capable of getting winners at classic distances. 
Tapit's progeny range from precocious sprinters to later maturing types and everything in between.  His stakes winning offspring at 1 ¼ miles and beyond include the 2014 and 2016 Belmont Stakes heroes Tonalist and Creator; Alabama Stakes heroine Careless Jewel; Hawthorne Gold Cup victor, Headache, and the beautiful White Rose, winner of the 1 3/8 miles Glens Falls Stakes over turf.
Tapit has three starters, two winners and a stakes winner out of daughters of Successful Appeal.
Female Family
The class in Tapwrit's distaff line skips generations.
His dam Appealing Zophie (Successful Appeal - Zophie, by Hawkster) was a precocious youngster. She won her first start at the 2006 Keeneland Spring Meet. She earned Grade One status with a victory in the Spinaway Stakes. The muscular chestnut filly was hit or miss as a three-year-old. She kicked off the year by winning the 1 1/16 mile Silverbulletday Stakes (G3), but was winless for the rest of her career, although she did take third place in the Victory Ride Stakes (G3) at Saratoga. The sprinter-miler retired with a 12-3-2-1 ($497,898) record.
As one would expect, Appealing Zophie has been bred to the best stallions in Kentucky. Overall, none lived up to expectations until now. Tapwrit is the sixth foal and first blacktype earner in his immediate family. He has an unnamed two-year-old half-brother by Candy Ride who was a $45,000 RNA at last year's Keeneland September Yearling Sale and a yearling brother by Speightstown.
Appealing Zophie is the only blacktype winner out of Zophie (Hawkster - Sodeo Sodeo, by Seattle Slew). We must go back to Tapwrit's fourth dam Melody Tree to pick up the stakes winning line. The mare bore 1983 Florida Derby hero Croeso, and her descendants include the multiple G1 Stakes winning turf miler Celestine, stakes winner and sire Ide, plus the multiple stakes winning veterans Super May and Yates Black Cat.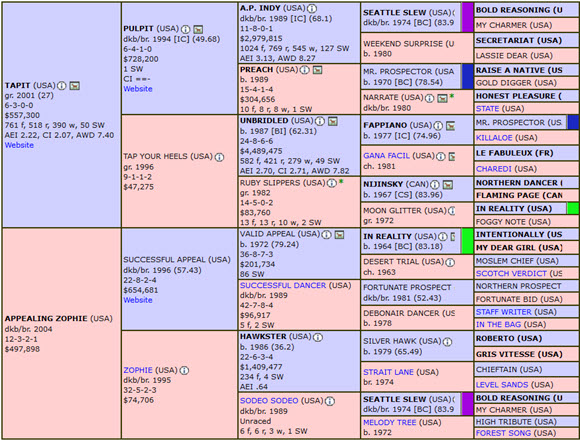 Damsire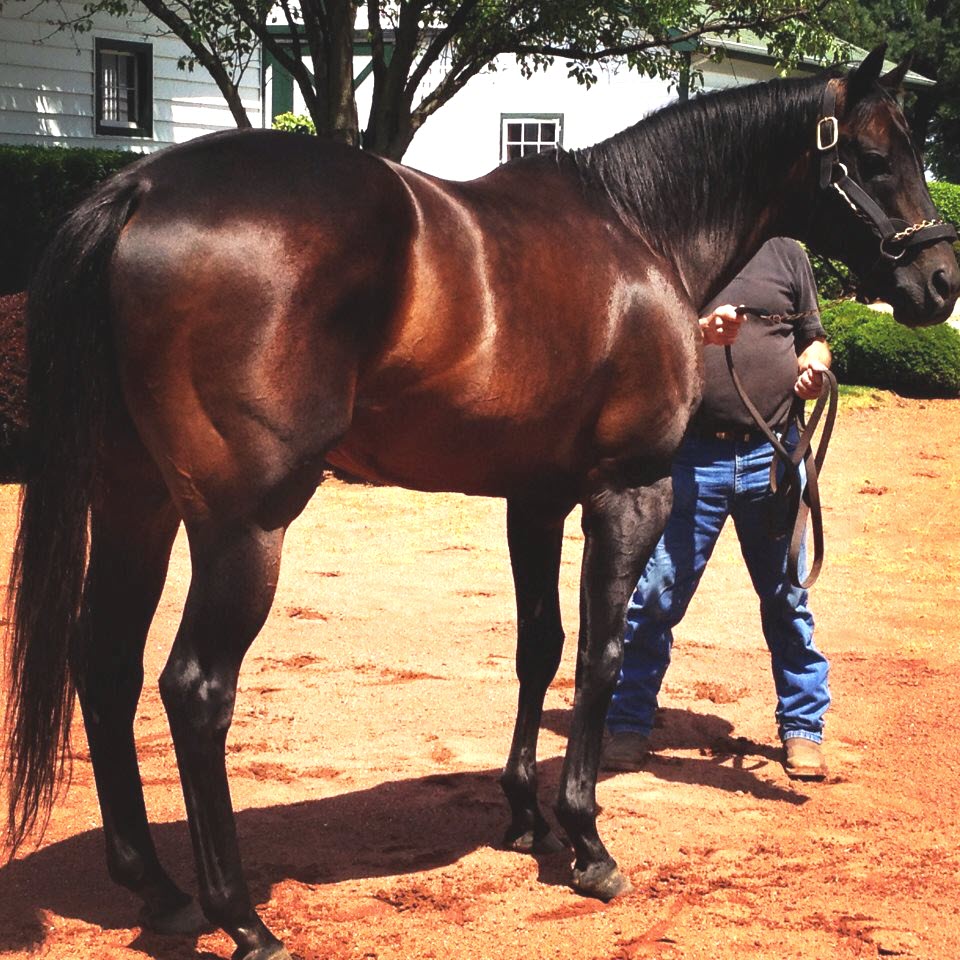 Successful Appeal
(Valid Appeal - Successful Dancer by Fortunate Prospect) was a precocious graded
stakes
winning sprinter on the track. His progeny
win
up to middle distances (nine furlongs) and just as adept over turf as they are dirt.
Of course, there are always exceptions when one considers horse racing and breeding. Successful Appeal's son Closing Argument came within a half-length of wearing the Kentucky Derby roses in 2005. Another Successful Appeal son, the gallant old veteran Successful Affair captured the 1 5/8 miles Gallant Fox Stakes by a head in 2002. The stallion is probably best known as the sire of Successful Dan, the less accomplished older half-brother of Champion Wise Dan.  
Successful Appeal's daughters have produced 213 foals, 145 winners and four listed or graded stakes winners, including Tapwrit. The broodmare sire's most accomplished runner is Miss Behavior, by Jump Start, a son of A.P. Indy. The multiple graded stakes winning mare is a sprinter – miler.
Tapwrit's second damsire Hawkster was a long-winded turf router whose claim to fame was setting a new world record for 1 ½ miles over turf.  He was a disappointing sire and has done little better as a damsire, However, Hawkster will go down in history as the damsire of Preakness and Belmont Stakes champ Afleet Alex.
Expectations
It should be noted that Tapwrit has a 4 x 4 cross to Seattle Slew in his pedigree. Some pedigree geeks drool over this fact, thinking that it is proof that Tapwrit can handle classic distances.
Tapwrit's 4 x 4 cross to Seattle Slew doesn't mean anything, except to show the prevalence of Seattle Slew in modern pedigrees.
Taken into context, Tapit has 13 stakes winners of mares with Seattle Slew bloodlines somewhere in their pedigree.  Of these 13 runners, only one, Headache (Tapit – Pamric, by Woodman), has won beyond nine furlongs. Headache's second damsire Capote is a son of Seattle Slew. Three other progeny of Tapit have Capote somewhere in their distaff line (Mohaymen, Concord Point, and Tapa Tapa Tapa).
Tapwrit is by a solid middle-distance sire out of a multiple graded stakes winning sprinter-miler. Tapwrit's damsire has speed affinities, who has, on occasion, been the damsire of a winner past nine furlongs. However, it takes more than pedigree to determine how far a horse will want to run.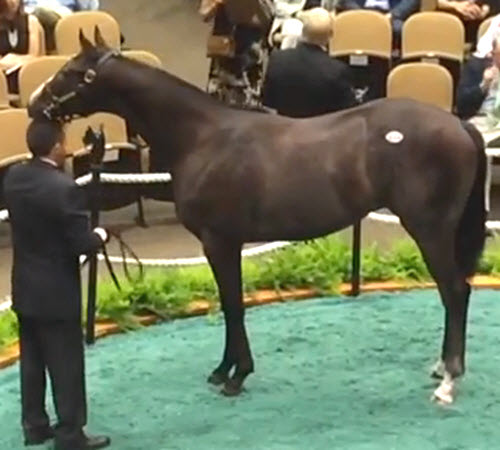 The Gray-Roan Tapwrit physically resembles his dam, who was a robust mare. Tapwrit may be large, but he's shown the athleticism to handle the sharper turns of Tampa Bay Downs. Tapwrit is built like a distance horse, with a clear throatlatch (helps with breathing) well-angled shoulder, short back, and powerful hindquarters. He appears to have good bone and sturdy legs. When he runs, Tapwrit stretches out with excellent leg extension. He runs straight, with no paddling, although he does have slightly high knee action. 
Offspring of Tapit can often be high strung and lack the ability to relax during competition. Tapwrit was keen in the Pulpit but showed a new maturity in his starts as a three-year-old. He relaxed nicely off the pace during the Tampa Bay Derby and closed with ground-eating strides. He had his ears pricked once he was in the lead and had plenty of energy left.
Trainer Todd Pletcher is undecided about Tapwrit's next appearance but is leaning towards giving the colt another start, preferably at 1 1/8 miles, before heading to the Kentucky Derby.  Pletcher doesn't have the greatest record when it comes to the Kentucky Derby, but for now, it appears that he may have a legitimate contender in Tapwrit.