The prestigious 2016 Champagne Stakes (G1) held at a mile, over the Belmont oval on Saturday spotlighted offspring from Harlan's Holiday's two major sons at stud, Into Mischief and Majesticperfection. Both stallions were also represented across the country at Santa Anita in the City of Hope Stakes (G2).  Into Mischief's son Vyjack won that contest in record-setting time, while Majesticperfection's son Perfectly Majestic placed fourth.
The Champagne Stakes ended with a thrilling stretch battle between two undefeated juveniles, Practical Joke and Syndergaard, who were separated by a nose bob at the wire.
Practical Joke ducked in at the start, which in the long run, was a good thing for him. Meanwhile, Syndergaard blazed through fractions of 22.74, 44.63 and 1:08.75 before being collared by Practical Joke in the straight. Despite being softened by his early pace, Syndergaard fought hard on the rail, his nose in front just before and just after the wire. The final time of 1:34.68 was a blink off of the stakes record of 1.34.20 recorded in 1983 by Devil's Bag and narrowly missing the 1:34.40 set by Seattle Slew in 1976.  
The promising Practical Joke and Syndergaard share more than a competitive spirit. They are grandsons of Harlan's Holiday out of mares by sons of Forty Niner.
Practical Joke (Into Mischief - Halo Humor, by Distorted Humor) was bred by Whispering Oaks Farm. He was purchased for $135,000 out of the Keeneland January Mixed Sale as a yearling by Clear Ridge Stables.  Eight months later, Practical Joke attracted the winning bid of $240,000 at the Keeneland September Yearling Sale. He's owned by the partnership of Klaravich Stables, Inc. and William Lawrence, who also collected the third place purse in the Champagne Stakes with Favorable Outcome.  The team owns Top Decile, second in the 2014 Breeders' Cup Juvenile Fillies, and Balance the Books, who was third in the 2012 Breeders' Cup Juvenile Turf.
Practical Joke is ensconced in the barn of Chad Brown. The bay colt won his debut in August at Saratoga by five lengths. A month later, he inched away from the competition to win the Hopeful Stakes (G1) by a long neck.  Practical Joke has earned $559,800 in his three perfect starts.
Sire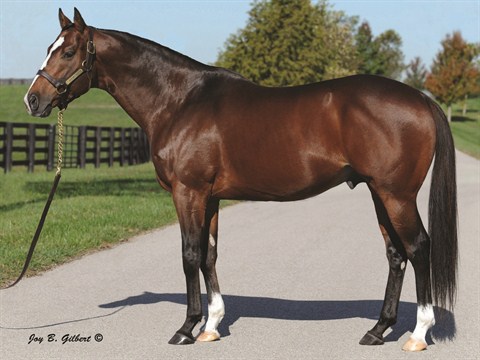 Into Mischief (Harlan's Holiday - Leslie's Lady, by Tricky Creek) was a lightly raced, but talented colt who won or placed in all six starts. He was victorious from 6 ½ furlongs to 1 1/16 miles. His miler's pedigree kept him off of the Triple Crown trail.  
Into Mischief went to stud at Spendthrift Farm in 2009 for $15,000.  In the Freshman Sire class of 2012 which included Curlin, Big Brown, and Henrythenavigator, Into Mischief third leading sire by earnings, with a crop of only 41 foals. With each succeeding year, Into Mischief's stud fee has risen to a current $45,000.
The son of Harlan's Holiday has sired one Champion, 2015 Canadian Female Sprinter & Older Female, Miss Mischief.  Overall, he has 24 stakes winners, 8 of them graded, and 9 stakes placed runners, from only five racing crops.
The majority of Into Mischief's offspring are sprinter/milers and find 1 1/16 miles at the top of their range. Two sons had victories at 1 1/8 miles; Goldencents (Santa Anita Derby) and Vicar's in Trouble (Super Derby).   
The cross of Into Mischief with Forty Niner and his sons is potent. His son Goldencents (Into Mischief - Golden Works, by Banker's Gold) won back-to-back editions of the Breeders' Cup Dirt Mile in 2013 – 2014.  Goldencents is out of a mare by a son of Forty Niner and stands at stud alongside his sire at Spendthrift Farm.
Into Mischief has six foals of racing age out of Distorted Humor mares. Three have started, two are winners and both, Practical Joke and Dangerfield, are stakes winners. Dangerfield recently captured the Oak Tree Juvenile Stakes at the Oak Tree at Pleasanton meet.  
I expect that we'll see more offspring bred on this bloodline cross in the coming years.
Female Family
Precocious sprinter/miler types are prevalent in Practical Joke's female family. This distaff line has produced blacktype earners in three of the first four generations.
Practical Joke is the sixth foal and only blacktype earner out of the multiple stakes placed Halo Humor (Distorted Humor - Gilded Halo, by Gilded Time). The Louisiana-bred filly raced three times as a two-year-old, capturing her debut and an allowance race at Saratoga, then finishing fourth behind eventual Champion 2 Year Old Filly Folklore in the Matron Stakes (G1) at Belmont. Halo Humor raced twice at three. She was second in the 5 ½ furlong Lil Liza Jayne Stakes at Evangeline and then checked in seventh in her final career start in the Louisiana Champions Day Ladies Sprint Stakes. 
Halo Humor was retired with a 5-2-1-0 ($85,200) race record and later sold at the Keeneland January Mixed Sale for $130,000 to Whispering Oaks Farm in foal to Fusaichi Pegasus.
Four of Halo Humor's six foals have started. All have hit the board, and two are winners. Until Practical Joke came along, Halo Humor's most accomplished foal was Cat On (Bluegrass Cat), who earned $32,575 in 42 starts.
Practical Joke's second dam Gilded Halo (Gilded Time - Careless Halo, by Sunny's Halo) didn't earn blacktype, but she did capture two of her first three starts. The mare bore only four foals, all were winners and two owned blacktype. Halo Humor's half-brother Cubera (Cape Canaveral) captured his initial start as a two-year-old. He won the Louisiana Futurity after a second-place finish in the Louisiana Champions Day Juvenile Stakes. 
Phone Trick's fourth dam Careless Moment was stakes placed as a two-year-old and had the distinction of bearing the only graded stakes winner in the family until Practical Joke came along. Her son Moment of Hope (Timeless Moment) was victorious in the Discovery (G3) and Stuyvesant (G2) Handicaps (9F), and the Salvator Mile (G3).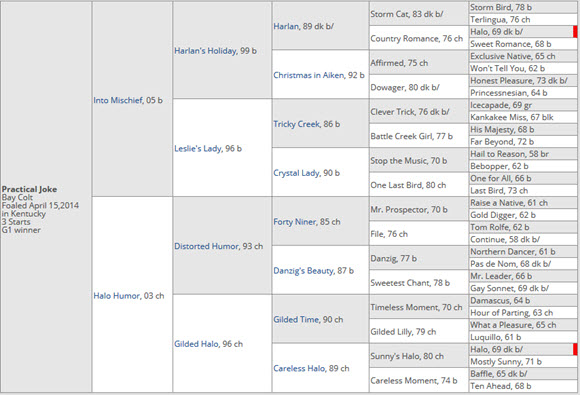 Damsire: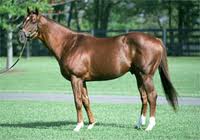 Distorted Humor (Forty Niner - Danzig's Beauty, by Danzig) was a multiple graded stakes winning sprinter/miler. He earned victories in the Ack Ack (G-3, 7 ½ f); Churchill Downs Handicap (G-2, 7f); Salvador Mile (G-3); and Amsterdam Stakes (G-3); 6f).  The swift colt set a new track record at Keeneland for seven furlongs in 1:20.50 in the Commonwealth Breeders' Cup Stakes (G-2).  Racing for three years, Distorted Humor racked up a 23-8-5-3 ($769,964) race record.
Distorted Humor is a young broodmare sire with less than 500 winning foals, 54 of them stakes winners. Distorted Humor's daughters bear mostly sprinters to middle distance runners, yet they are capable of bearing classic distance winners. Three of his daughters have produced stakes winners at 1 ¼ miles; two winners on the lawn and one, Arrogate, over dirt.
Distorted Humor is the damsire of Florida Derby hero Constitution, Travers Champ Arrogate, plus G1 victors Molly Morgan, Book Review, and internationally, Group 1 winners Catch the Cocktail, Humor Acido and Moann.
Practical Joke's second damsire Gilded Time (Timeless Moment - Gilded Lilly, by What a Pleasure) compliments the win-early nature of the colt's distaff line.  The precocious youngster earned the 1992 Eclipse Award as top 2 Year Old Colt after victories in the Sapling Stakes, Arlington-Washington Futurity, and Breeders' Cup Juvenile. Glided Time placed third the following year in the Breeders' Cup Sprint.  The grandson of the legendary Damascus gave us G1 earners Elloluv (Santa Anita Oaks) Gayego (Ancient Title & 3rd in BC Dirt Mile); Mandy's Gold (Ruffian S.).
Third damsire Sunny's Halo was Canadian Champion 2YO Colt and won the 1983 Kentucky Derby.
Expectations
Practical Joke has the pedigree of a sprinter/miler. He will most likely be distance challenged beyond 1 1/16 miles.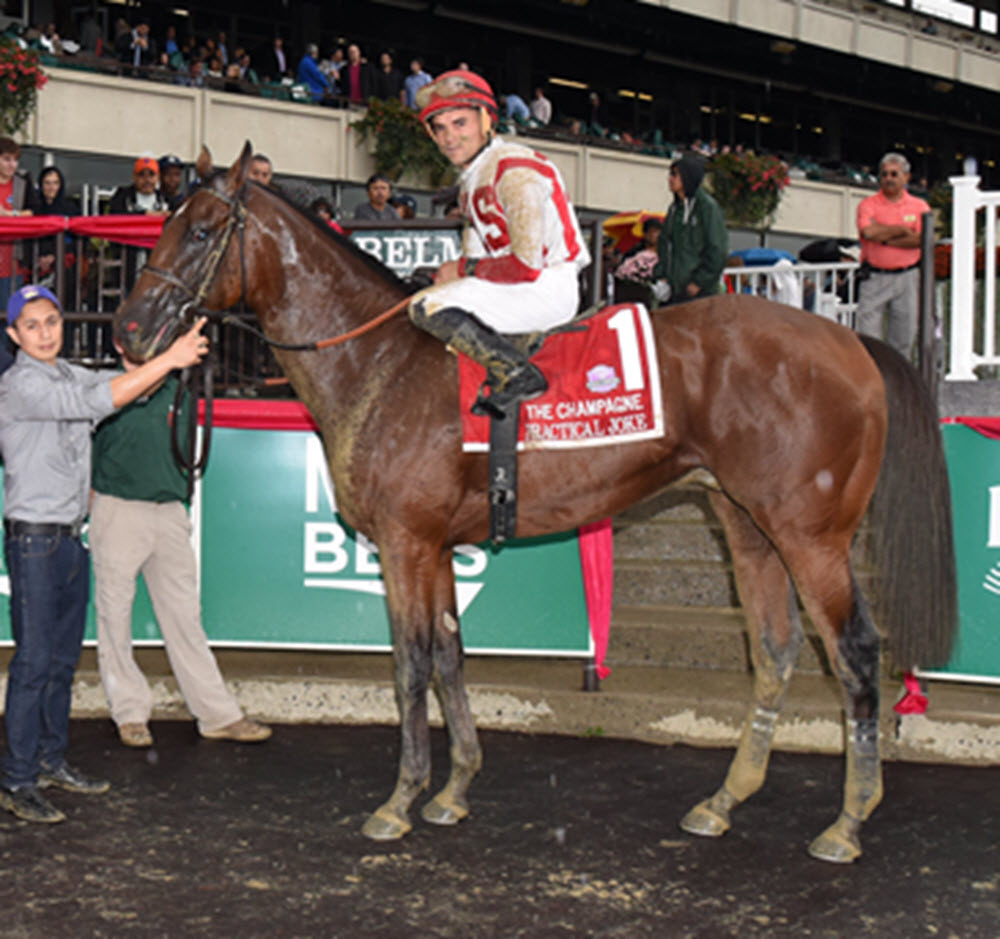 Practical Joke is well-balanced and athletic, with the physique of a sprinter/miler. He has a strong neck with a deep shoulder and girth, balanced by powerful, well-developed hindquarters.  Practical Joke's elbow appears to be closer to his ribcage, resulting in the shorter, quick stride of the typical sprinter/miler. He runs straight without extra movements such as paddling or excessive knee action.
Practical Joke has broken poorly in two of his three starts, yet the colt appears to have a good temperament, willing to sit behind other horses and kicking into gear when asked. 
In the Champagne Stakes, Practical Joke benefited from a rail trip and sat seven lengths off of the swift early pace. Yet, he was all out to put away a tired, game Syndergaard in the stretch. That doesn't bode well for the talented Practical Joke handling the 1 1/16 miles in the Breeders' Cup Juvenile, especially if he gets caught up in the customary traffic jam around the first turn.  
Practical Joke has a bright future ahead of him as a very capable miler, but the odds aren't good for Practical Joke as a 2017 Kentucky Derby Contender.
Photo of Practical Joke courtesy of Adam Coglianese/NYRA.