The top two finishers in the Breeders' Cup Juvenile stamped themselves as favorites for the 2017 Kentucky Derby. The runner-up, Not This Time came within a neck of earning an Eclipse Award. The dark bay two-year-old carried a two-race win streak and the favorite's role into the after capturing the Iroquois Stakes (G3) by 8 ¾ lengths.
In the Juvenile, Not This Time sat off the pace and went widest of all around the far turn. His rival and eventual winner Classic Empire, had a two-length head start over the speed favoring track. Jockey Robby Albarado and Not This Time closed the gap, but just missed the victory.  Not This Time clocked the race's fastest final quarter, 25.39 to Classic Empire's 25.48.  His 1/16 final split was 6.52 while Classic Empire's was 6.64, per Trakus.   
Not This Time (Giant's Causeway - Miss Macy Sue, by Trippi) is an Albaugh Family Stable homebred trained by Dale Romans. Not This Time placed fifth in his debut. Next time out, he out-classed maidens at Ellis Park by ten lengths in a mile dirt event. The son of Giant's Causeway followed up with the Iroquois triumph before his close placing in the Breeders' Cup. Not This Time has compiled a 4-2-1-0 ($454,183) record in his short career.
Could Not This Time and Classic Empire emulate the feats of this year's Kentucky Derby and Preakness winners Nyquist and Exaggerator?  Overall, the Breeders' Cup Juvenile results have almost no bearing on the Kentucky Derby. Only three Kentucky Derby winners in twenty years have even raced in the Breeders' Cup Juvenile — Street Sense and Nyquist won and Mine That Bird finished an undistinguished twelfth. 
Next year, we may see another exception. Classic Empire's pedigree profile indicates that he can handle classic distances. Let's see how Not This Time compares.
Sire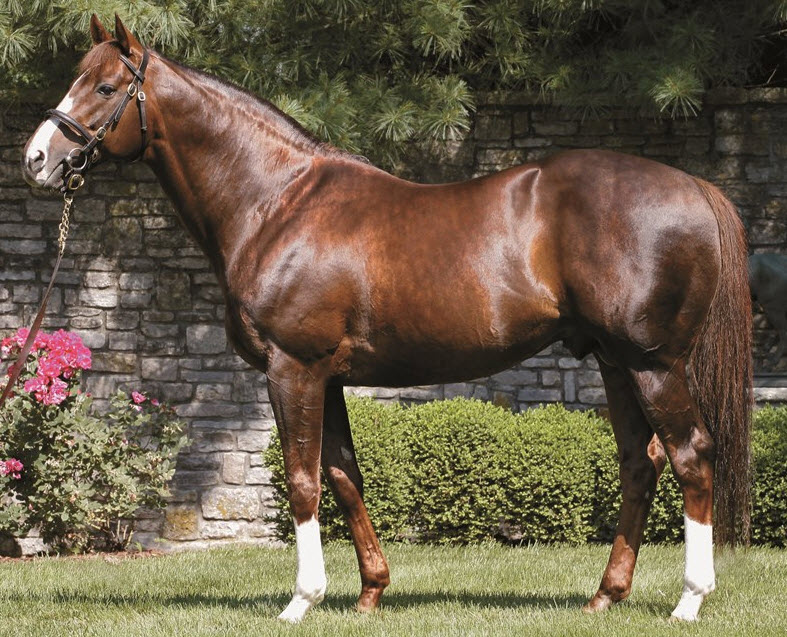 Giant's Causeway (Storm Cat - Mariah's Storm, by Rahy) is an internationally acclaimed leading sire and is building a reputation as a sire of sires.   He was leading US sire in 2009, 2010 and 2012, and has been a top-ranked sire for the last four years. In 2010, Giant's Causeway was recognized as a Classic chef-de-race, for contributing stamina attributes to his offspring.  
As a whole, Giant's Causeway's progeny have not had success in the Classics. Until this year, only one of his sons, Creative Cause (third in the 2012 Preakness) has hit the board in a Triple Crown race.  This year, Creative Cause's full brother Destin was second in the Belmont Stakes, and Giant's Causeway's son Gun Runner was third in the Kentucky Derby. 
Female Family
Not This Time's distaff line is a product of the top Florida breeders, Tartan Farms (later Mockingbird Farm)/John Nerud bloodlines and Claiborne Kentucky royalty.  Not This Time's second dam Yada Yada carries the same bloodlines as the Champion Miler Dr. Fager.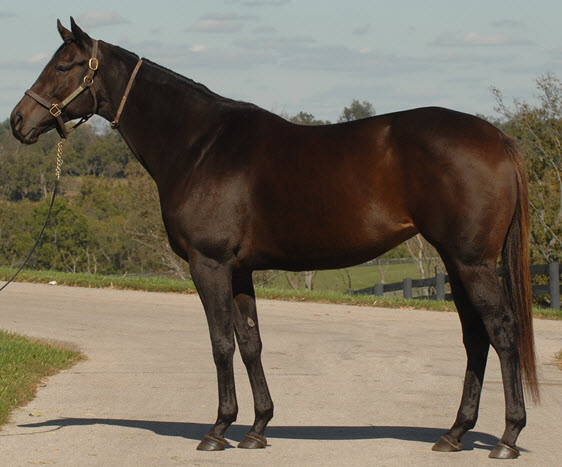 Not This Time's dam Miss Macy Sue (Trippi - Yada Yada, by Great Above) had a humble start to her career competing against allowance and minor stakes types at Hawthorne, Prairie Meadows, and Mountaineer. She matured into a graded stakes winning sprinter.
Miss Macy Sue captured her only graded contest, the Winning Colors Stakes (G3) as a four-year-old.  Four starts later, she placed third in the then ungraded 2007 Breeders' Cup Filly and Mare Sprint at Monmouth Park. Miss Macy Sue was a sound, tough competitor on the track, racking up a 25-11-5-3 race record with earnings of $880,915. In total, she won or placed in 13 stakes races.
Very often, solid competitors make solid broodmares. Miss Macy Sue is no exception. Three of her four foals to race are stakes winners, two of them graded. Her progeny record resembles that of her fourth dam the Champion Sprinter and Rene-de-course, Ta Wee, who bore five foals, four of them stakes winners.
Miss Macy Sue's first daughter Minnie Marcy (A.P. Indy) started only once. However, the mare's second foal Liam's Map (Unbridled's Song) won six of eight starts and set a new track record at Keeneland in last year's Breeders' Cup Dirt Mile (G1). Liam's Map won at distances ranging from eight to nine furlongs, and he finished second at seven furlongs. He's standing his first year at stud at Lane's End for $25,000.
Taylor S (Medaglia d'Oro) followed in her half-brother's hoof prints. She raced only eight times, but the dirt sprinter was in the money five times, including a victory in the Any Limit Stakes at Gulfstream Park and a third-place finish in the Forward Gal (G2).   
Miss Macy Sue has an unnamed yearling colt by Bodemeister who was a $450,000 RNA at the recent Keeneland September Yearling auction. She didn't have a foal this year.
Miss Macy Sue's dam, Yada Yada (Great Above – Stem, by Damascus) was unplaced in three starts but has excellent bloodlines.  Yada Yada's sire Great Above (Minnesota Mack – Ta Wee, by Intentionally), was a Tartan Farms stallion.  His sire Minnesota Mac was by Rough'N Tumble and part of the same crop as Ta Wee's half-brother, Dr. Fager (Rough'N Tumble – Aspidistra, by Better Self). Great Above entered the starting gate 63 times and won or placed in six stakes races as a sprinter. He's better known as the sire of Horse of the Year, Holy Bull.  
Yada Yada's dam Stem (Damascus – Tweak, by Secretariat) is a grand-daughter of Ta Wee, so Yada Yada carries a 2 x 3 Rasmussen Factor (inbred to a superior mare within five generations) inbreeding to Ta Wee. The sprinter speed Yada Yada inherited from Ta Wee is tempered by the bloodlines of Dr. Fager's greatest rival, Champion Handicap Horse and Intermediate/Classic Chef-de-Race, Damascus.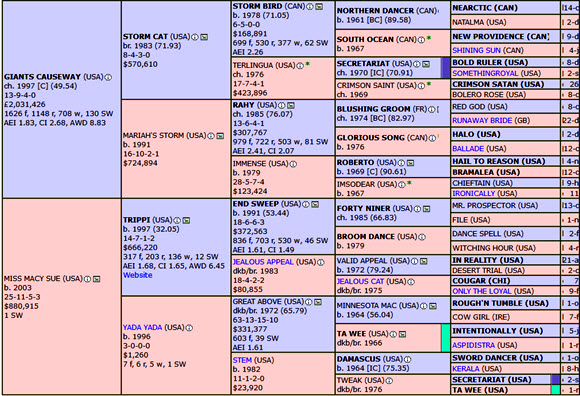 Damsire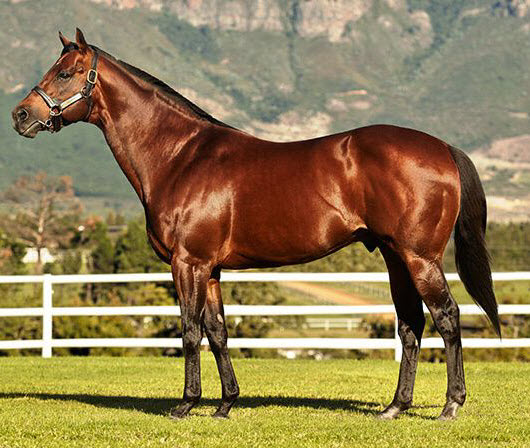 Not This Time's damsire Trippi (End Sweep – Jealous Appeal, by Valid Appeal) was bred by Mockingbird Farms and was one of the best sprinter-milers of his generation. Trippi made his winning debut as a January three-year-old. He used the Swale and Flamingo Stakes as stepping stones to that year's Kentucky Derby. After pressing the pace for a mile, Trippi retreated to eleventh place behind Fusaichi Pegasus. After cutting back in the distance, Trippi became a seven-furlong specialist, recording victories in the Riva Ridge (G2) Tom Fool (G2) and Vosburgh Stakes (G1). Trippi suffered from Saratoga's "Graveyard of Champions" jinx, finishing third as the favorite in the Amsterdam (G3). Trippi raced for two years and retired with a 14-7-1-2 race record and $666,220 in earnings.
Trippi had sired seven crops of foals in the US before he was sold to stand in South Africa. His foals were precocious inherited their sire's miler speed. None of his foals bred in the US won past nine furlongs. 
Trippi is a young broodmare sire represented by a dozen blacktype earners. Liam's Map and Not This Time are the only ones with graded stakes wins. None of the blacktype earners have won beyond nine furlongs, and most are sprinters.
Expectations
Not This Time's pedigree is classic stamina over sprinter/miler speed. On pedigree alone, the colt's distance range is suspect beyond nine furlongs. However, conformation, temperament, and of course, ability, and mindset, are all equally important in forecasting how a horse will perform.
Not This Time is an athletic colt He's a smooth mover with excellent leg extension and no excessive movement. He has good acceleration when asked. The seal brown colt has the build of a middle-distance/classic contender.  He has a clear, open throat latch area – good for getting air into the lungs. Overall, his body is well-balanced and athletic. Muscular, but not overly so. He's a leggy colt and should fill out over the winter. 
Not This Time has shown the ability to win from on or off the pace. In three of four starts, he's had some minor gate issues, hesitating, leaping, bumping. Nothing that has been a factor in his performance, and will hopefully sort itself out as he matures.
Trainer Dale Romans is enthusiastic about Not This Time's future. In an interview with Brian Zipse before the Breeders' Cup, Romans commented, "He [Not This Time]  is a push-button horse...This horse has it all...He's got the pedigree, he's got the look, he's got the mind, and he's got the talent."
Not this time, but maybe next time.