Fresh off of a maiden score at Gulfstream Park, a little-known colt named Gunnevera quickly caught the attention of racing fans when he captured the Grade 2 Saratoga Special. The two-year-old has developed a habit of settling far behind the pack and is developing a closer's running style. Gunnevera displayed this characteristic in the Saratoga Special, running down the pacesetting favorite, Recruiting Ready, to score a one-length victory.
Gunnevera (Dialed In - Unbridled Rage, by Unbridled) was bred by Brandywine Farm & Stephen Upchurch. Foaled in late February, the youngster was sold for a bargain $16,000 to his trainer Antonio Sano  on behalf of Peacock Racing Stables, LLC.  Brandywine Farm bred Arkansas Derby winner Danza, Belmont Stakes winner Ruler on Ice, and multiple G1 winners Champagne D'Oro, Majestic Harbor and Itsmyluckyday.
Gunnevera debuted in a five-furlong maiden race in early June at Gulfstream Park.  He flashed surprising precocity, placing second in the race behind Three Rules. Gunnevera returned a month later in the 5 ½ furlong Birdonthewire Stakes. He was 16 lengths behind in the early stages and once again displayed a strong late kick to place fourth. The winner, Three Rules, is currently considered the best two-year-old in Florida after soundly defeating rivals in the Dr. Fager Stakes, which is the first leg of the Florida Sire Series.
Gunnevera earned his maiden win in his third start. About half a furlong into the race, the colt had to check off of heels and lost a few lengths. He made a huge 6-wide bid around the far turn and ran down the pace setter to get under the wire first by ¾ length on Gulfstream Park's deep, sandy track. The son of Freshman Sire Dialed In has a 4-2-1-0 race record and has banked $$156,000 in earnings. 
Sire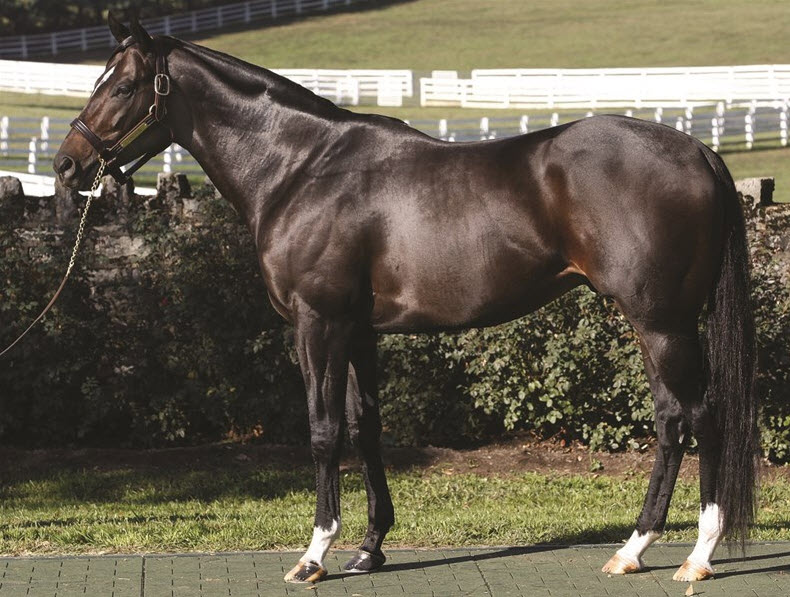 DIALED IN (Mineshaft - Miss Doolittle, by Storm Cat) is by 2003 Eclipse Award Older Horse Mineshaft. A typical son of A.P. Indy, Mineshaft was slow to mature. He passed the trait of needing a few starts and preferring two turns to many of his offspring, yet those with precocious distaff families follow the lead of the female family and mature at a faster rate. 
Dialed In's dam, the cleverly named Miss Doolittle, faced the starter six times. She won and placed in four races and was third in the Schuylerville Stakes (G-3). Dialed In's second dam Eliza, was the 1992 Two Year Old Filly Champion. She won five of 12 starts, including the Breeders' Cup Juvenile Fillies and was second in the 1993 Kentucky Oaks.
Dialed In received his "precocity genes" from his distaff line. He was a win-early type and captured his 6 ½ furlong debut in September of his two-year-old season. Dialed In wasn't seen again until the following January when he captured the one-mile Holy Bull Stakes (G3) in his first start off of the layoff.
Crafty veteran trainer Nick Zito prepped Dialed In for the Florida Derby in in an allowance race at 1 1/8 miles. The colt was unable to catch the speed and finished second.  A month later, Zito's strategy paid off, when a fit Dialed In ran down the pacesetter Shackleford to win the Grade 1 race by a head. There was a large, quality-filled field for the 2011 Florida Derby.Besides eventual Preakness winner Shackleford, contestants included future Travers winner and Belmont Stakes runner-up Stay Thirsty and Cigar Mile (G1) and Woodward Stakes (G1) hero To Honor and Serve.  The Florida Derby was the last time that Dialed In would stand in the winner's circle. He placed eighth in the Kentucky Derby and followed up with a pair of fourth-place finishes in the Preakness and an allowance race. 
Dialed In retired to historic Darby Dan Farm with a 7-3-1-0 ($941,936) race record. The stallion's original stud fee of $7,500 hasn't changed. He was popular with breeders and has 102 foals in his first crop. 15 have started, five are winners and three won in their first attempt. Two, Gunnevera and the filly Ruffenuff are stakes winners. Ruffenuff won the six-furlong Princess Margaret Stakes at Northlands Park over two competitors.  Gunnevera's earnings have launched Dialed In to the top of the Freshmen Sire standings by earnings.
Some of Dialed In's progeny the are following in their sire's precocious hoofprints. However, many of his babies may need time to mature and should be stronger runners as three, four and five-year-olds. Overall, the majority of Dialed In's babies should enjoy running a mile and further.
Dialed In's sire Mineshaft has 9 foals out of Unbridled mares. Five have started, four are winners, no blacktype, but with earnings in excess of $400,000.
Female Family
Gunnevera's distaff line isn't as heavy with blacktype as those of his Saratoga Stakes competitors. Yet, his breeding has a unique feature, which they lack.
Gunnevera's dam Unbridled Rage (Unbridled - Suite, by Graustark) raced only once, as a late season two-year-old and followed the field around the track. For much of her broodmare career, the daughter of Unbridled has been pretty average, and she has been bred mainly to sprint-oriented sires. Her first foal Minstrel Queen (Cherokee Run) was a multiple stakes placed runner in Puerto Rico. After her retirement, Minstrel Queen bore two Puerto Rican stakes placed earners.  Unbridled Rage bore eleven foals who didn't earn blacktype.  It's unusual but not unheard of, for an older mare who has produced a dozen foals with little to no blacktype, to suddenly produce a graded stakes winner in her thirteenth attempt, but that's exactly what happened with Gunnevera.   
Class can skip a generation or two, in distaff families.  Unbridled Rage's dam Suite was a member of the second to last crop of foals sired by Graustark. The first foal out of Minstrel Princess (The Minstrel), Suite spent most of her racing career on the California circuit. She placed in a few listed stakes from a mile to 1 1/8 miles. Besides Unbridled Rage, Suite bore another blacktype producing daughter, the multiple listed stakes placed Princess Bertrando (Bertrando).
Gunnevera's third dam Minstrel Princess was multiple stakes placed. Her daughter Devaluation (Conquistador Cielo) produced Canada's 2008 Champion Filly Van Lear Rose (Stroll). Van Lear Rose and Gunnevera are similarly bred. Both are by grandsons of A.P. Indy and out of mares from the Mr. Prospector sire line.
Damsire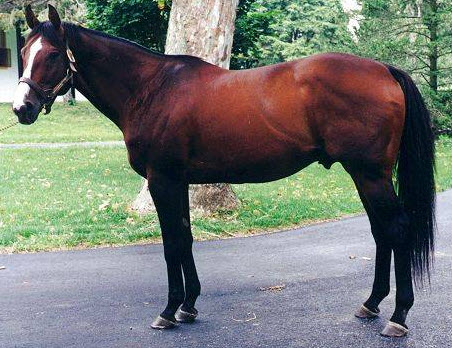 Gunnevera's damsire Unbridled (Fappiano - Gana Facil, by Le Fabuleux) won his debut as a two-year-old. The large bay horse won the Florida Derby on his travels to the Kentucky Derby. Unbridled's stirring edition of the 1990 Kentucky Derby is considered to be one of the most heartwarming events in the race's history, as trainer Carl Nafzger described the race for the colt's tiny 92-year owner, who was unable to see her horse running down the stretch. Unbridled was the established owner's only Kentucky Derby winner.  The same year, Unbridled captured Breeders' Cup Classic and earned the Eclipse Award for Champion Three Year Old.
Unbridled sired only 11 crops before dying of colic at age 14. During his short career, Unbridled sired Kentucky Derby, Preakness, and Belmont Stakes winners (Grindstone, Red Bullet and Empire Maker), three Champion 3YO Fillies (Banshee Breeze, Halfbridled, and Smuggler) and a Champion 2YO colt (Anees).  Unbridled's more prominent sons, Unbridled's Song, Empire Maker and to a lesser extent Eddington, carry on the stallion's sire line. Unbridled received the designation of a Brilliant/Intermediate (B/I) Chef de Race, meaning that he passes speed and middle distance affinities to his offspring, although he did produce a good number of classic distance winners over dirt and turf.
Unbridled is a solid broodmare sire. His daughters have produced a thousand winners and 76 stakes winners with combined earnings of over $1 million dollars.  Despite the B/I label, Unbridled's daughters are capable of bearing winners at classic distances. He is the damsire of 2013 Kentucky Derby winner Orb (whose sire Malibu Moon is a son of A.P. Indy). Unbridled is also the sire of Preakness champ Shackleford and his half-sister, Alabama Stakes winner Lady Joanne.  Unbridled's most famous grandson is the sensational sire Tapit (grandson of A.P. Indy).
The unique feature in Gunnevera's pedigree is that his second damsire is Graustark (Ribot - Flower Bowl, by Alibhai). It isn't uncommon to see Graustark in a pedigree, but the stallion, foaled in 1963, is normally found at least four to five generations back in modern pedigrees. Graustark, bred by Darby Dan Farm, was a brilliant runner, winning seven of eight starts. 
Graustark was foaled the same year as the Champion Two Year Old Buckpasser. Both colts were on the Kentucky Derby trail, and fans eagerly awaited the match.  Unfortunately, that wasn't to be. Graustark suffered his first career defeat, a second place finish in the Bluegrass Stakes by a photo finish, and it was later discovered that the colt had a broken coffin bone, which ended his racing career. Meanwhile, Buckpasser wound up with a quarter-crack in his hoof which took three months to heal.
But back to Graustark.  The powerfully built Chestnut had amazing precocious brilliance as a two-year-old, despite having the pedigree to win beyond 1 ½ miles.  He never won a stakes past a sprint distance, although he should certainly be given credit for his photo finish in the 1 1/8 mile Bluegrass Stakes. Graustark carried the genes of the legendary Classic/Professional Chef de Race Ribot. Graustark's dam Flower Bowl won at 1 ½ miles, and her sire was the Classic Chef, Alibi. 
Graustark passed along his heritage to his offspring and that of his daughters. The stallion was deemed a Classic/Solid Chef de Race.
Graustark is the second damsire of over 80 stakes winners. He is a noted carrier of the large heart gene, as is Unbridled. 
Expectations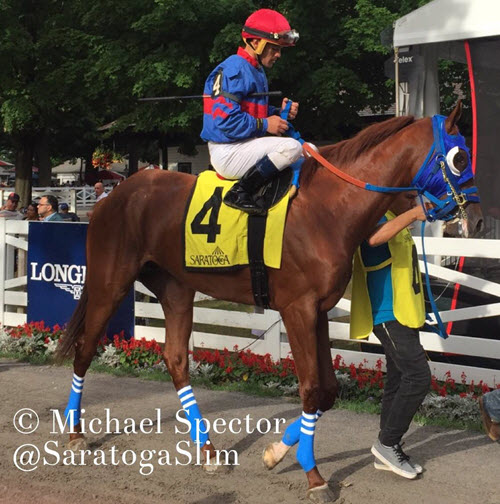 Gunnevera has the pedigree to win at middle distances and he could be entirely capable of traveling 1 ¼ miles or farther with maturity. His final time of 1:17.00 for 6 ½ furlongs in the Saratoga Special was slower than previous years. However, the time was over a full second faster than two other races carded at the same distance earlier in the day.
Gunnevera is a solidly built colt with a well-angled, deep shoulder, wide chest, and muscular hindquarters. He bears a passing resemblance to Graustark. Gunnevera should improve as he matures into a three-year-old.
Gunnevera has a long, ground-eating stride. This isn't a one-paced grinder who simply passes tired horses. He appeared to slow slightly in mid-stretch, but once he caught sight of a failing Recruiting Ready Gunnevera kicked into another gear and was determined to pass his rival. Gunnevera takes aim on other horses, and once he's passed them, he's looking for another target.
The Achilles heel for Gunnevera is his running style. He's dropped far back in his starts and has had to make up a lot of ground. It remains to be seen if he has the ability to sit closer, perhaps mid-pack, or at least within eyesight of the rest of the field.
According to his trainer, Gunnevera's next goal is the seven-furlong Hopeful Stakes (G1) on September 5. This is a colt to keep on your watch list as a 2017 Kentucky Derby Contender.
Photo of Gunnevera used with permission of Mike Spector, racingdudes.com