El Areeb, whose name means "skillful" in Arabic, continued his dominance over the New York preps for the Kentucky Derby with a runaway 4 ½ length score in the 1 1/16 mile Withers Stakes (G2).  The gray son of Exchange Rate owns a four-race win streak, including victories in the Jerome (G3) and James F. Lewis III Stakes.
El Areeb is the first colt to capture both the Jerome and Withers Stakes since Housebuster in 1990. Housebuster earned Champion Sprinter honors in 1990 and 1991.
El Areeb (Exchange Rate - Feathered Diamond, by A.P. Indy) was bred by Dixiana Farms. He was purchased out of the 2015 Keeneland September Yearling Sale for $100,000 by Eisaman Equine. A year later, El Areeb attracted $340,000 from MMG Stables at the 2016 OBS March 2YO in Training auction. Maryland-based Cathal A. Lynch conditions the colt.  El Areeb has a 6-4-1-0 race record and $334,200 in earnings. His wins in the Jerome and Withers Stakes have earned him 20 Qualifying Points, and he's tied for second place with Gormley on the 2017 Kentucky Derby Leaderboard.
Sire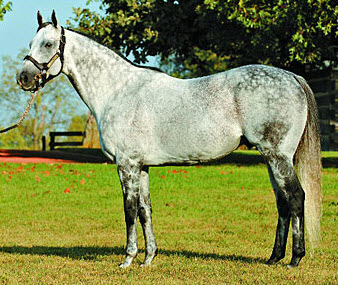 Exchange Rate (Danzig - Sterling Pound, by Seeking the Gold) is a son of one of the top sires in the world, Danzig. Exchange Rate won the Risen Star at 1 1/16 miles as a three-year-old and the seven-furlong Tom Fool (G-2) as a four-year-old.
As a sire, he is known more for producing stakes winning fillies than colts. His five Grade 1 earners are all fillies and include the multiple graded stakes winners Ermine, Ball Dancing, Sunset Glow, Swap Fliparoo and Victory to Victory. The bulk of Exchange Rate's offspring are sprinter/miler types. Two of his 38 stakes winners have won at 1 1/8 miles or farther, and both victories were over the lawn.
Female Family
El Areeb's distaff line is a product of the famous Sam Son's breeding program. There's class throughout the first four generations of his female family and the colt traces back to 1986 Canadian Broodmare of the Year, Loudrangle.
El Areeb's dam Feathered Diamond (A.P. Indy - Sometimesadiamond, by Mr. Prospector) competed at the allowance level. She won once in eight starts, a 1 1/8-mile maiden contest over the Keeneland dirt. She was third twice at Woodbine once each over Polytrack and turf. The bay daughter of A.P. Indy retired after four years with a 8-1-0-2 ($44,313) race record.
El Areeb is the sixth foal produced by his dam. Three of his half-siblings are winners, and one is unraced. He has an unnamed two-year-old half-brother by Gio Ponti who sold at last year's Fasig-Tipton October Sale for $4,500, and he has a brand new half-brother by Morning Line. El Areeb is the first of Feathered Diamond's offspring to earn blacktype status.
Feathered Diamond may not have earned blacktype status, but two of her four half-siblings to race did. Her half-brother Dixieland Diamond was a precocious youngster. He captured two Canadian restricted contests, the Cup and Saucer Stakes at 1 1/16 miles on turf and the 1 1/8-mile Coronation Futurity over dirt. As a four-year-old the son of Dixieland Band was second in the Tenacious Handicap held at 1 1/16 miles at the Fairgrounds.  Feathered Diamond's half-brother Sky Diamond (Sky Classic) was third in the Durham Cup Handicap (G3) and listed Labeeb Stakes, both at Woodbine.
El Areeb's second dam Sometimesadiamond (Mr. Prospector - Tiffany Tam, by Tentam) was an unraced half-sister to 1988 Canadian Champion Three-Year-Old Regal Intention (Vice Regent).
El Areeb's fourth generation is filled with Canadian Champions, including two-time Champ and Horse of the Year Soaring Free; Two-Year-Old Champion Filly and Horse of the Year Ruling Angel; Three-Year-Old Champion Filly Tilt My Halo; and Champion Three-Year-Old Colt Regal Intention.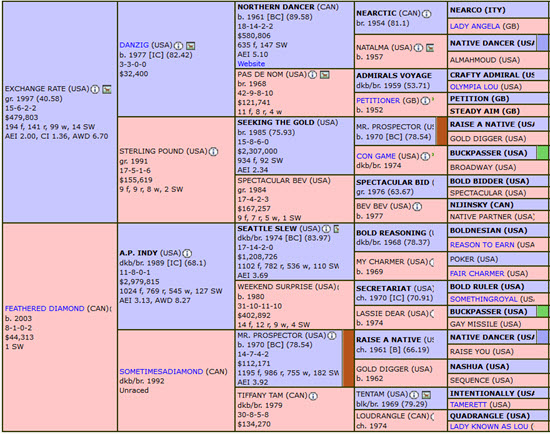 Damsire
A.P. Indy's status as a racehorse and major stallion is cemented in history.  By a Triple Crown winner out of the daughter of a Triple Crown winner, A.P. Indy earned Horse of the Year status with victories in the Belmont Stakes and Breeders' Cup Classic.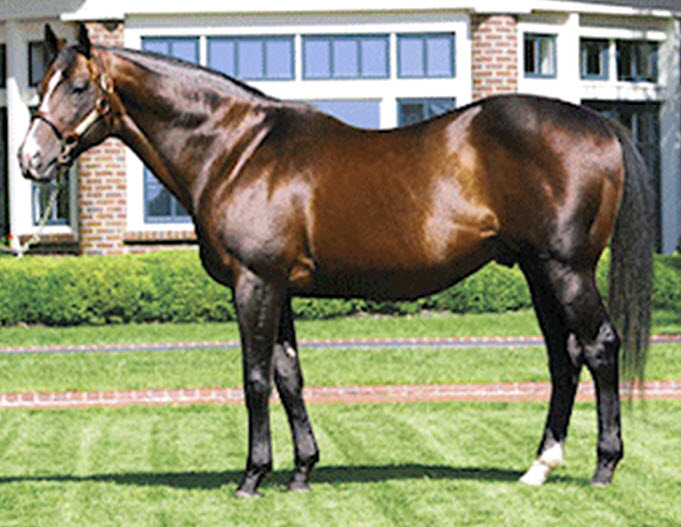 A.P. Indy (Seattle Slew - Weekend Surprise, by Secretariat) is one of the great sires of his generations.  The stallion passed along stamina attributes to his offspring to the extent that he was designated an Intermediate/Classic Chef-de-Race. He is recognized worldwide as a sire of sires and his genes live on through his sons and grandsons Pulpit, Bernardini, Malibu Moon, Mineshaft, Tapit, and many more. A.P. Indy also "stamped" his offspring, meaning they inherited his conformational traits.  
A.P. Indy is no slouch as a broodmare sire, either, as he's been a top 20 leading broodmare sire for the last fifteen years. His daughters have produced over 200 stakes winners and 32 Grade/Group 1 Stakes winners worldwide, including the Champion mares Royal Delta and Wait a While, Kentucky Derby hero Super Saver, Kentucky Oaks heroine Plum Pretty, plus Kentucky Derby runner-up Bluegrass Cat, and multiple Grade 1 winner Stellar Wind.
El Areeb's second damsire is the legendary Mr. Prospector. The Brilliant/Classic Chef-de-Race is one of the greatest sires and damsires in modern Thoroughbred history.
Exchange Rate has twelve starters, eight winners and one stakes winner out of A.P. Indy broodmares.
Expectations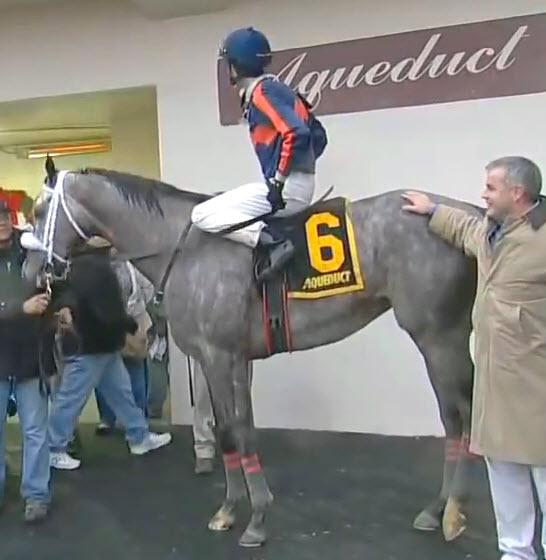 Physically, El Areeb strongly resembles his sire, Exchange Rate. Both receive their dapple gray coats from Exchange Rate's third damsire, three-time Champ Spectacular Bid. El Areeb and Exchange Rate are similar in build. They are of average height with slightly upright shoulders, that tie into a long back and powerful hindquarters. Both are well-balanced and athletic.
El Areeb has the quick leg action and average leg extension of a sprinter/miler. He runs straight with no paddling. The colt rates well and has a professional demeanor. So far, the speedy El Areeb has been beating up on lesser competition. While his damsire A.P. Indy lends some stamina to El Areeb's pedigree, the total package of pedigree and conformation points to a colt who may be best up to 1 1/16 miles and find 1 1/8 miles and farther tough going in top company. The last colt to capture the Withers and a classic race was Bernardini in 2006, although Alpha won the Travers in 2012.
So, what's next for the pretty gray colt? Trainer Cathal Lynch's plan is to skip the Gotham Stakes on March 4 and aim for the 1 1/8-mile Wood Memoria (G1) on April 8.