Secretariat had Sham. Affirmed had Alydar. Alysheba had Bet Twice, and Nyquist has Swipe. The rivalry between the soon to be Juvenile Champ Nyquist, and his nemesis Swipe, started in the Best Pal Stakes, and could well continue to the 2016 Kentucky Derby and beyond.  Swipe, the more experienced of the two, had won his maiden in his third start, the Summer Juvenile Championship Stakes at Los Alamitos. Previously, he had shipped to Belmont and placed third in the Tremont Stakes. Nyquist on the other hand, won his maiden in June and the Best Pal Stakes was the colt's second start.
Nyquist beat Swipe in the Best Pal, and Swipe followed the hind quarters of Nyquist in the Del Mar Futurity. Swipe came a little closer when the distance stretched to 1 1/16 miles in the Frontrunner Stakes. He still finished second to Nyquist, by ¾ length. In the duo's last race, Nyquist again prevailed, this time by only ½ a length in the Breeders' Cup Juvenile. If Nyquist is considered to be the best two year old colt in America, Swipe is right behind him as second best.
Swipe (Birdstone - Avalanche Lily, by Grand Slam) was bred by Lou Oppenheim in Kentucky. The colt didn't attract much interest from most buyers, but he did catch the astute eye of Keith Desormeaux, who grabbed Swipe for the bargain price of $5,000 for Big Chief Racing, LLC. Foaled on April 30, barely a month after his physical second birthday, Swipe finished second in his 4 ½ furlong maiden debut at Santa Anita.  Included in the field was Ralis, who would later win the Champagne Stakes (G-1). Just two weeks after Swipe's maiden race, Desormeaux shipped the son of Birdstone to Belmont Park to take a shot at the 5 ½ furlong Tremont Stakes. Swipe went five wide, but gained ground to finish third.
Swipe earned his first victory in his third start, the 5 ½ furlong Summer Juvenile Championship Stakes by a tightly contested head. The aforementioned Ralis was in the race and finished far back in the field.  Fresh off of his victory in the  Summer Juvenile Championship, Swipe met up with Nyquist in the Best Pal. He has yet to beat that foe, yet Swipe has finished ahead of every other contender.  Swipe finished his year chasing Nyquist and finished second 2 ¼ lengths ahead of the third place horse, Brody's Cause.  The $5,000 sales colt has earned $608,330 in seven starts and has 12 Kentucky Derby qualifying points.
Sire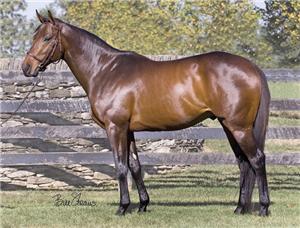 Birdstone   (Grindstone - Dear Birdie, by Storm Bird) put the Saratoga crowd on notice that he was a quality colt in his debut when he splashed his way to a twelve length victory in a six furlong maiden race. The son of Kentucky Derby hero Grindstone hit the gate and finished fourth in the Hopeful Stakes (G-1), but returned to finish out his two year old season with a 2 ½ length score in the Champagne Stakes (G-1).  
The following year, Birdstone had only two preps before the Kentucky Derby. After outclassing a small allowance field, the Nick Zito trainee had a brutal trip in the Lanes End Stakes and finished off of the board.  Birdstone endured another poor trip in the Kentucky Derby and finished eighth behind the popular Smarty Jones in the run for the roses.
A small-statured horse, Birdstone was withheld from the Preakness and pointed towards the Belmont Stakes. Triple Crown hysteria was at its peak in days leading up to the Belmont Stakes. The undefeated Smarty Jones was just a formality away from being crowned as the next Triple Crown champ.  Unfortunately, during the all of the hoopla, someone forgot to give Smarty's jock a riding lesson at Belmont Park. Moving too soon in the race sealed Smarty's fate and the little-known, well bred Birdstone mowed down a staggering, leg-weary Smarty Jones, denying the favorite the crown by a length.  Proving he was no flash in the pan, Birdstone earned the Travers' trophy before finishing seventh in the Breeders' Cup Classic. The three year old colt developed a bone chip in the Classic and retired with a 9-5-0-0 ($1,575,600) record to Gainesway Farm.
Birdstone quickly set about getting two classic winners in his first crop with 2009 Kentucky Derby shocker Mine that Bird and 2009 Belmont Stakes winner Summer Bird, who was voted Champion Three Year Old Colt. Birdstone's subsequent foals haven't had the same success as his initial group.  However, his babies are durable, sound runners and he averages 4% stakes winners. That's very good for a stallion who currently stands for $5,000.
Besides Mine that Bird and Summer Bird, Birdstone's offspring include Clark Handicap (G-1) hero Noble Bird, track record setter Birdrun, and the multiple stakes winning sprinter Thank You Marylou. 
Female family
Avalanche Lily (Grand Slam - Batanda, by Batonnier) was a late-comer to the races, racing for only her four year old season. She entered the starting gate five times in her career, compiling one victory and one second place finish, both times at six furlongs and earned $15,296.
As a broodmare, Avalanche Lily would be considered a mediocre broodmare before Swipe came along. She bore five other foals in addition to Swipe, all colts. Four are of racing age, three have started and two are winners. She has a 2015 Into Mischief colt. Ironically, three of the mare's colts brought $30,000 or more at the sales, while her greatest earner was purchased for $5,000.
At first glance, the first three generations of Swipe's female family seem unremarkable. However, there is plenty of back class in his lineage.  Swipe traces back to one of the most influential broodmares in history, La Troienne (Lowes Female Family 1-x) who is Swipe's ninth dam. La Troienne and her daughters are noted for carrying the large heart gene. Swipe's sixth dam Finance (Nasrullah) is a half sister to Buckpasser (Tom Fool) and his fifth dam La Mesa (Round Table) was Champion Two Year Old Filly.  LaMesa was an excellent broodmare. She bore Outstandingly (Exclusive Native), who like her dam, earned Juvenile Championship honors and holds the distinction as the heroine of the inaugural Breeders' Cup Juvenile Fillies.  La Mesa's descendants continue to produce high quality runners. Her daughter La Affirmed (Affirmed) is the dam of the well-known sire Bernstein (Storm Cat) and she's the grand-dam of Sky Mesa (Pulpit).
Swipe's fourth dam Corporate Queen (Truxton King) produced little in the way of blacktype runners, however she is the granddam of the multiple stakes winner Batroyale (Batonnier), who captured the Sorrento Stakes and Del Mar Debutante. Swipe's second dam Batanda (Batonnier) finished third in the Cal Cup Distaff Starter Handicap. In addition to Swipe's dam Avalanche Lily, Batanda bore the juvenile stakes winners Horatio (Sea Hero) and Skewing (Skimming) and the three year old stakes winner Snazzyboy (Petersburg).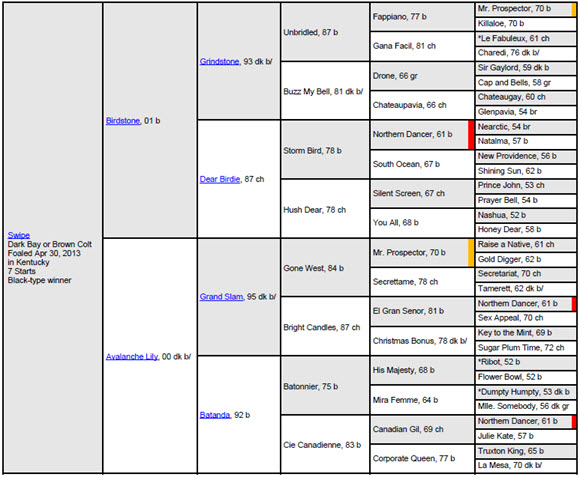 Damsire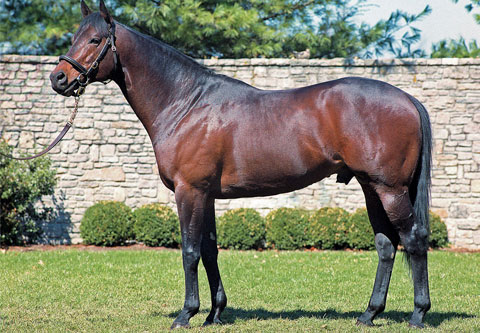 Grand Slam (Gone West - Bright Candles, by El Gran Senor) was a speedy, win-early type, earning victories in three of five starts at two, including a pair of Grade One stakes, the Belmont Futurity and  Champagne.  Grand Slam went to the post of the Breeders' Cup Juvenile as the second favorite. During the race he sustained a cult leg and was pulled up. After recovering, Grand Slam wasn't the same horse. He entered the winner's circle only once more, in the Peter Pan (G-2). Grand Slam finished second in the Swaps, Jerome Handicap and Breeders' Cup Sprint (G-1) and placed third in the Haskell (G-1).
Grand Slam was a popular stallion, who, at the time of his death from heart failure at the age of 17 in 2012, had sired two champions and 21 graded stakes winners. Grand Slam's daughters had just started producing runners at the time of the stallion's death. As a broodmare sire, Grand Slam is represented by 32 stakes winners, including Ruffian Stakes (G-1) heroine Malibu Prayer, Secretariat Stakes (G-1) hero Admiral Kitten, plus multiple graded stakes winners Bradster and Valid.
Swipe has similar breeding to Florida Won, who is by Birdstone out of a Grand Slam mare. Florida Won has captured the nine furlong Ontario Derby (G-3), Seagram Cup Stakes (G-3) at 1 1/16 miles, and the Presque Isle Mile. He finished second in the Dominion Day Stakes (G-3) at 1 ¼ miles.
Overall, Birdstone has sired six foals, four winners and two stakes winners out of Grand Slam mares.
Swipe's second damsire the little-known Batonnier, was a grandson off the legendary Ribot. Batonnier won three stakes, including the Ohio and Illinois Derbies, at distances ranging from a mile to 1 1/8 miles.  He placed second in the Swaps Stakes in his only stakes attempt at 1 ¼ miles. Batonnier spent his stud career in California and his most accomplished offspring was Santa Anita Derby hero Cavonnier, who ironically placed second in the Kentucky Derby to Grindstone, the sire of Birdstone.
Outlook
Swipe is a moderate sized colt. The majority of Birdstone's offspring tend to be small plain brown wrapper types without a lot of obvious muscle.  Swipe has the build of a lean two-turn horse. He has a deep slanted shoulder balanced by a strong hind quarter. He has good leg extension without excessive knee action or paddling.  
Swipe's pedigree indicates that the colt has plenty of room to mature. He should love running 1 1/8 miles and should have the ability to handle 1 ¼ miles. He's a professional colt who can race where his jockey places him and Swipe has a fearless competitive streak. This talented youngster is a serious 2016 Kentucky Derby contender.  As he matures, Swipe should finally best his nemesis Nyquist, especially when the race distances lengthen.