Mohaymen became the latest buzz horse on the 2016 Kentucky Derby trail with his authoritative 1 ½ length victory in the Remsen Stakes. Undefeated in all three of his career outings, Mohaymen previously won the Nashua Stakes by 1 ¾ lengths, becoming the first colt since 2010's To Honor And Serve to capture both races. The two-time stakes winner was bred by Clearsky Farms and attracted the attention of Shadwell Stable, who purchased Mohaymen from the 2014 Keeneland September Yearling Sale for $2.2 million dollars.
Watching Mohaymen win the Remsen Stakes, I couldn't help but think of his stablemate Frosted, who was second in last year's Remsen Stakes and later won the Wood Memorial and Pennsylvania Derby.  Frosted chased American Pharoah through the Triple Crown, finishing fourth in the Kentucky Derby and second to the Champ in the Belmont Stakes. Both pretty gray colts are trained by Kiaran McLaughlin, but the comparison doesn't stop there. 
Mohaymen (Tapit - Justwhistledixie, by Dixie Union) is by the leading sire, Tapit, as is Frosted. Mohaymen's dam is by Dixie Union, a grandson of Northern Dancer.  Frosted's dam is also by a grandson of Northern Dancer, Deputy Minister. Both colt's third damsires are sons of the classic chef-de-race, Hail to Reason and Mohaymen and Frosted both carry the genes of Seattle Slew through their sire and damsire lines.
Mohaymen and Frosted's dams are stakes winners and the colts are so similar in appearance that they could be brothers. Yet, Mohaymen is more accomplished at this point in his career than Frosted. Frosted was less precocious. He faced the starter four times as a two year old and won his maiden in his third start. Frosted finished second in the Remsen to complete his initial racing season.  
Sire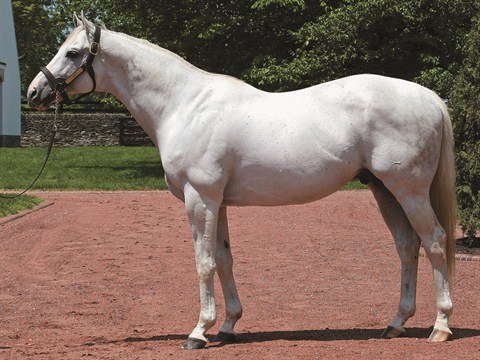 TAPIT (Pulpit – Tap Your Heels, by Unbridled) started only twice as s two year old and won the Laurel Futurity (G-2) in his second start.  His three year old season was delayed early due to shin problems, but he recovered to be ambitiously entered in the Florida Derby. His sixth place finish was explained away by a lung infection. The gray colt recovered to race just four weeks later. In the 2004 Wood Memorial, Tapit made a sustained drive to win the race by ½ length. Tapit's entry into the Kentucky Derby was too much too soon for the colt, as he finished ninth without ever making a bid.  Tapit had a reoccurrence of his lung infection and missed the rest of the summer. He raced once more, again finishing ninth, this time in the Pennsylvania Derby (G-2). Tapit retired with a 6-3-0-0 ($557,300) record.
Tapit is a son of sire-of-sires Pulpit and a grandson of the Intermediate/Classic Chef de Race A.P. Indy. He retired to Gainsway Farm for an initial stud fee of $15,000 and his stud fee has risen to $300,000.  Tapit quickly gained attention as major sire and within just eight years, has sired six champions and 43 graded stakes winners. He gets a remarkable 8% stakes winners and 9% stakes placed runners. The average percentage of stakes winners for the typical stallion is closer to 3 or 4% stakes winners. 
At stud, Tapit has stepped into the horse shoes of his deceased sire, Pulpit. Tapit has proven his versatility, getting winners over all surfaces, although ¾ of his babies race over the dirt. The majority of his offspring are best up to 1 1/8 miles, but he has proven entirely capable of getting winners at classic distances. Tapit's progeny range from precocious to late maturing types and everything in between. His stakes winning offspring at 1 ¼ miles and beyond include last year's Belmont Stakes and Jockey Club Gold Cup winner Tonalist, Alabama Stakes heroine Careless Jewel, Hawthorne Gold Cup victor Headache, and Testa Matta, winner of the Japan Dirt Derby.
Female Family
Mohaymen's dam, Justwhistledixie (Dixie Union - General Jeanne, by Honour and Glory) was trained by Kiaran McLaughlin early in her career.  After winning her maiden in her third start as a two year old, the precocious miss captured the seven furlong Love Affair Stakes.
The daughter of Dixie Union began her three year old season on a winning note.  She won two consecutive victories in stakes races, the Davona Dale (G-1) at a mile and the 1 1/8 mile Bonnie Miss Stakes (G-2). After a runner-up effort in the one mile Acorn (G-1), Justwhistledixie transferred to the barn of Bill Mott. The filly finished out her three year old season with another second place finish in the Top Flight Handicap (G-2) at a mile. As a four year old, Justwhistledixie developed a case of camera shyness, unable to hit the board in four starts.  She retired with an excellent 12-5-2-2 ($449,427) race record.  
Justwhistledixie's first foal New Year's Day faced the starter only three times. The son of Street Cry made those starts count. After capturing his maiden win in his second start, New Year's Day surprised in the Breeders' Cup Juvenile, beating the favorite Havana by 1 ¼ lengths. Unfortunately, New Year's Day was injured shortly thereafter and retired to Hill 'n' Dale Farms.
Winslow, Justwhistledixie's second colt, was purchased by Godolphin for $600,000 at the 2013 Keeneland September Yearling Sale. Shipped to England, the son of Distorted Humor has compiled a 5-1-0-1 ($10,331) record over turf and Tapeta.
Mohaymen's distaff line is filled with stakes winners, many of them precocious. His dam's half brother Chance City (Carson City) won the Saratoga Special. Her half brother Bracken (Distorted Humor) finished second in the six furlong True North (G-2) and another half brother, Dominant Jeannes (Pleasantly Perfect) was a runner up in back-to-back editions of the Claiming Crown Jewel at 1 1/8 miles.
Other notable winners developed from this recent distaff line include Sanford Stakes victor Overdriven, and his half brother, Ohio Derby winner Smooth Air, Kentucky Cup Classic winner and sire Shaniko and Breeders' Cup Filly & Mare Turf heroine Shared Account.
Mohaymen has Rasmussen Factor inbreeding (inbred to a blue hen within five generations) to Foggy Note through the full siblings Relaunch and Moon Glitter. Inbreeding to a blue hen has proven to be a positive breeding factor resulting in many high level stakes winners.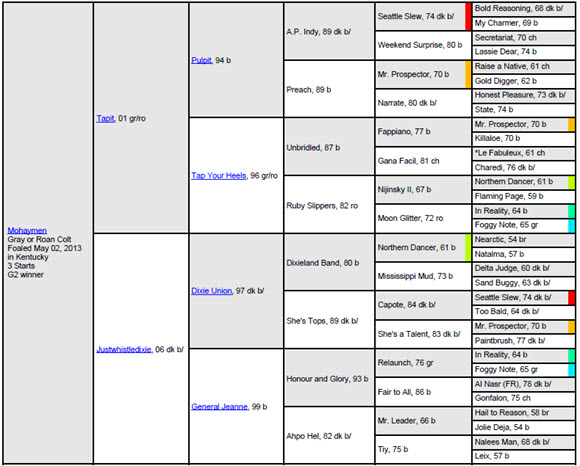 Damsire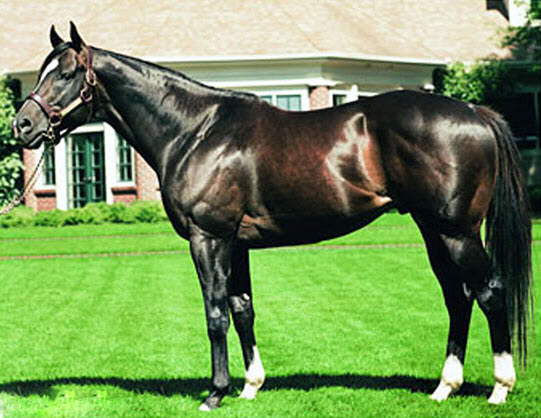 Dixie Union (Dixieland Band - She's Tops, by Capote) was a win-early type, earning victories in four of six attempts as a two year old. He captured the Hollywood Juvenile Championship Stakes (G-3), Best Pal (G-2) and the Norfolk Stakes (G-2) and finished second in the Del Mar Futurity, then a Grade 2.  Farther back than usual in the full field of the Breeders' Cup Juvenile, Dixie Union could do no better than fifth.  The dark brown colt stuck mainly to sprint stakes races as a three year old, but he managed to stretch his speed to 1 1/8 miles, earning a hard fought victory over the favorite Captain Steve.
Dixie Union won from 5 furlongs to 1 1/8 miles.  Overall, he won 7 of 12 starts and placed 3 times, mainly in Grade 2 and 3 company. The worst finishes in his career came in the BC Juvenile (5th) and Travers Stakes (4th). As a sire, the majority of his offspring won from sprints to middle distances up to 1 1/8 miles, however, his son Union Rags won the Belmont Stakes and another son, Grasshopper, finished second in the Travers.
Dixie Union is a young broodmare sire. So far, most of his daughters are bearing precocious offspring. Cristina's Journey won last year's Pocahontas Stakes, Besharah a 2015 two year old, has competed at the highest levels as stakes winning sprinter in England. The multiple stakes placed Wonder Gal is also out of a Dixie Union mare.   
The Tapit/Dixie Union bloodline cross is small but potent.  Four foals have been produced by this nicking. All four are winners, and one, Mohaymen, is a stakes winner.  The four have combined earnings of over $455,000.
Outlook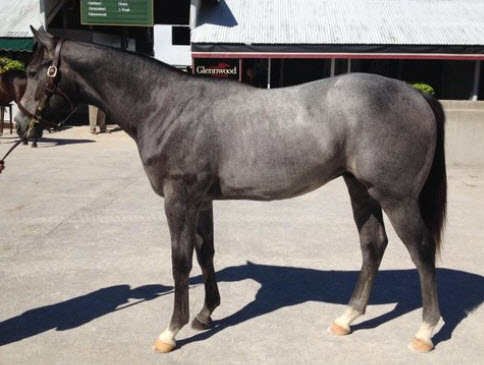 Mohaymen has his sire's gray coloring and physical stature.  He's an average sized colt with an athletic, well-balanced build.  Mohaymen has been very professional in all of his starts. He's content to run where his jockey places him in the early race stages.  The colt showed his fearlessness in the Remsen when he squeezed through a narrow opening between horses and fought for the lead.
The comparisons between Mohaymen and Frosted are striking. However, so far, Mohaymen is showing more promise than his stablemate. Mohaymen has the pedigree of a solid middle distance horse, however, the colt's running style, determination and conformation indicate that he could handle 1 ¼ miles. Mohaymen should only improve as a three year old and should be considered, at least at this point, as a serious contender in next year's Kentucky Derby prep races.