Destin emphatically stamped his name in the Tampa Bay Downs history book when he out-gamed seven rivals in the Tampa Derby (G2). The pretty gray colt set a new track and stakes record for 1 1/16 miles in 1:42.82, beating his stablemate Outwork (Uncle Mo) by a length.  Destin is only the fourth colt to capture the Sam F. Davis Stakes and Tampa Bay Derby since the races series inception in 1981.  The last colt to win both contests was Burning Roma in 2001.   
Destin (Giant's Causeway - Dream of Summer, by Siberian Summer) was bred by James Weigel & Taylor Made Stallions.  Weigel bred and raced Destin's dam and bred Destin's full brother, Creative Cause.  Destin attracted the winning bid of $400,000 from Twin Creeks Racing Stables at the Keeneland September Yearling sale. Todd Pletcher conditions the colt. 
A mid-April foal, Destin captured his October debut traveling seven furlongs at Belmont Park. He returned to finish second in a mile allowance race at Gulfstream Park in December. A month later, Destin never made it out of mid-pack in the LeComte Stakes (G3) and finished fourth.  After a blinker adjustment so that he could see the competition, Destin showed his true capabilities. He captured the Sam F. Davis (G3) and improved even more in the Tampa Bay Derby.  Destin has compiled a 5-3-1-0 ($390,700) race record and holds 51 Kentucky Derby qualifying points.
Sire
Giant's Causeway (Storm Cat - Mariah's Storm, by Rahy) was nicknamed "The Iron Horse," for his exploits over the English, Irish and French racecourses. The sensational colt came within a flared nostril of winning the Breeders' Cup Classic in his only start on dirt, racing over a left-handed course in an unfamiliar setting. The 2000 European Horse of the Year won from about 6 ½ furlongs to 1 5/16 miles (10.5 furlongs). He competed in ten Group 1 Stakes and was victorious in six of them.
Giant's Causeway is an internationally acclaimed leading sire and is building a reputation as a sire of sires. He was leading US sire in 2009, 2010 and 2012, and has been a top five leading sire for the last three years. In 2010, he was recognized as a Classic chef-de-race, and passes stamina attributes to his offspring. 
Surprisingly, Giant's Causeway's progeny as a sire and damsire have not had much success in the Triple Crown. His son Creative Cause, the full brother to Destin, finished third in the 2012 Preakness and is the stallion's only representative to hit the board in a Triple Crown race. 
Giant's Causeway's other 2016 Kentucky Derby hopeful is Brody's Cause who finished seventh in the Tampa Bay Derby. The colt has been breezing regularly at Palm Meadows. Giant's Causeway is also the damsire of Louisiana Derby hero Gun Runner.  
Female Family
Destin is a product of breeding the most accomplished mares in his ancestry. The California-based distaff line is fairly modest, but the clear line of blacktype earners goes back to Destin's fifth dam, Opening Bid. Four of Destin's first five dams are stakes winners and all faced the starter twenty or more times. Destin's second dam is unraced, but passed the genes along to his dam.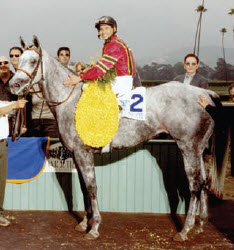 Destin's dam Dream of Summer (Siberian Summer - Mary's Dream, by Skywalker) out-performed her modest California pedigree, both on the racetrack and in the breeding shed. After competing in allowance races as a two-year-old, the pretty gray moved into graded stakes competition at three. Dream of Summer was victorious in six stakes races, from the 6 ½ furlong Rancho Bernado Handicap (G3) to the 1 1/16 mile Apple Blossom (G1).  She was second in two editions of the Santa Margarita Invitational at 1 1/8 miles, the first time by a nose. Overall, the hardy mare started 20 times, winning half of her starts and finishing in the money in seven attempts. She earned over $1 million dollars and California Champion Older Mare accolades for her exploits.  In 2014, Santa Anita named a mile race in Dream of Summer's honor.
The seventeen-year-old Dream of Summer is the dam of nine foals.  Seven, not including a two-year-old, are of racing age and five of them have compiled race records. Her third foal, Destin's full brother Creative Cause, is the mare's only other blacktype earner.
Destin has an unnamed full sister who sold for $150,000 at last year's Keeneland September yearling sale. He has an unnamed yearling half-brother by Graydar who was a $135,000 weanling purchase last November. Dream of Summer is expecting another full sibling to Destin and Creative Cause this year.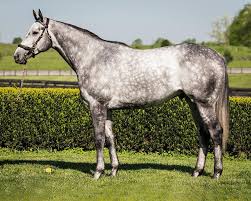 Creative Cause was more precocious than Destin.  He hit the board in all five starts as a two-year-old, including victories in the Best Pal (G2) and Norfolk (G1). Creative Cause finished second in the Del Mar Futurity (G1) and third in the 2011 Breeders' Cup Juvenile (G1). The following year, Creative Cause won the San Felipe Stakes (G2) and was beaten a nose in the Santa Anita Derby (G1) by I'll Have Another. The pretty gray made up ground during the running of the Kentucky Derby to finish fifth, three lengths behind his rival, I'll Have Another, in the Preakness, Creative Cause finished third behind I'll Have Another and Bodemeister. Creative Cause was aiming for the summer Del Mar meet when he was retired to stud.  Like his dam, Creative Cause was successful from 6 ½ furlongs to 1 1/16 miles, and was second by a nose at 1 1/8 miles. He finished in the money at 1 3/16 miles.
Destin's second dam Mary's Dream was unraced. His second and third dams, Proper Mary and My Mary, earned listed blacktype awards as sprinters. Destin's fifth dam Opening Bid was a multiple stakes winner from seven furlongs to 1 1/16 miles. Her victories included the Oak Leaf Stakes at two, the Santa Ynez at three and the Milady Stakes as a four-year-old.
Damsire: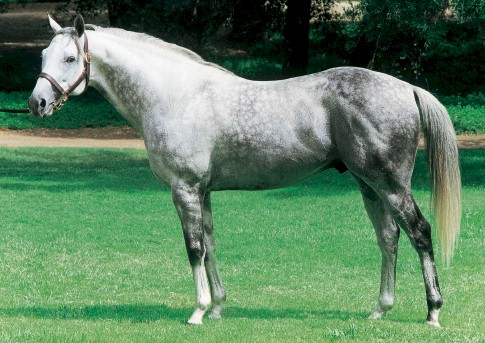 Destin's damsire Siberian Summer (Siberian Express - Mia Karina, by Icecapade), a grandson of Caro, was veteran of 32 races. He won six contests and placed in eight others. The gray horse was victorious in the Charles H. Strub Stakes (G1) at 1 ¼ miles and placed in the Volante Handicap (G3), Bay Meadows Derby (G3) and El Cajon Stakes. Siberian Summer was a versatile runner, winning from seven furlongs over the turf to 1 ¼ miles on dirt.
The beautiful gray Siberian Summer was a top stallion in California, where he won the majority of his races. He six graded stakes horses and two champions from 13 crops to race. The majority of Siberian Summer's progeny are sprinter – miler types, However, he sired four stakes winners that were victorious beyond a mile, including two at 1 ¼ miles. Destin's dam Dream of Summer was the stallion's most accomplished runner.
The offspring of Siberian Summer's daughters are young and most of their offspring are competing in the claiming ranks. Besides Destin and Creative Cause, Siberian Summer is the broodmare sire of the stakes winning milers My Happy Face and Soi Phet. It's hard to determine whether Siberian Summer will have stamina or speed influence on his daughter's progeny, given the limited number of their runners.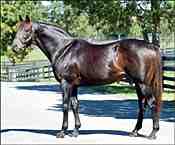 Destin's second damsire Skywalker (Relaunch - Bold Captive, by Boldnesian) was a veteran handicap horse with 20 starts under his girth.  He earned stakes victories from a mile to 1 ¼ miles, and his greatest accomplishment was capturing the 1986 Breeders' Cup Classic. Skywalker's genes live on in his best son, the Champion Older Male and prominent California sire Bertrando. Skywalker's offspring won up to 1 ¼ miles. 
Skywalker is the damsire of Hollywood Gold Cup (G1) winner Sky Jack, and also the second damsire of Belmont Stakes hero Palace Malice. Hollywood Gold Cup (G1) winners Rail Trip, Hollywood Starlet (G1) heroine Killer Graces, Chocolate Ride, two-time winner of the Fairgrounds Breeders' Cup Handicap and Ladies Handicap heroine Teen Pauline.
Outlook:
If Destin follows in the hoof prints of his dam and older brother, he should be competitive at 1 1/8 miles and will be borderline for classic distances. However, as we've seen in many instances, full siblings rarely perform in a similar manner. Destin's female family is filled with stakes winners' full siblings who were duds on the track and in the breeding shed.  Destin, and his brother Creative Cause, are the first full siblings in the family to both earn blacktype.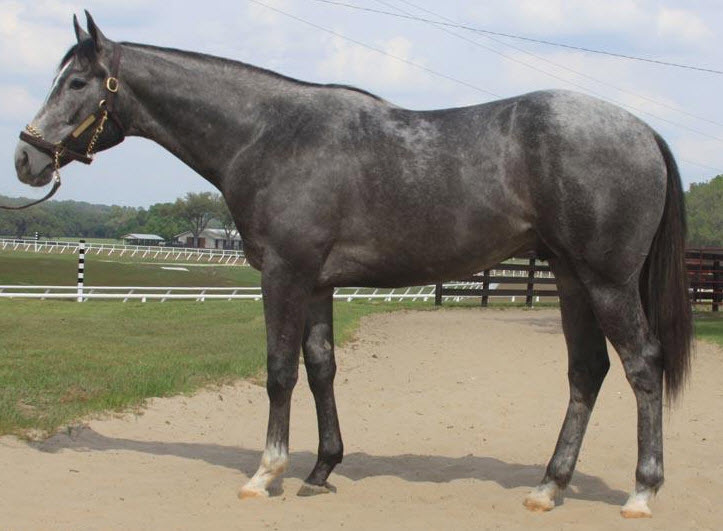 Destin and Creative Cause share gray coloring, but that's where the physical similarity ends.  Destin has a thick neck, deep but slightly upright shoulder and short back. He has a muscular build, and his neck and shoulders appear more powerful than his hind end, comparable to his damsire, Siberian Summer.  
Destin has a smooth running action with average extension. In the stretch of the Tampa Bay Derby, Destin appeared to bear out slightly and lose focus and momentum while being aggressively encouraged by Javier Castellano to pass Outwork, who was fighting grimly to hold the lead. Once Castellano brought Destin closer to Outwork, Destin saw his rival, found another gear and edged past him.  
Destin prefers to run within three lengths of the lead. The colt has a high cruising speed, with the ability to quicken in the lane.  Destin has a tendency of waiting on other horses and needing encouragement to pass them. Perhaps the blinkers have something to do with this. If Destin can't see his rivals, that fighting spirit won't kick in.
Only one colt has won the Tampa Bay Derby and the Kentucky Derby. That was Street Sense in 20007. In 2010, Super Saver was third in Tampa and captured the roses in May. Super Saver was conditioned by Todd Pletcher. In the five years since Super Saver's Kentucky Derby victory, nine hopefuls exited the Tampa Bay Derby and raced in Kentucky. The highest placing in Kentucky was by Danzig Moon, who finished fifth last year.  
According to Twin Creeks Racing, Destin will train up to the Kentucky Derby with no further prep races. The colt has competed four times since December, and hasn't run farther than 1 1/16 miles.
Destin's conformaton photo used by permission of Twin Creek Racing.