D. Wayne Lukas and jockey Jon Court took charge of this weekends Kentucky Derby Prep races. Lukas' colt Oxbow took command early on in the LeComte Stakes (G-3) to win by over 11 lengths. His other trainee, Will Take Charge, didn't have it so easy in the Smarty Jones Stakes.

Breaking from the far outside, Will Take Charge was wide the whole way. Through the half mile, the Chestnut colt sat just off of the pace set by Avare and his shadow Texas Bling. Will Take Charge inched his way up to the throat latch of Texas Bling in the stretch as Avare gave way. The courageous runner battled through the stretch with Texas Bling, poking his white nose in front at the last possible second at the wire. Always In A Tiz charged from mid-pack to get up for third, beaten a head for third. The final time of 1:38.64 for a mile was the third fastest since the race's inception in 2008.
WILL TAKE CHARGE (Unbridled's Song - Take Charge Lady, by Dehere) was a $425,00 Keeneland September yearling purchase by Willis Horton. In his second start, Will Take Charge stormed from the back of the pack to win a seven furlong maiden event over the speed favoring Keeneland Polytrack. The brilliant Chestnut colt threw in a clunker in the Kentucky jockey Club Stakes (G-3) next time out. Just a couple of weeks later, Will Take Charge found himself under the guidance of a new jockey, Miguel Mena. Trying a new tactic, they went to the lead in the Remington Mile, but were out-finished by the longest shot on the board, their rival Texas Bling. To date, Will Take Charge has a 5-2-0-1 ($184,171) record and was awarded ten points for his Smarty Jones victory.
Sire:
Will Take Charge's sire Unbridled's Song was victorious on the racetrack from seven furlongs to 1 1/8 miles. The pretty gray won the 1995 Breeders' Cup Juvenile in was, at the time, the fourth fastest running. Despite this accomplishment, the son of Kentucky Derby Champ Unbridled lost out on year-end Championship honors to another gray horse, Maria's Mon, who had won the Sanford, Belmont Futurity and Champagne Stakes. The following year, Unbridled's Song was made the favorite for the Kentucky Derby after prevailing in the Florida Derby and Wood Memorial. He finished fifth in the classic, and didn't return to the winner's circle until his final race, an ungraded contest at Gulfstream Park in which only three competitors started.
The now almost-white stallion is popular with breeders. He's sired two Champions and 42 graded stakes winners from 14 crops to race. Nine of his offspring, including Grade 1 winners Octave and Political Force have been successful at 1 ¼ miles.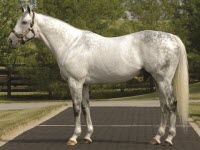 Race record: 12-5-4-0 ($1,311,800)
Career Highlights:
1st – Breeders' Cup Juvenile (G-1) 1 1/16 miles
1st - Florida Derby (G-1) 1 1/8 miles
1st - Wood Memorial Stakes (G-1) 1 1/8 miles
1st - Olympic Handicap 7F
2nd - Hutcheson Stakes (G-2) 7F
2nd - Fountain of Youth (G-2) 1 1/16 miles
2nd - Peter Pan Stakes (G-2) 1 1/8 miles
Female Family:
Will Take Charge's dam Take Charge Lady was one of the top mares of her generation on the race track. The competitive mare faced graded stakes company in 19 of her 22 starts and tangled with the likes of Champions Azeri, Farda Amiga, and the fantastic mares You, Sightseek and Imperial Gesture. Take Charge Lady won three graded stakes at 1 1/8 miles and placed second once at 1 ¼ miles.
Anticipation builds around the offspring of popular stakes winners and expectations are high. Unfortunately, the progeny of strong, hardy graded stakes mares are often a disappointment. Take Charge Lady foaled three babies, none whom had visited the winners circle more than twice, before producing Will Take Charge's half brother, Florida Derby winner Take Charge Indy (by A.P. Indy).
Take Charge Lady was the top earner amongst her siblings. Her half-brother Commendation (by Capote) was a stakes winning turf miler and her half-sister, Eventail (by Lear Fan) won the New York Oaks. Two half-sisters, the aforementioned Even Tail and an unraced half-sister Jessie Take Charge (by War Chant), produced the stakes horses Straight Story (by Giant's Causeway), a top turf router, and the Grade 2 stakes placed Northern Giant (by Giant's Causeway). Breeders' Cup Turf Sprint hero Chamberlin Bridge (by War Chant) was produced by this distaff line.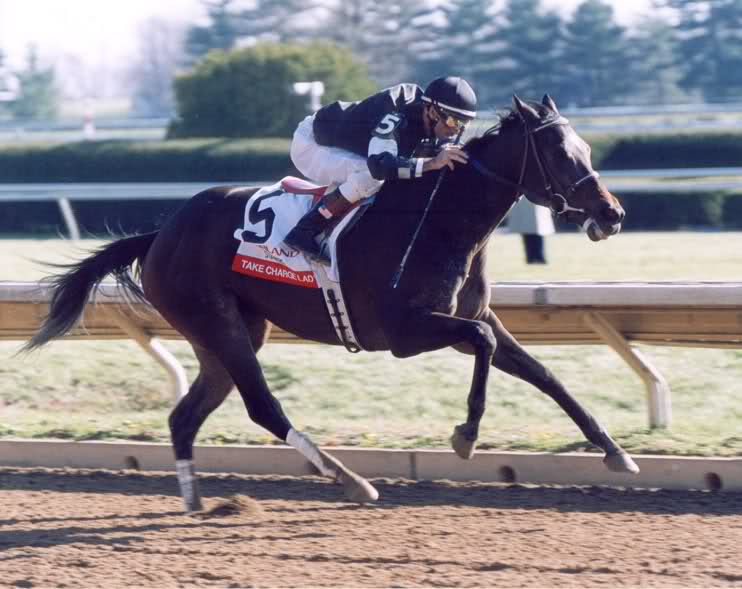 Race Record: 22-11-7-0 ($2,480,377)
Career Highlights:
1st - Ashland Stakes (G-1) 1 1/16 miles
1st - Spinster Stakes (G-1) 1 1/8 miles (twice)
1st - Alcibiades Stakes (G-2) 1 1/16 miles
1st - Fair Grounds Oaks (G-2) 1 1/16 miles
1st - Silverbulletday Stakes (G-3) 1 1/6 miles
1st - Dogwood Stakes (G-3) 1 1/16 miles
1st - Arlington Matron Handicap (G-3) 1 1/8 miles
2nd – Kentucky Oaks (G-1) 1 1/8 miles
2nd - Gazelle Handicap 1 1/8 miles
2nd - Apple Blossom Handicap (G-1) 1 1/6 miles
2nd - Ogden Phipps Handicap (G-1) 1 1/6 miles
2nd - Delaware Handicap (G-2) 1 ¼ miles
2nd - Falls City Handicap (G-2) 1 1/8 miles
2nd - Golden Rod Stakes (G-2) 1 1/16 miles
Damsire:
Will Take Charge's damsire Dehere, a son of two-time Champion Deputy Minister out of a daughter of Secretariat, was a phenomenal juvenile. Dehere entered the record books as only the fourth horse in history to sweep all graded stakes contests for juveniles at Saratoga; the Saratoga Special, Sanford, and Hopeful Stakes. Dehere place second in the Belmont Futurity before a victory in the Champagne Stakes. Sent off as the favorite in the Breeders' Cup Juvenile, Dehere placed a disappointing eighth, his only out of the money finish in his career. Despite the loss, Dehere was voted Champion Juvenile of 1992. There were high hopes for Dehere's three year old season. He posted a ¾ length win over Go For Gin in the Fountain of Youth, but like so many other Derby aspirants, Dehere's racing career came to an end after he fractured his right hind cannon bone.
Dehere is making his mark as a quality broodmare sire and he's one of the 50 leading broodmare sires in North America. His daughters bore the Champion Sprinter Midnight Lute, three Group 1 Australian winners and Spinaway Stakes heroine So Many Ways. Dehere's daughters have produced seven stakes horses who have won at 1 ¼ miles or farther.
DEHERE (Deputy Minister - Sister Dot, by Secretariat)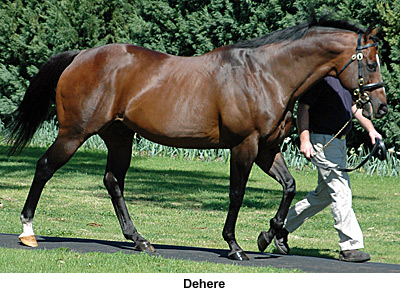 Race Record: 9-6-2-0 ($723,712)
1st - Hopeful Stakes (G-1) 6 ½ F
1st - Champagne Stakes (G-1) 1 mile
1st - Saratoga Special Stakes (G-2) 6F
1st - Fountain of Youth Stakes (G-2) 1 1/6 miles
1st - Sanford Stakes (G-3) 6F
2nd - Futurity Stakes (G-1) 7F
Rubiano (Fapiano – Ruby Slippers, by Nijinsky) is Take Charge Indy's second damsire. The grandson of Mr. Prospector earned Championship Sprinter honors in 1992. The majority of his daughter's offspring are sprinters. His daughters have produced five winners at 1 ¼ miles or farther. All except one raced in Europe, Japan or South America.
The cross of Unbridled's Song with mares by Dehere has been quite successful. The pairing has netted six winners and two stakes winners from seven foals. The gray filly Strike It Rich, a Grade 3 winner over the turf is the other stakes winner produced from this bloodline cross.
Summary:
Will Take Charge is a flashy Chestnut colt with lots of chrome (white points). Unlike his older half brother when Take Charge Indy was an early three year old, Will Take Charge is large and well-muscled, with a body type similar to the Champion Curlin. Will Take Charge has a fluid gallop with no excess leg movement. He's a versatile colt, willing to sit at the back of the pack or go to the lead as the situation demands. His pedigree holds the stamina and class to make Will Take Charge a legitimate contender on the Triple Crown Trail. So far, none of the winners or runners-up in the short history of the Smarty Jones have been competitive in the Kentucky Derby, although the race did yield the older stakes veteran Flat Out, who won the race in 2009. Will Take Charge will likely headline the Rebel Stakes at Oaklawn on March 16.