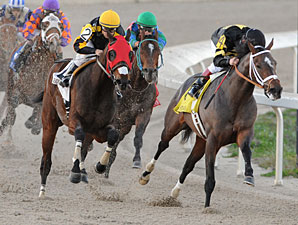 There was an Oxbow incident at the Fairgrounds on Saturday afternoon in the LeComte Stakes (G-3). Oxbow, ridden skillfully by Jon Court, bumped slightly with FEAR THE KITTEN coming out of the gate. After straightening out, Oxbow bounded to the lead while HEITAI captured the rail and briefly pressured the leader. Court set a slow pace, getting the first quarter in :24.44 and a half in :48.58. They ran on unopposed traveling six furlongs in 1:13. 34. With slight encouragement from Court, Oxbow opened up through the stretch and galloping to an 11 ½ length win, while the rest of the field staggered home like a hungover group of frat boys. The final time for the 1 mile 70 yards was 1:43.30, a tick faster than last year's winner Mr. Bowling (1:43.49).
Conditioned by legendary hall of fame trainer D. Wayne Lukas, OXBOW (Awesome Again - Tizamazing, by Cee's Tizzy) was a $250K Keeneland September yearling purchase by Bluegrass Hall. The late-developing colt needed time win his maiden, getting the job done in front-running fashion at Churchill in late November. Oxbow was ambitiously placed in the CashCall Futurity (G-1) in his next start. The bay colt was wide the entire way in the CashCall, and still managed to finish fourth. Oxbow has compiled a 6-2-0-1 ($217,500) race record and is in third place in the new Kentucky Derby standings with 11 points.
Sire:
Oxbow's pedigree indicates that he's a late-maturing colt and will improve as a three year old. His sire Awesome Again was a strong route runner, excelling at 1 1/8 to 1 ¼ miles. As a stallion, Awesome Again produces two turn runners and his best progeny include Horse of the Year Ghostzapper, Champion Older Female Ginger Punch, Breeders' Cup winners Round Pond and Wilco.
AWESOME AGAIN ( Deputy Minister - Primal Force, by Blushing Groom (FR))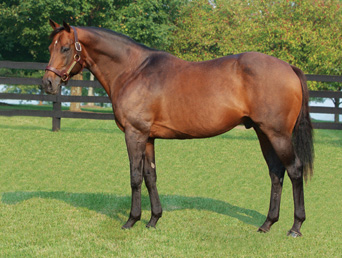 Race Record: 12-9-0-2 ($4,374,590)
Career Highlights:
1st – Breeders' Cup Classic (G-1) 1 ¼ miles
1st – Whitney Handicap (G-1) 1 1/8 miles
1st - Stephen Foster Handicap (G-2) 1 1/8 miles
1st - Jim Dandy Stakes (G-2) 1 1/8 miles
1st - Saratoga Breeders' Cup Handicap (G-2) 1 ¼ miles
1st – Hawthorne Gold Cup (G-3) 1 ¼ miles
1st - Queen's Plate Stakes – 1 ¼ miles
3rd – Travers Stakes (G-1) 1 ¼ miles
Female Family: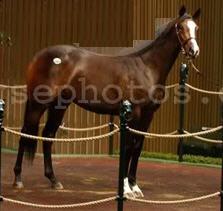 Oxbow's dam TIZAMAZING sold for $1 million dollars at the 2004 Keeneland September Yearling sales. Unfortunately, the leggy filly never made it to the races. Now the dam of six foals, Tizamazing is a full sister to two-time Horse of the Year Tiznow, plus California Horse of the Year Budroyale and restricted stakes winner Tizbud. She's also a full sister to Sorrento Stakes winner Tizdubai and a half sister to stakes placed C'mon Tiger. (by Storm Cat). Tizamazing's first foal, What Now (by Distorted Humor has made eight starts , with a 1-2-1 record in the claiming ranks. Her second foal, Oxbow's full brother Awesome Patriot, was third in the seven furlong Hollywood Prevue Stakes (G-3) at two, and won the Alydar Stakes at 1 1/8 miles at three. He retired with a 7-3-0-1 ($114,600) record. Tizamazing bore Oxbow's as yet unnamed full brother, plus a yearling filly by Speightstown and a she is in foal to Unbridled's Song.
The major stakes producer Cee's Song is Oxbow's second dam. Don't be surprised to see this mare achieve blue hen status in the next few years. Besides her Champion son and his multiple stakes winning brothers, Cee's Song's daughter's have bore Haskell Invitational hero Paynter (by Awesome Again), plus his stakes winning half siblings Tiz West (by Gone West), Tizakitty (by Distinctive Cat), and Tizalovelylady (by Western Fame). Other stakes winners produced by the mare's offspring include stakes winner Tiz Gianni (by Giacomo) and stakes placed Tizsweetdreams (by Our Emblem).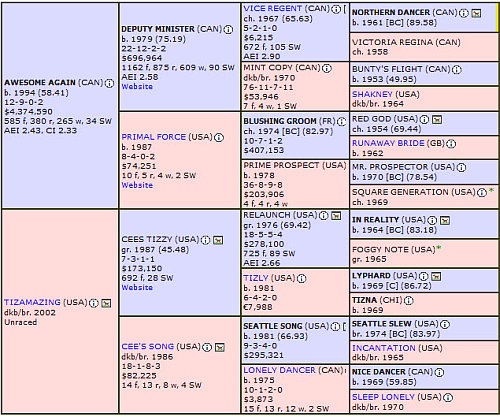 Damsire:
Oxbow's damsire Cee's Tizzy won three of six attempts and was third in the 1990 Super Derby. The pretty gray stallion has become a strong California sire and is best known as the sire of two-time Breeders' Cup Champ Tiznow, but has also sired Champion Older Mare Gourmet Girl and the excellent sprinter Cost of Freedom. His daughter have produced ten stakes winners, including the aforementioned Paynter, South African Group 1 winner Hangman, Grade 3 winners Tiz West and Got The Last Laugh, plus listed stakes winners Tizakitty and Drought Breaker. None of his daughter's stakes winners have been successful past 1 1/8 miles, however, Paynter placed second in a heartbreaking defeat in the Belmont Stakes after making all of the pace.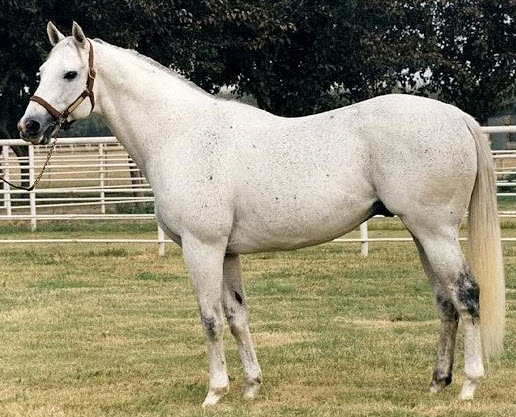 CEE'S TIZZY (Relaunch - Tizly, by Lyphard)
Race Record: 6-3-1-1 ($173,150)
Career Highlights:
3rd – Super Derby (G-1) 1 ¼ miles
Oxbow's second damsire Seattle Song raced in France, Ireland and the US. He captured the Prix De La Salamandre (FR. G1) at about seven furlongs and the Washington DC International Invitational (G-1) at 1 ½ miles, both wins over the turf. Seattle Song's daughters have produced Ogden Phipps Handicap (G-1) champ Seattle Smooth Grade 3 winner Miss Birdstone, as well as the Brazilian and Puerto Rico Group 1 winners Fort Bird and La Veronica.
Oxbow is bred on a proven bloodline cross. He is considered a full brother in blood to the heroic Paynter, as they are by the same sire out of full sisters. Awesome Again has sired 12 foals from Cee's Tizzy mares. Nine have started, six are winners and three are stakes winners. Their combined earnings are $1,346,571. They have won stakes races up to 1 1/8 miles and placed up to 1 ½ miles.
Summary:
Oxbow appears to be of average height and he is well-developed with a very muscular hindquarter. He has a fluid gait with average leg extension. Oxbow runs neatly with no paddling or excessive leg movement and he's a professional horse who runs in a straight line. Oxbow beat a very suspect field in the LeComte and only two winners in the last 40 years have finished in the money in the Classics. Oxbow has a pedigree filled with stamina and quality. So far, both of his victories have been achieved in front-running fashion without being pressured. Only further tests will determine if he owns the talent to become a legitimate Derby contender. Oxbow may face foes in either the Risen Star on February 23 or his trainer may opt for the Rebel Stakes at Oaklawn on March 16.