Flashback toyed with a field of four runners in the Robert B. Lewis Stakes (G-2) at Santa Anita on February 2. Piloted by Julien Leparoux, the gray colt bounced out of the starting gate and was never headed, coasting under the finish line by 6 ¼ lengths, ahead of his stablemate Den's Legacy. Breeders' Cup Juvenile runner-up, He's Had Enough had pressed Flashback early, but faltered to finish a distant third. Trained by Bob Baffert, Flashback set moderate early fractions and traveled the 1 1/16 miles in 1:42.95.
Flashback is untested in two starts. He stalked the pace in his seven furlong debut, then took over in the stretch to win easily by 3 ½ lengths. The lightly raced colt is 2-2-0-0 ($147,000) and earned 10 points in the Kentucky Derby points system.
Owned by Gary and Mary West, FLASHBACK (Tapit - Rhumb Line, by Mr. Greeley) brought $260K at the 2010 Keeneland November sale as a weanling. He's by the pretty gray stallion Tapit, who won the 1 1/8 mile Wood Memorial impressively, but suffered a career-ending injury before the Kentucky Derby.
At stud, Tapit has proven his versatility, getting winners over all surfaces. The majority of his offspring are best up to 1 1/8 miles, although he has sired three winners at 1 ¼ miles; Alabama Stakes (G-1) heroine Careless Jewel, Hawthorne Gold Cup (G-2) victor Headache, and Testa Matta, winner of the Japan Dirt Derby (Gr. 1). February 2 was a productive day for offspring of the popular stallion. Besides Flashback, Tapit was represented by Robert Lewis Stakes third place finisher He's Had Enough (Tapit – Amila, by Dixieland Band), Hutcheson Stakes (G-2) winner Honorable Dillion (Tapit – Shy Greeting, by Shy Tom) and Tapicat (Tapit – Zealous Cat, by Storm Cat) heroine of the Florida Oaks. He is also the sire of 2011 Champion Juvenile, Hansen.
Sire:
TAPIT (Pulpit – Tap Your Heels, by Unbridled)
Race Record: 6-3-0-0 ($557,300)
Career Highlights:
1st – Wood Memorial (G-1)
1st – Laurel Futurity (G-3)
Female Family:
Flashback's dam Rhumb Line was an allowance class seven furlong sprint specialist. She reeled of three straight wins to start her career, but finished sixth after being pitted against Grade 1 competition at 1 1/8 miles. She hit the board only one more time in her nine career starts. Overall, Rhumb Line's compiled a 9-3-0-1 ($96,834) race record.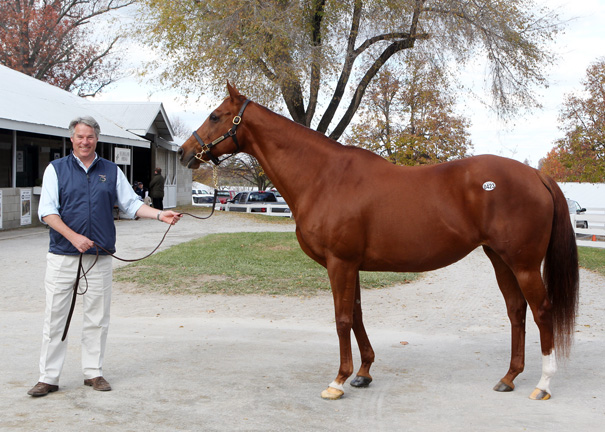 Despite her average race record, Rhumb Line is on her way to becoming a very classy broodmare. Out of five offspring to race, four own blacktype. Her most accomplished foal is Flashback's full sister Zazu. The talented gray filly earned Grade 1 wins in the Las Virgenes and Lady's Secret Stakes and the Grade 2 Hollywood Oaks. In three out of four match-ups, Zazu beat Kentucky Oaks heroine Plum Pretty. The later got her revenge when Zazu was third in the Oaks.
Flashback is also a half brother to Corinthian's Jewel (by Corinthian), a turf listed stakes winner at 1 1/8 miles. A half sister, art Princess, (by Officer) placed in the Cherry Hinton Stakes (Eng. G-2). Rhumb Line has a 2011 unnamed Birdstone filly and a 2012 Tapit colt. She's in foal to Tapit.
The class in Flashback's distaff line evidently skipped a generation. His second dam Rose Rhapsody (by Pleasant Colony) failed to win in 13 starts and none of her offspring managed more than three wins. None earned blacktype. The third dam Rosy Spectre (by Nijinsky) won the Regret Stakes and earned in excess of $90,000 in her 20 race career.
Flashback is descended from the 9-f Lowes Female Family. The 9-f distaff line has produced one Kentucky Derby winner, Bold Forbes, in 1976. Bold Forbes also won the Belmont. Other 9-f Classic winners include Lookin' At Lucky and Nellie Morse (Preakness), Bet Twice, Crème Fraiche and Coastal (Belmont).
 Damsire:
The strong sprinter/miler sire Mr. Greeley is Flashback's damsire. Mr. Greeley won three Grade 3 sprints and was second in the 1995 Breeders' Cup Sprint and the Jerome Stakes (G-2) at a mile.
As a stallion, Mr. Greeley has international appeal. He's sired 2006 European Champion Filly Finsceal Beo, Mother Goose heroine Nonsuch Bay and the stallions El Corredor and Whywhywhy. Mr. Greeley has been a fairly consistent broodmare sire, and has been in the top 50-60 on the leading broodmare sire lists for the last five years. Besides Zazu and Flashback, Mr. Greeley's daughters' have bore 17 stakes winners, including Kentucky Derby runner-up Closing Argument, Grade 2 winner Guy's Reward and Grade 3 winner Blueeyesintherain. None of the progeny of Mr. Greeley's daughters have won at 1 ¼ miles, however, the aforementioned Closing Argument and Guy's Reward have placed at the distance.
MR. GREELEY (Gone West - Long Legend, by Reviewer)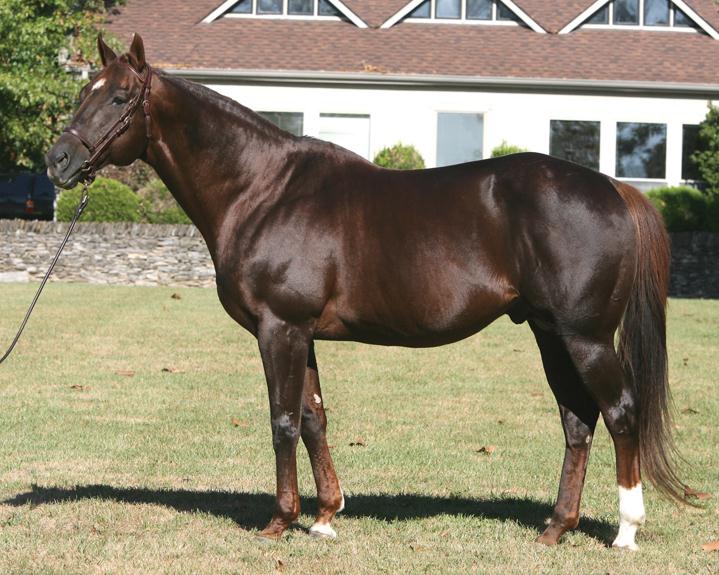 Race Record: 15-5-6-0 ($474,452)
Career Highlights:
1st - Spectacular Bid Stakes (G-3) 6F
1st - Swale Stakes (G-3) 7F 
1st - Lafayette Stakes (G-3) 7F
2nd - Breeders' Cup Sprint (G-1) 6F
2nd - Jerome Handicap (G-2) 1 mile
2nd - Hutcheson Stakes (G-2) 7F
Flashback's second damsire Pleasant Colony (His Majesty - Sun Colony, by Sunrise Flight) won the 1981 Kentucky Derby and Preakness, but was denied the Triple Crown when placing third against Summing in the Belmont Stakes. Pleasant Colony went on to place in the Travers and win the Woodward Stakes, earning Championship Three Year Old honors. He was a competent stallion, siring over 70 stakes winners and two Champions during his stud career. Pleasant Colony was deemed an Intermediate Chef-de-race.
The bloodline cross of Tapit/Mr. Greeley obviously works well, given the exploits of Zazu and Flashback. They are two blacktype winners out of eight starters and five winners. Surprisingly, Tapit's sire Pulpit was never bred to a Mr. Greeley mare.
Summary: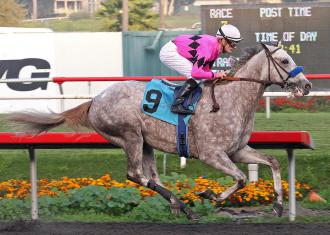 Flashback strongly resembles his sire, both in coloring and body type, which is typical of many of Tapit's offspring. Flashback has a fluid stride, average leg extension with slightly high knee action and no paddling or excessive leg movement. During the race, he did drift slightly from side to side in response to the whip.
Flashback's swift victory in the Robert Lewis Stakes brings to mind the lightly raced Kentucky Derby winner Big Brown. The brilliant colt outclassed his competition and entered the Derby with only three starts under his girth. His pedigree was, at best, borderline for Classic distances, yet he was simply to fast for his competition. Flash forward to Flashback. Like Big Brown, Flashback has had it all his own way in his first two starts. As the controlling speed in a four horse Robert Lewis Stakes, the others didn't stand a chance. His four competitors in the RB Lewis owned four victories combined and only Den's Legacy owned a stakes win. Flashback's pedigree, is borderline to handle 1 ¼ miles, but before we start comparing him to Big Brown, let's see Flashback in action in stronger company where he isn't offered an easy lead. An easy win at 1 1/16 miles is a long way from 1 ¼ miles against top company.